Emu Gravel No.1

Vulcan Iron Works No. 2289 of 1914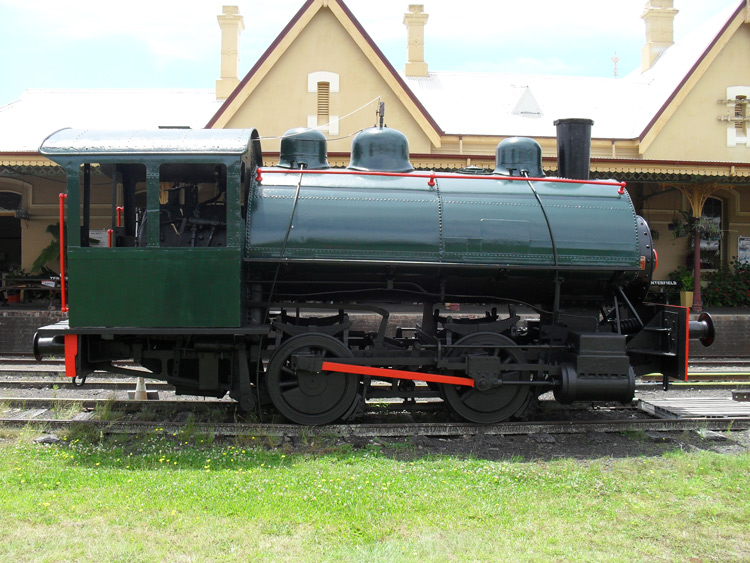 This photograph was contributed by Malcolm Hawkins and shows the restored Emu Gravel No.1 at the Tenterfield Railway Station Museum on 26 September 2011.
I believe the green livery with red handrails is authentic as I recall this locomotive wore an aged version of this livery at the NSWRTM back in 1975.
Pipework and other fittings have been replaced, including cab fittings and the whistle.
Emu Gravel No.1 was built by the Vulcan Iron Works of Wilkes-Barre, Pennsylvania, as their Builder's No. 2289 of 1914. a It represents a classic US design of simple and robust locomotive for construction & industrial duties which were built in large numbers to various gauges for domestic US and export customers. Similar preserved locomotives in Australia include the identical Vulcan 0-4-0ST 1022 and a 0-6-0ST version in Australian Portland Cement No.4. Devonport also built similar locomotives such as "Kiama" PWD No.65. d
A good history for Emu Gravel No.1 comes from the late Gifford Eardley from his excellent guide to the collection of the Enfield Railway Museum. According to this book, Emu Gravel No.1 was one of a pair purchased by the Sydney Metropolitan Water and Sewerage Board for construction duties at the Potts Hill Reservoir in Sydney. At the completion of this project it was sold in 1921 to the Emu and Prospect Gravel Company for use at Toongabbie, and from 1924 at their gravel pits at Emu Plains in Sydney's west. b
Emu Gravel No.1 was displaced in 1962 by ex-BHP 0-4-0T locos No.12 & 16. The Emu and Prospect Gravel Company railway closed in 1967, however No.1 was purchased for preservation by the Steam Tram & Light Railway Society and delivered to their depot in Parramatta Park. No.1 was later swapped with No.1022 from the NSWRTM as the Steam Tram & Light Railway Society wanted an operational locomotive and the latter was apparently in better condition. Accordingly Emu Gravel No.1 was transferred to the Enfield roundhouse for addition to the NSWRTM collection.
The NSWRTM collection was relocated from Enfield to Thirlmere in 1975. Emu Gravel No.1 had an eventful trip; it departed Enfield on 24 June in a trainload of exhibits hauled by 44234 but was detached at Liverpool due to 3 hot axle boxes! It stayed at Liverpool for several weeks before being rescued by 4499 and forwarded to Thirlmere. c
Emu Gravel No.1 was originally kept in the display area at Thirlmere together with other industrial locomotives, but had moved into a special plinth in the museum forecourt by around 1984 and painted overall grey. Here it was displayed with an Emu Gravel tippler wagon; the Emu Gravel tippler wagons appear to have been adapted from the frame of single-truck trams and had some interest. Cosmetic upgrading of Emu Gravel No.1 commenced around 2003 and the gravel tippler disappeared at this stage. d
The entire NSWRTM Thirlmere site was redeveloped from 2009 to form "Trainworks" and Emu Gravel No.1 was moved to make way for the new museum entrance building. Emu Gravel No.1 is now on loan to the Tenterfield Station Museum; here it has been statically restored as an example of a small industrial loco typical of those used for railway construction. Judging from the photos on this page, the members of the Tenterfield Station Museum are to be congratulated on their excellent refurbishment of this locomotive.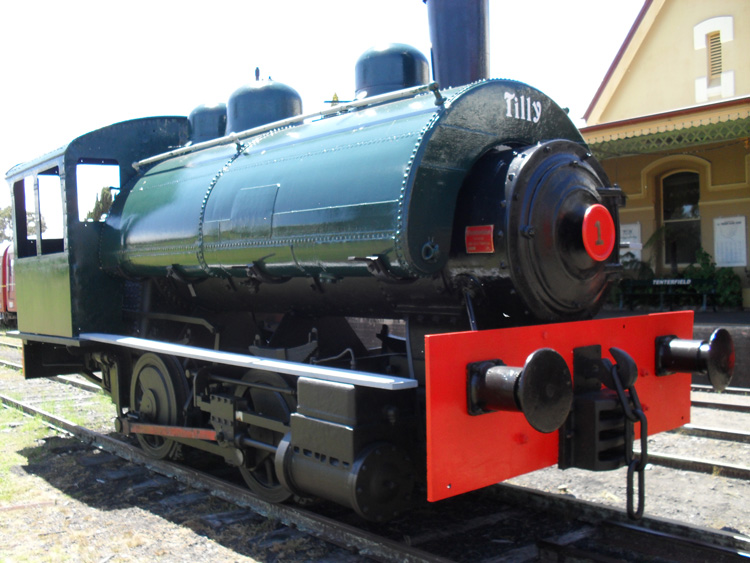 Malcolm Hawkins also contributed this photo of Emu Gravel No.1 under restoration at Tenterfield on 8 August 2011.

At this stage a

new running board can been seen being prepared for mounting at the saddle tank.

An interesting feature are the old running repairs evidenced by the welded patches in the rivetted saddle tank.

Apparently the locomotive is also known as "Tilly"

.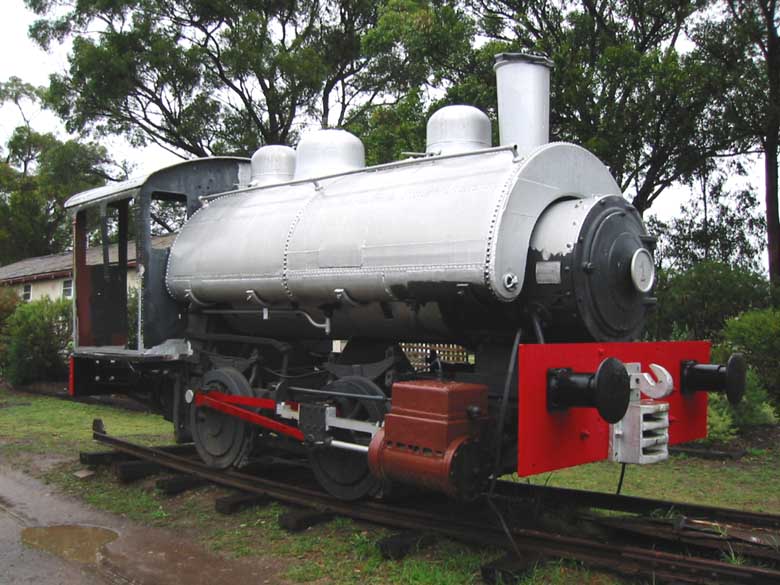 This earlier photograph shows Emu Gravel No.1 displayed in the grounds of the NSWRTM on 6 March 2004.
It was slowly being repainted and repaired; at this stage it was in undercoat and the cab's sheet metal was being restored.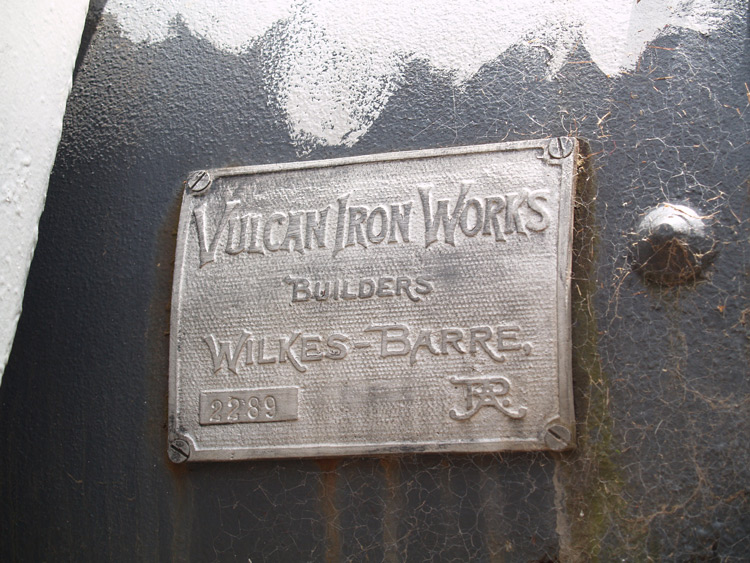 A detail of the builder's plate attached to the smokebox.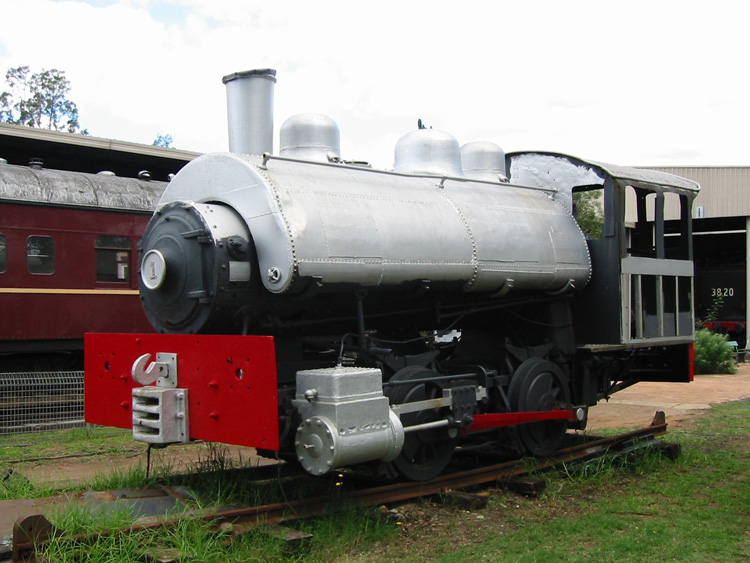 This view shows Emu Gravel No.1 displayed in the grounds of the NSWRTM on 17 March 2003.
At this stage it was being repainted; the buffers were temporarily removed and the cab under repair.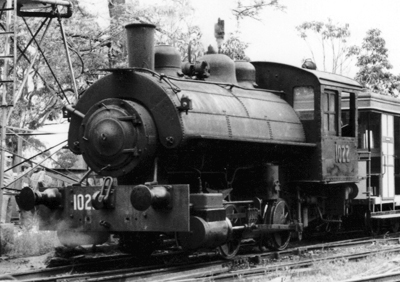 S

ister locomotive NSWGR 1022 (Vulcan Iron Works B/N 2505 of 1916) at the former Parramatta Park Steam Tram Museum in 1992.

This photo is kindly contributed by Mark Newton.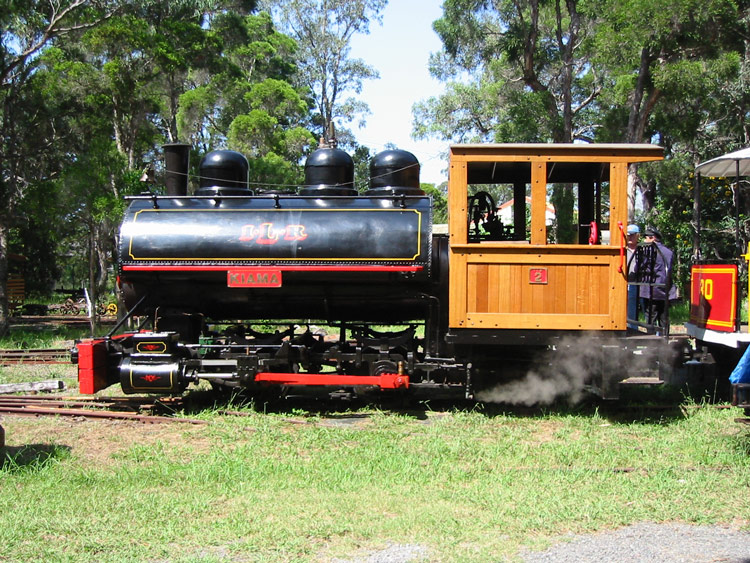 Here is a similar machine built by Davenport to 2' gauge - "Kiama" PWD No.65 at the Illawarra Light Railway Museum.
References
| | |
| --- | --- |
| a | L. Oberg, 'Locomotives of Australia', published by J. W. Books Pty Ltd, Brookvale NSW. 1982 reprint. |
| b | Eardley, G. H. 'Locomotives: A Guide - Enfield Railway Museum', published by the NSWRTM, 1973. |
| c | "Roundhouse" magazine published by the NSWRTM, Volume XIII No.2 of July 1976, article "Museum on the Move" pp.17. |
| d | Webmaster's personal observation or comment. |
Page updated: 4 January 2012