1022

Enfield Depot Shunter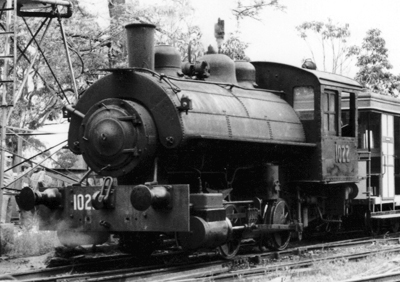 .
This photo is courtesy of Mark Newton and shows 1022 running at the Parramatta Park Steam Tramway in 1992.
This view shows 1022 as it was prior to the arson attack of June 1993.
1022 was built by the Vulcan Iron Works of Wilkes-Barre, Pennsylvania, as their Builder's No. 2505 of 1916. a It represents a classic US design of simple and robust locomotive for construction & industrial duties which were built in large numbers to various gauges for domestic US and export customers. Similar preserved locomotives in Australia include the identical Vulcan 0-4-0ST Emu Gravel No.1 and a 0-6-0ST version in Australian Portland Cement No.4. Devonport also built similar locomotives such as "Kiama" PWD No.65. d
1022 and sister 1023 were originally delivered to the NSW Public Works Department in 1916 for construction of the metropolitan goods lines in Sydney. They subsequently joined the NSWGR and found a variety of uses. During World War 2 they were loaned to the US Army for shunting at Sandown Supply Depot c ; photos from this period suggest they were painted in attractive lined green livery. However 1022 and 1023 are perhaps best remembered in their post-war role as roundhouse shunters at the Enfield steam loco depot, and many photographs show 1022 and 1023 shunting cold steam locomotives around the roundhouse bays.
While 1023 was withdrawn in 1964 and scrapped in 1968 c, 1022 fortunately lasted until 1970 and was initially retained in the NSWRTM's collection at Enfield No.1 roundhouse. 1022 was swapped with Emu Gravel No.1 from the Steam Tram & Light Railway Society on 20 October 1970 c as they wanted an operational locomotive for their Parramatta Park Steam Tramway and 1022 was apparently in better condition. Accordingly Emu Gravel No.1 was transferred to the Enfield roundhouse as a static exhibit for the NSWRTM collection while 1022 was transferred to Parramatta Park. The webmaster has many fond memories of 1022 working at Parramatta Park during the 1970's.
Tragically the Parramatta Park Steam Tramway operation came to an abrupt end when the depot was destroyed by arson on 7 June 1993, resulting in the loss of their historic collection of wooden carriages, tramcars and steam tram trailers, together with extensive damage to the steam locomotives. The fire-damaged locomotives including 1022 were evacuated to the NSWRTM Thirlmere. Operations have since been re-established as the Valley Heights Steam Tramway at Valley Heights Locomotive Depot in the Blue Mountains with repaired locomotives and a newly-restored steam tram trailer, however 1022 has not yet had its turn to rise from the ashes. It is currently stripped down to the frame and slowly being repaired at Valley Heights. Observation suggests the major issue is a severe crack in one half of the cylinder & smokebox saddle casting, which has received extensive welding repairs. d
A spare set of wheels (which probably belonged to either 1023 or Emu Gravel No.1's long lost sister, No.2) used to sit behind the running shed at Parramatta. These were spied on 7 January 2012 in an S-truck at Thirlmere, as seen in a photo below.
Stephen Tolhurst provides a brief history and technical data for 1022 and sister 1023 on his X10 website.
Leon Oberg also provides a good history of 1022, 1023 and the Emu Gravel Vulcans in his excellent book "Locomotives of Australia, 1850 - 2010 - Fifth Edition". b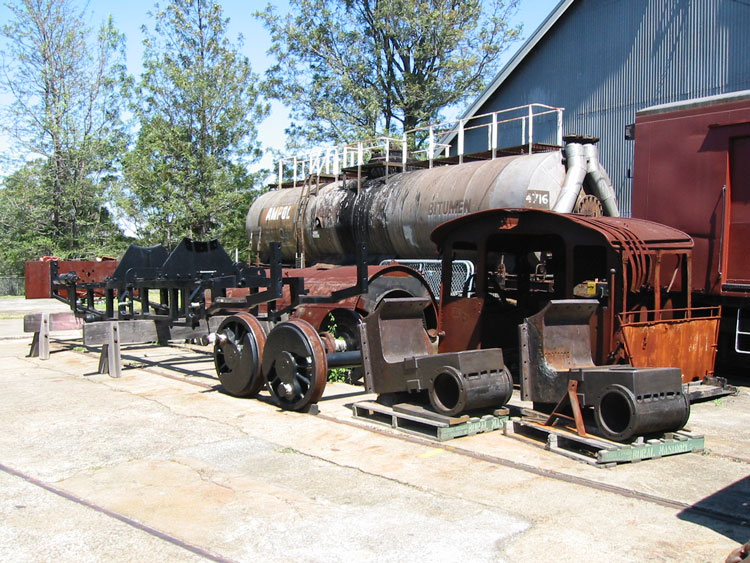 This view of 10 August 2006 shows 1022 stripped down to components at Valley Heights.
At rear are the frames, then wheels and the two halves of the cylinder & smokebox castings.
Behind are the saddletank, cab and other metalwork.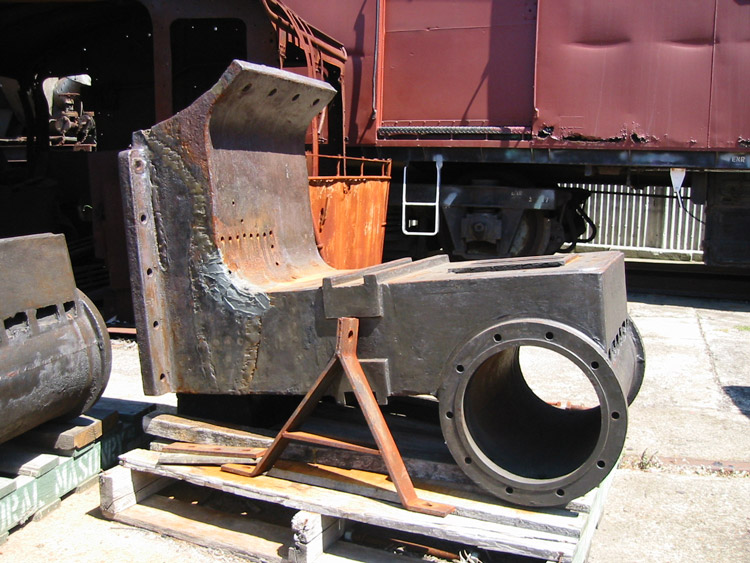 This view of 10 August 2006 shows the extensive welding repairs to 1022's cracked cylinder & smokebox saddle casting.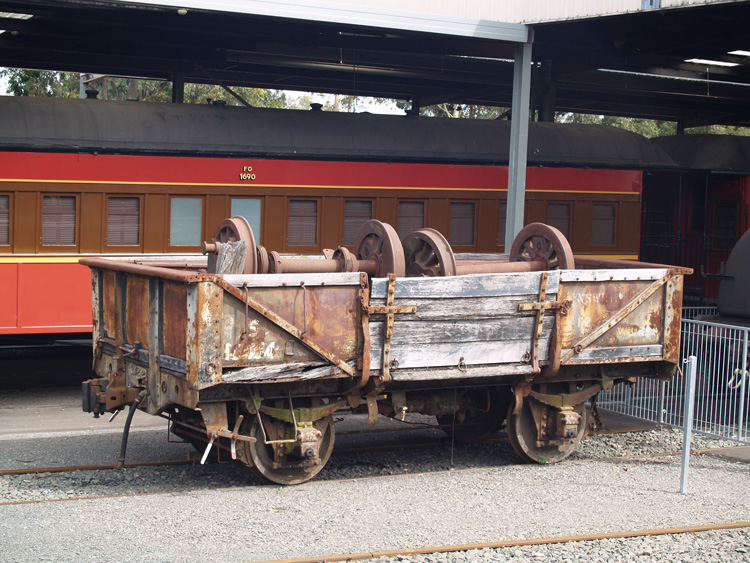 This pair of driving wheel was spotted in a S-truck at Thirlmere on 7 January 2012.
I believe these originally belonged to sister loco 1023; further information is welcome.
References
| | |
| --- | --- |
| a | L. Oberg, 'Locomotives of Australia', published by J. W. Books Pty Ltd, Brookvale NSW. 1982 reprint. pp. 257 |
| b | L. Oberg, 'Locomotives of Australia, 1850s - 2010 - Fifth Edition', published by Rosenberg Publishing Pty Ltd, Rural NSW. pp146-147 |
| c | Stephen Tolhurst's X10 website viewed 8 January 2012. |
| d | Webmaster's observation or comment. |
Page updated: 4 July 2012