Australian Portland Cement No.4

Vulcan Iron Works No. 2539 of 1916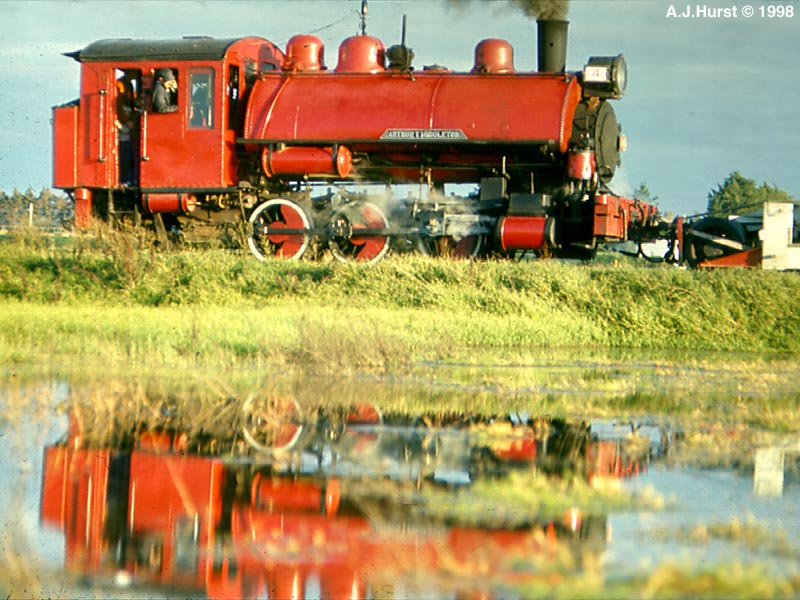 This photo is courtesy of John Hurst and dated 23 April 1973.
Caption: '"A.T.Middleton", aka Vulcan No.4 from APC, shuttles passengers from the
1973 Melbourne Steam Festival over a short length of track at the Belmont Common Railway.'
No.4 is one of four identical locomotives built by the Vulcan Iron Works of Wilkes-Barre, Pennsylvania and imported for construction work at the Henderson Naval Base, WA. It last worked in industrial service at the Australian Portland Cement works at Fyansford, near Geelong, together with sister No.5. (The other two of the original four locomotives ended their days with the Commonwealth Railways as NB29 & NB30 at Quorn, South Australia.)
No.4 was initially preserved at the Belmont Common Railway, Geelong, and photographs from the early 1970's show it operating on the relatively short loop of track that existed at that early preservation base. By this stage it carried "Arthur T Middleton" nameplates. The Belmont Common Railway transformed into the Bellarine Peninsular Railway in the mid-1970's following regauging the former Victorian Railways' Queenscliff branch line from 5' 3" to 3' 6" to create a lengthy operating line between coastal Queenscliff and the rural town of Drysdale. The Bellarine Peninsular Railway later renamed to become the Bellarine Railway, and No.4 operated from their Queenscliff depot for many years.
As at January 2011, No.4 was in undercover storage at the Bellarine Railway's substantial new workshop at Lakers Siding, awaiting return to service. It currently carries the boiler of its sister locomotive, Portland Cement Works No 5.
References
| | |
| --- | --- |
| a | Information provided by D. Price via email dated 27 January 2011 |
| b | Personal comment or observation. |
Page updated: 3 April 2011