Pozieres

Broken Hill Associated Smelters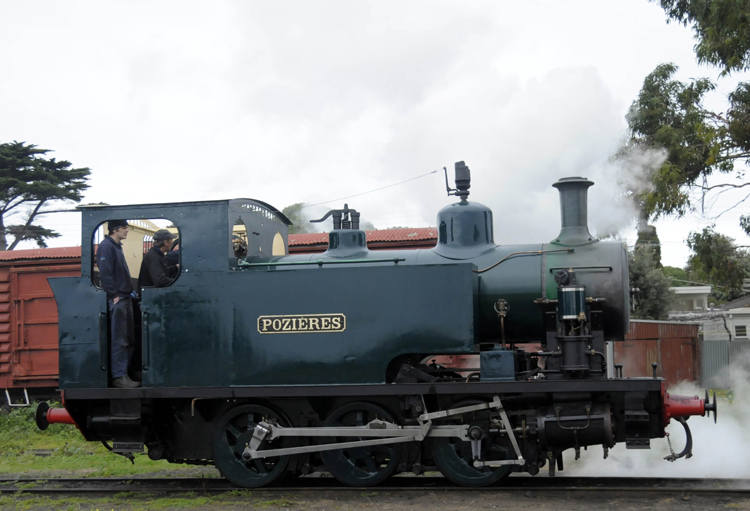 David Price has provided this view of Pozieres in steam for the first time in more than 40 years on Saturday 23 July 2011.
Pozieres was built by Andrew Barclay, Sons & Co. at Kilmarnock, Scotland (builder's number 1543 of 1918) for the British War Department. It was one of four acquired in 1919 as war surplus by the Broken Hill Associated Smelters (BHAS) for shunting duties at their smelting works at Port Pirie, South Australia. a The four were named Pozieres, Polygon, Peronne and Passchendaele after significant World War 1 battles on the Western Front in which the Australian Infantry Force fought. c
A fifth member of the class was built in 1920 and carried the name Port Pirie. (b) Polygon is the only member of the class not to survive; it was sold to New Guinea Copper Mines Ltd in 1927 and scrapped in 1961. a
Pozieres was statically displayed for many years at the Puffing Billy Museum at Menzies Creek. Together with a number of other locomotives from the Menzies Creek collection, Pozieres was transported to the Bellarine Railway on 7 June 2010.
Pozieres is now undergoing a complete overhaul at the Bellarine Railway's Queenscliff workshops, and passed its steam test on 9 January 2011 with boiler certification and registration in Victoria for 160lbs. The wheels have also had the tyres re-profiled. d
UPDATE: On Saturday 23 July 2011, Pozieres moved under it's own steam for the first time in at least 40 years when it was trial steamed. Some work remained to be done before she returns to revenue service, such as the cab roof, cylinder cladding & completion of the Westinghouse air brake system. e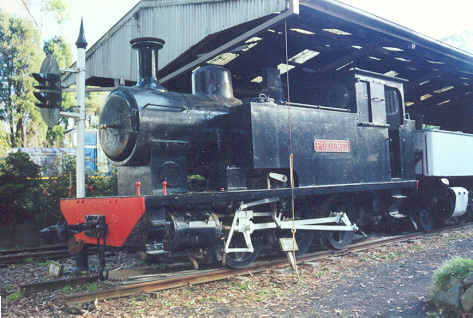 Pozieres is seen at the Puffing Billy Museum, Menzies Creek in this old scanned photo from 1996.
References
| | |
| --- | --- |
| a | National Railway Museum website, viewed 6 May 2011. |
| b | L. Oberg, 'Locomotives of Australia', published by J. W. Books Pty Ltd, Brookvale NSW. 1982 reprint (pp.260) |
| c | Personal observation or comment |
| d | Information provided by D. Price via email dated 27 January 2011. |
| e | Information provided by D. Price via email dated 26 July 2011. |
Page updated: 14 August 2011