Peronne

Broken Hill Associated Smelters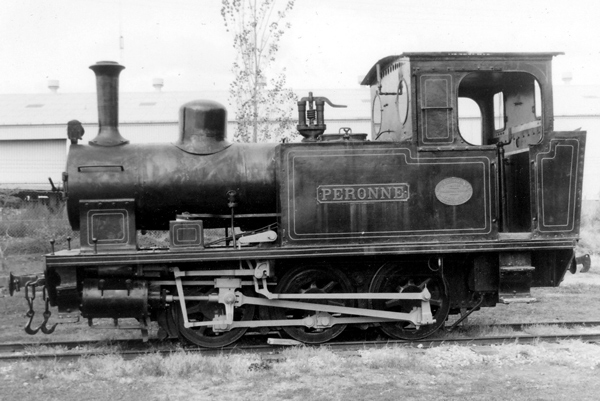 This photo is kindly provided by Geoff Murdoch and shows Peronne statically displayed at the ARHS Mile End Museum during July 1971.
Peronne was built by Andrew Barclay, Sons & Co. at Kilmarnock, Scotland (builder's number 1545 of 1918) for the British War Department. It was one of four acquired in 1919 as war surplus by the Broken Hill Associated Smelters (BHAS) for shunting duties at their smelting works at Port Pirie, South Australia. (a) The four were named Pozieres, Polygon, Peronne and Passchendaele after significant World War 1 battles on the Western Front in which the Australian Infantry Force fought. (b)
A fifth member of the class was built in 1920 and carried the name Port Pirie. (b) Polygon is the only member of the class not to survive; it was sold to New Guinea Copper Mines Ltd in 1927 and scrapped in 1961. (a)
Peronne was originally preserved as a static exhibit in the ARHS Railway Museum at Mile End, Adelaide. It was restored to operation at Mile End in 1987 in preparation for the move of the Mile End collection to the new National Railway Museum site at Port Adelaide. Peronne now resides in the loco running shed at the NRM, Port Adelaide and is occasionally demonstrated in steam on the 3' 6" sections of the NRM's mixed gauge railway network. (b)
The NRM website also includes this excellent exhibit history for Peronne.
References
| | |
| --- | --- |
| a | National Railway Museum website, viewed 6 May 2011. |
| b | Personal observation or comment |
| | |
Page updated: 6 May 2011