Silverton Tramway Co. A 21

A very handsome locomotive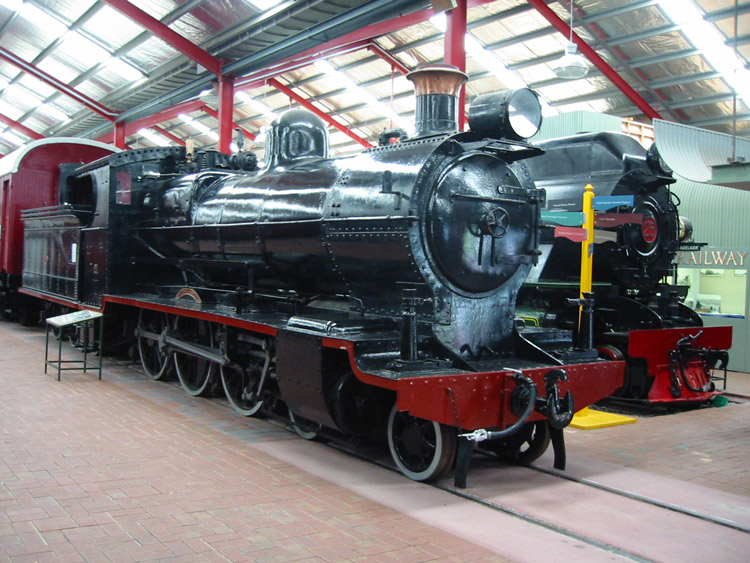 A 21 is seen at the National Railway Museum, Port Adelaide on

20 July 2002.

When the Silverton Tramway Co required more powerful locomotives to augment their fleet of ageing Y-class 2-6-0 locomotives on heavy ore trains, they returned to Beyer Peacock & Co who supplied two handsome 4-6-0 engines in 1912. These became the Silverton Tramway "A-class" engines, numbered A 18 and A 19. Two further locomotives were supplied by Beyer Peacock & Co in 1915, receiving the road numbers A 20 and A 21.

The A-class dominated mainline duties on the Silverton Tramway, shuttling back and forth over the 56km main line from Broken Hill to the South Australian Railways interchange at Cockburn on heavy ore trains and the Broken Hill Express. They were superceded as prime motive power in 1951 following the arrival of the modern W-class 4-8-2 locomotives, with A 20 withdrawn in September of that year and A 19 withdrawn in April 1953. Interestingly, a number were hired to the South Australian Railways for a period and based at Peterborough. Preserved locomotive A 21 (Beyer Peacock & Co B/N 5913 of 1915) was withdrawn in October 1960, with sister A 18 the last of the class in service when withdrawn in January 1961, being outlived by a number of the older Y-class locomotives which remained in Silverton Tramway shunting duties. A 18, 19 & 20 were scrapped but fortunately A 21 was saved for preservation and displayed at the Australian Railway Historical Society's Mile End Railway Museum in Adelaide. (The webmaster has fond memories of visiting the Mile End Railway museum during family holidays in the 1970's.)

Together with the older Mile End Museum exhibits, A 21 was relocated in 1988 to the new National Railway Museum at Port Adelaide, where it keeps company with Silverton Tramway locos Y 12 and W 25.

The Silverton A class bear some resemblance to the Tasmanian Government Railways E class 4-6-0, as represented by preserved TGR locomotive E 1.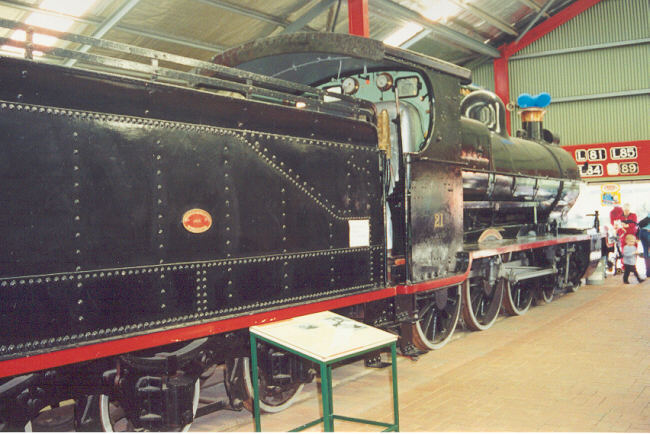 This scanned photo of 20 July 2002 shows A 21 displayed in lined black livery at the National Railway Museum, Port Adelaide.
References
a

Fluck R. E., Sampson R., & Bird K. J. 'Steam locomotives and Railcars of the South Australian Railways',

published by The Mile End Railway Museum (SA) Inc, 1986.

b

Webmaster's observation or comment.
Page updated: 28 July 2014