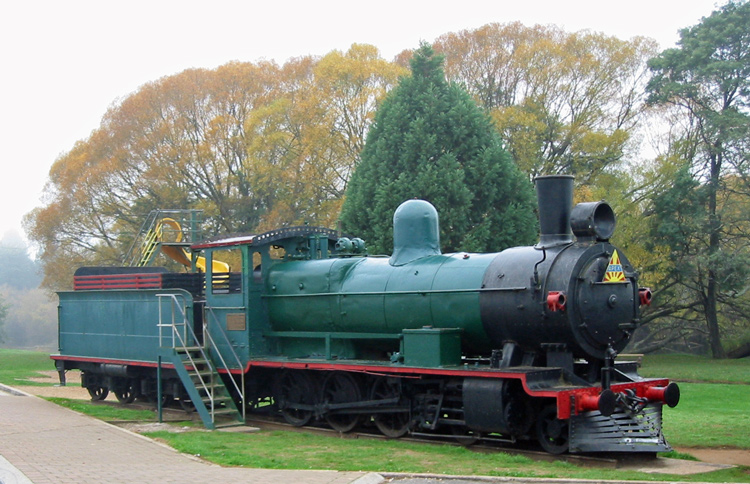 This photo shows E1 plinthed at Deloraine on 27 April 2003.
This handsome and well-proportioned locomotive was built by Beyer, Peacock & Co in 1907 as their builder's number 4967 and is the survivor of two locomotives comprising the Tasmanian Government Railway's E-class which were intended for heavy freight working. Whilst the TGR E class 4-6-0's were built in 1907, new locomotive proposals were submitted by Beyer, Peacock & Co as early as 1899 for a very similar looking 4-8-0. a, c, d
Both E1 & E2 were converted to superheating between 1914 and 1916. b
E1 is now plinthed in Deloraine, complete with most non-ferrous cab fittings, and is apparently well guarded and maintained by the local Apex club. A plaque affixed to the locomotive claims that it is E2, and reads:
"This locomotive was built for the Tasmanian Government Railway by Beyer Peacock & Co., England in 1907 at a cost of (Pounds) 5,370. It was last used in 1962 and then stored until presented to the Deloraine Municipality during the Railway Centenary in February 1971 and was sited by the Deloraine Apex Club on the 24 July 1971. The rail line from Launceston to Deloraine was the first constructed in Tasmania and was opened on the 10th February 1871. Total working weight - 72 Ton. Tractive power at 85% capacity - 19.947 Lbs."
Whilst E1 is appears well cared-for at Deloraine, none-the-less the ravages of the climate will inevitably deteriorate the fabric of this locomotive and accordingly I hope that E1 will one day be transferred to a suitable undercover museum for conservation and display. d
The TGR E-class locos are somewhat similar to the Silverton Tramway 'A' class of the same builder and wheel arrangement (refer to A 21 under NSW Industrial locos). d
References
| | |
| --- | --- |
| a | Information provided by Melanie Dennis via email dated 14 July 2004. |
| b | Cooper, G & Goss, G 'Tasmanian Railways 1871 - 1996, 125 Years - A Pictorial History' published by C G publishing Company. |
| c | L. Oberg, 'Locomotives of Australia', published by J. W. Books Pty Ltd, Brookvale NSW. 1982 reprint. |
| d | Personal comment or observation. |
Page updated: 5 March 2011