Silverton Tramway Co. W 25

Named "Thomas B Birbeck"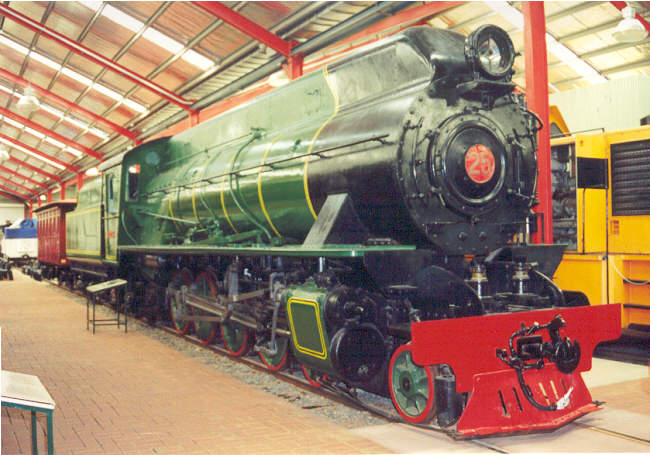 W 25 displayed at the National Railway Museum, Port Adelaide on 20 July 2002.
This locomotive was built by Beyer Peacock & Co as their builder's number 7554 of 1951 as the final of four locomotives of the Silverton Tramway's W-class. (For further information about these fine locomotives, refer to the comments for preserved sister W 22.)
W 25 was named 'Thomas B Birbeck' in Silverton Tramway service. The four W-class locomotives wore an attractive lined green livery in Silverton Tramway service over the 56km main line from Broken Hill to the South Australian Railways interchange at Cockburn, hauling ore trains of up to 1,200 tonnes and the Broken Hill Express passenger train. The W-class were displaced by diesel locomotives during the early 1960's and placed in storage at the Railwaytown depot, Broken Hill until disposed in 1970.
Following withdrawal from Silverton Tramway service, W 25 was obtained for preservation by the Australian Railway Historical Society's Mile End Railway Museum in Adelaide. (Your webmaster has fond memories of visiting the Mile End museum during family holidays in the 1970's; W 25's distinctive boiler cowling and green livery always made this loco a favourite. My father would also tell us of the horrors of the Broken Hill "Express" which he endured as an apprentice, traveling from Adelaide to Broken Hill during the mid-1950's; W 25 represented the type of locomotive which took over for the final run across the border to Broken Hill.)
W 25 was relocated from the closed Mile End Museum to the new Port Dock Station Museum (now the National Railway Museum, Port Adelaide) in 1988, where it keeps company with older Silverton Tramway locos Y 12 and A 21.
References
a

Fluck R. E., Sampson R., & Bird K. J. 'Steam locomotives and Railcars of the South Australian Railways',

published by The Mile End Railway Museum (SA) Inc, 1986.

b

Webmaster's observation or comment.
Page updated: 8 August 2014