<![if !vml]>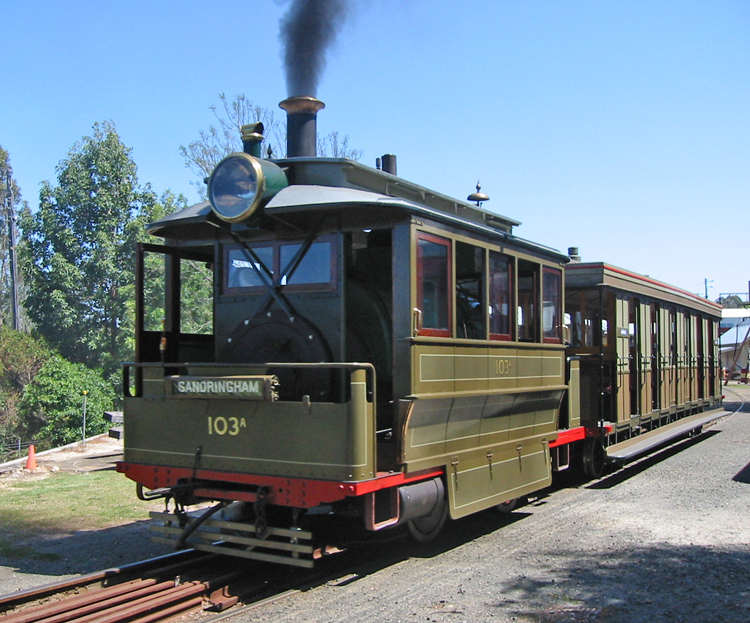 <![endif]>
An outing to Valley Heights on 8 October 2006 found Steam Tram Motor No.103A and trailer 93B providing passenger shuttle trips.
The NSW Government Tramways had an extensive steam tram network in Sydney at the beginning of the 20th Century, with operations provided by 122 Steam Tram 'Motors' hauling bogie passenger trailers. Other steam tramways were established around New South Wales in Newcastle, Maitland and even far-flung Broken Hill! In addition, Steam motors & trailers provided passenger services on some routes that were later upgraded to suburban railways, notably the Sutherland to Cronulla line. Over time Sydney's steam trams were replaced by electric tramcars, with steam operations retreating to isolated routes such as Kogarah - Sans Souci. Many surplus steam tram motors were disposed, finding further use at construction projects or as industrial shunters. (Refer to Steam Tram Motor No.1A for a broader overview of Sydney's steam trams.)
Steam Tram Motor No.103A was among those based at Kogarah at closure of the route to Sans Souci, which was converted to electric trolleybus operation in 1937. Together with 31A and 131A it was sold to Waddingtons / Commonwealth Engineering Co at Clyde where it worked as a workshop shunter until 1953. Fortunately, it was saved for preservation by the formative Steam Tram & Railway Preservation Society at Parramatta Park, where for many years it shuttled up and down on their operating line to the park gates near Old Government House.
No.103A received a thorough rebuild and repair under contract at the NSW Rail Transport Museum, Thirlmere in the late 1980's before returning to service at Parramatta Park. Tragically, an arson attack at the Parramatta Park site on 7 June 1993 destroyed their significant collection of historic wooden rolling stock; I have never forgotten being greeted by this shocking news on return from a train-spotting holiday in Tasmania. Among the stock destroyed were original Sydney Tram Trailers 74B and 191B, together with a magnificent antique railway carriage that had served on the NSWGR's tramway-style operations. No.103A's wooden cab was totally incinerated but the locomotive itself was salvaged from the ashes, together with steam loco 1022, with both delivered to the NSWRTM Thirlmere for refuge and assessment.
The Parramatta Park site was abandoned after the fire, with the Steam Tram & Railway Preservation Society relocating to the former NSWGR steam locomotive depot at Valley Heights. Here a new locomotive shed and workshop has been constructed, and a beautiful and accurate replacement cab prepared for No.103A as part of its restoration to service – a literal phoenix rising from the ashes!
Replacement steam tram trailers were also sought out by Steam Tram & Railway Preservation Society volunteers. If I recall correctly, two trailers were found at Broken Hill in the state's far west – where the dry climate probably assisted their survival – and were transported to Valley Heights for restoration. In a cruel irony, these two trailers were then destroyed by ember attack as a bush fire swept through the Blue Mountains. Undeterred, volunteers located another two steam tram trailers Nos.93B and 72B which had been incorporated into a house in Berowra. Trailer 93B has now been restored for use at Valley Heights, and I believe the second 72B – together with a reproduction double-desk trailer (built in 1951 on the frame of electric tram K746 for the Waratah Festival parade) – is slowly being repaired. The Valley Heights Steam Tramway website provides good information about the history and restoration of Steam Tram Motor No.103A, the two tram trailers salvaged from Berowra, and the double-deck trailer.
Shown on this page are several photos dating from my visit to Valley Heights during the running day of 8 October 2006. I also have fond recollections of happy days visiting the original Parramatta Park site prior to the disastrous 1993 arson attack, and I would greatly appreciate the contribution of additional photos of No.103A and indeed the ST&RPS collection in those days for addition to this website.
No.133A
Among the eclectic collection at Parramatta Park was No.133A, a rather curious addition to their 'Steam' Tram exhibits! No.133A was a reproduction Steam Motor built by the NSW Government Tramways Randwick Workshops in 1957 – apparently using a road-wheeled float or similar tyred chassis - for use in the annual Waratah Festival, replacing the historic No.1A which had previously been displayed on a float in the festival parade. No.133A passed to the Steam Tram & Railway Preservation Society, Parramatta Park in 1975, where the road wheels were later replaced by a simple 4-wheel chain-driven rail chassis. I wasn't aware of the existence of this odd vehicle until I encountered it one day at Parramatta Park; walking towards the depot the tram was approaching - "ah, No.103A" I thought – but as it got closer, I observed an unusual chugging sound, the clank of a chain drive and the oily smell of diesel fumes! Such was my discovery of No.133A.
Alas No.133A was destroyed in the 1993 fire but I believe I saw the chain-driven 4-wheel underframe among the charred steel remnants stored at Valley Heights.
<![if !vml]>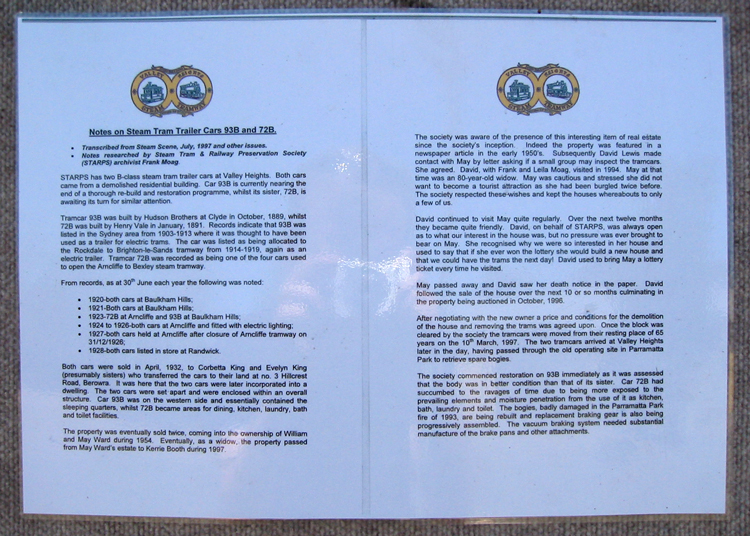 <![endif]>
This information board at Valley Heights provides historical information for steam tram trailers Nos.93B and 72B.
<![if !vml]>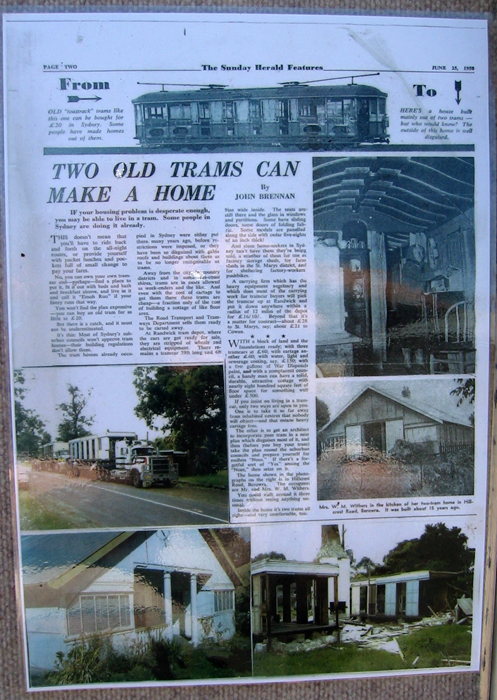 <![endif]>
The two steam tram trailers Nos.93B and 72B were recovered from a house in Berowra, as detailed in this information board.
<![if !vml]>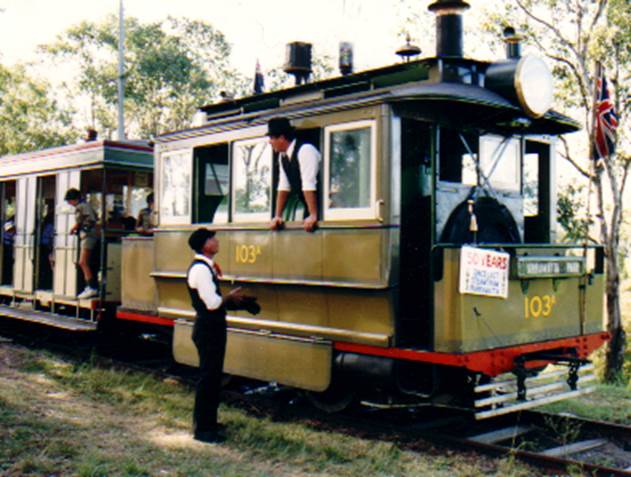 <![endif]>
This earlier view (courtesy of Mark Newton) shows 103A in steam at Parramatta Park, coupled to an original steam tram trailer.
Alas the Parramatta Park operation and collection of historic wooden tram and railway rollingstock was destroyed by arson in May 1993.
<![if !vml]>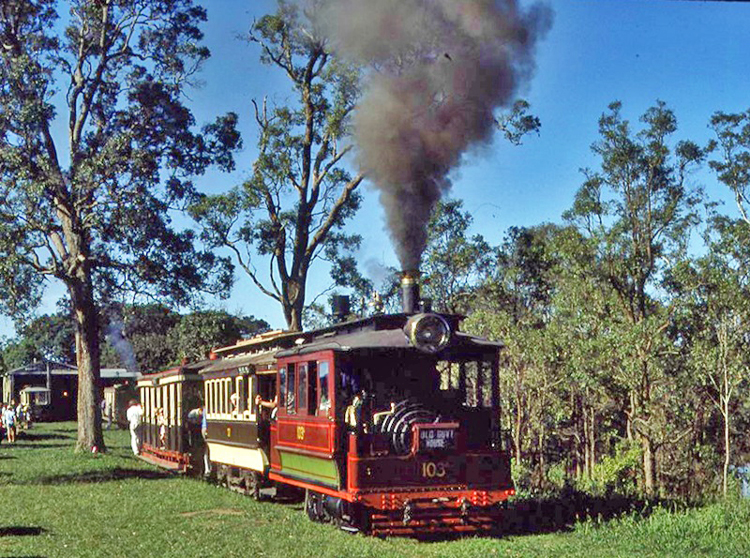 <![endif]>
103A hauling happy visitors at the ST&RPS Parramatta Park, Sunday 16 March 1975.
The passenger stock comprises an early Sydney C-class electric tramcar followed by a more historically appropriate bogie steam tram trailer!
The tramway destination roll at the front of 103A reads 'Old Govt House'.
This photo was kindly contributed by & copyright to Stephen Moulton from his wonderful Images of Railways Elsewhere site.
<![if !vml]>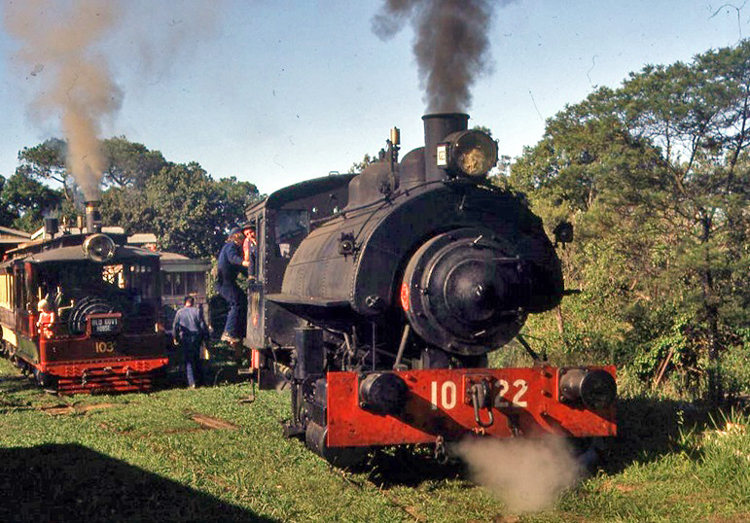 <![endif]>
1022 shuffling around the shed fan at ST&RPS Parramatta Park on Sunday 16 March 1975, with No.103A alongside.
The loco appears to rolling forward, having uncoupled from the steam tram trailer behind.
This photo was kindly contributed by & copyright to Stephen Moulton from his wonderful Images of Railways Elsewhere site.
References
Page updated: 3 September 2022