<![if !vml]>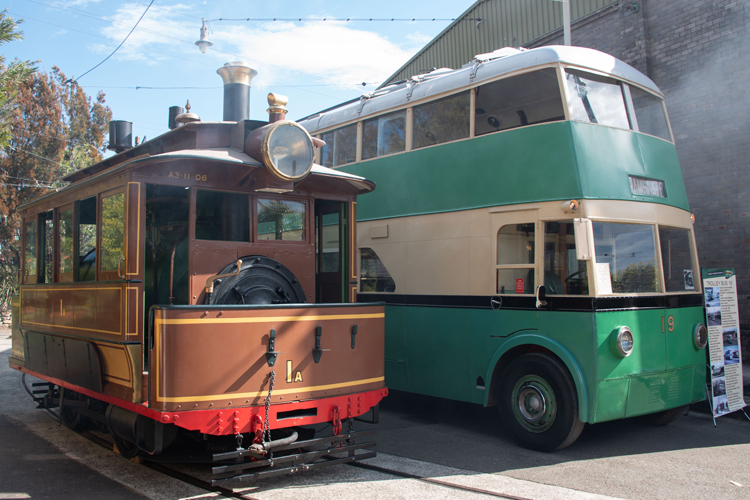 <![endif]>
Steam Tram Motor No.1A displayed at the Sydney Tramway Museum, Loftus on 30 July 2017.
Alongside is electric trolleybus No.13, one of those that replaced steam trams on the Kogarah – Sans Souci route in 1937.
The evolution of tramway technology was a significant factor in urban growth from the middle of the 19th Century, reflected by the adoption of tramways and spreading networks across metropolitan centres worldwide. Sydney's tramway evolution followed a typical pattern, starting in 1861 with small horse-drawn 4-wheel tram cars on a single through the heart of the city. Although that line closed in 1866, a steam tram line was built in 1879 to provide transport from the city terminus station (then situated at Devonshire St, Redfern) to the International Exhibition in the Botanical Gardens. Steam trams were capable of much higher passenger loads than the earlier horse drawn trams, with a steam 'motor' hauling double-deck bogie trailers. Sydney's steam tram network grew rapidly after 1879, augmented by cable trams on certain routes. (Cable trams were popular in cities with steep terrain, most famously San Francisco which today retains two cable lines among the many that once operated there.)  Ultimately electric traction came to dominate street tramways, with Sydney's electric tram system growing to be one of the world's largest tram networks. Unfortunately, the system was progressively replaced by noisy and polluting diesel buses after World War 2, with the final route closing in 1961 – 100 years after the pioneering horse trams – but a tramway revival began in Sydney from 1997, with several additional 'Light Railway' routes built since then.
Against this backdrop, Steam Tram motor No.1A has a special place in Sydney's history as the first of four motors ordered in 1879 from Baldwin Locomotive Works, USA for service on the pioneering 2.4km route from Redfern railway terminus to the International Exhibition in the 'Garden Palace' located in the Botanical Gardens. The steam motors had certain refinements to make them better suited for use on city road routes, in particular an overall cabin, skirt flaps to hide the wheels & rods, large headlights front & rear, and a tramway bell in addition to the steam whistle. The steam trams dominated the city streets down which they operated, with frightened horses being a major issue, so their introduction generated controversy in Sydney.
Ultimately 122 steam motors were supplied to the NSW Government Tramways, most from Baldwin but also some examples built by two local manufacturers Henry Vale & Co, Auburn and Thomas Wearne, Randwick. One group of 9 Baldwin units were delivered with 0-4-2ST rather than 0-4-0ST wheel arrangement, but the 0-4-0ST variant prevailed and these 9 later had the trailing axle removed. Various cylinder dimensions were used, with the four original 1879 units having 11" diameter by 16" stroke cylinders, while smaller quantities were built with 9" by 12" and 10" by 14" variations. The more powerful 11" diameter version accounted for most units and became known as the 'Standard Motor'. Apparently, the Standard Motors were preferred in traffic as the 9" and 10" diameter versions were generally withdrawn when expired, while examples of the 11" version were more likely to be retained and overhauled for further duties.
Also trialled for Sydney tramway duties were competing steam motor designs of the Merryweather 0-4-0T type (no.55), two Kitson 0-6-0T examples (Nos.42 & 43) and an un-numbered Beyer-Peacock built Wilkinson type (0-4-0T) known as 'John Bull'. The Baldwin design won the day but, against the odds, this last-mentioned experimental motor 'John Bull' survives as an exhibit at the Crich Tramway Museum, Derbyshire.
Originally configured for traditional 2-person Driver & Fireman crewing, many Sydney steam motors were later modified to single-person crewing. The modified units were identified by an 'A' suffix following a renumbering scheme.
Other steam tramways were established around New South Wales, with the Sydney steam motors and trailers finding use in Newcastle, Maitland and even far-flung Broken Hill! Other units provided tramway services on routes that were later upgraded to suburban railways, notably the Sutherland to Cronulla line. As the Sydney electric tramway network grew, steam operations retreated to isolated lines such as Kogarah-Sans Souci. Many surplus steam motors were disposed, finding further use at construction projects or as industrial shunters. Bombo Quarry was one such operator with a fleet of steam tram motors used to shuttle blue metal from the quarry face to the crushers, until all were replaced by truck haulage.
Steam Motor No.1A not only began its career at the start of Sydney's steam tram era, but also finished its working life at closure of the last NSW Government Tramways steam tram route when the isolated Kogarah to Sans Souci line was replaced by electric trolley buses in 1937. Fortunately, its historic significance was recognised and Steam Motor No.1A was retained for preservation, being presented to the Museum of Applied Arts and Sciences. It was displayed in the Waratah Festival in subsequent years, apparently on a parade float in memory of Sydney's steam tram era. No.1A had been displayed at the Powerhouse Museum in Ultimo from that museum's opening in the 1980's but currently resides at the Castle Hill Discovery Centre, a Powerhouse Museum outstation based on their collection storage building and workshop.
The Powerhouse Museum website provides a useful history for this exhibit and the historical context of Sydney's steam trams. The Powerhouse Museum collection also includes a wonderful model of a Sydney steam tram, single and double deck trailers which provide an excellent visualisation of the type.
While the Powerhouse Museum recognise this steam tram motor as class leader No.1A (Baldwin b/n 4617 of 1879), I have also been informed that the tram motor held by the Museum of Applied Arts & Sciences is actually No.28A which was built locally to the Baldwin design by Henry Vale and Sons (b/n 52 of 1891). If correct, an explanation could be that when the NSW Government Tramways decided to preserve No.1A it was found to be in poor condition or incomplete, with No.28A in better fettle. Both 1A and 28A were based at Kogarah until the route's replacement by electric trolleybuses in 1937, so perhaps the preserved steam tram contains parts of both units, either a result of preparation for preservation or normal fleet running repairs.
Steam Tram 1A starred in an event at the Sydney Tramway Museum on 30 July 2017, commemorating the 80th anniversary of closure of the Kogarah to Sans Souci steam tram route. No.1A was displayed alongside one of the electric trolleybuses that replaced it, as seen in the various photos on this page.
David Burke has written many fine books about the steam locomotives and railways of Australia, among them is 'Juggernaut! A Story of Sydney in the Wild Days of the Steam Trams'. This fine work provides not only technical and functional details of Sydney's steam trams, but also the social history and context of the era, supported by many wonderful illustrations including contemporary newspaper articles and satirical illustrations.
<![if !vml]>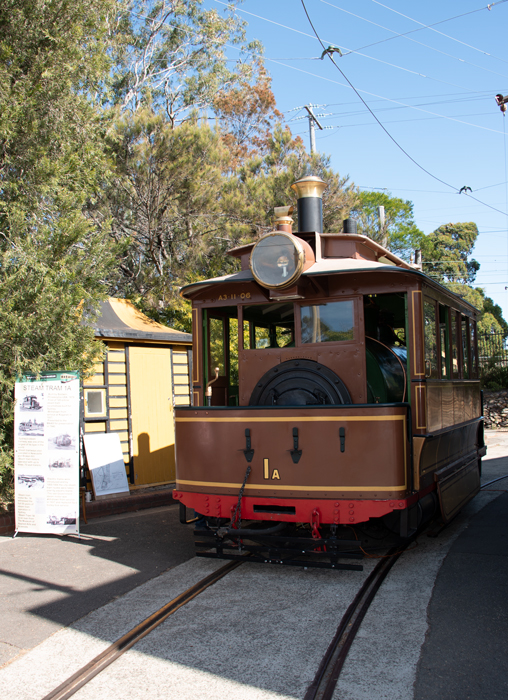 <![endif]>
Steam Tram Motor No.1A positioned in a starring role at the Sydney Tramway Museum gala of 30 July 2017.
<![if !vml]>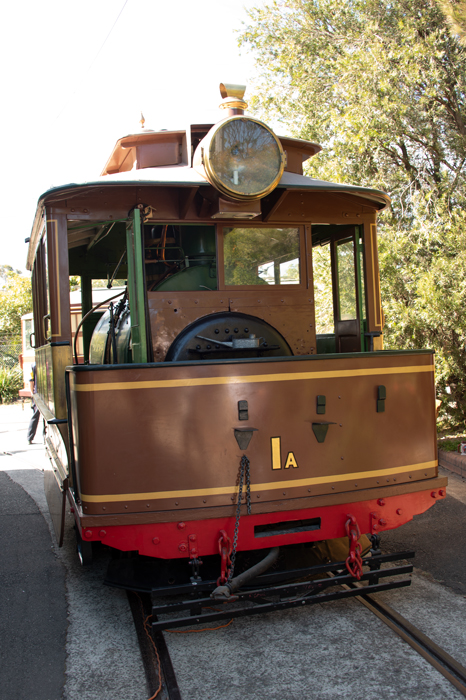 <![endif]>
Rear view of Steam Tram Motor No.1A.
The rear headlight attests to the design of these machines for bi-directional running.
It seems to be missing a draw hook or linkage bar to connect to a passenger trailer.
<![if !vml]>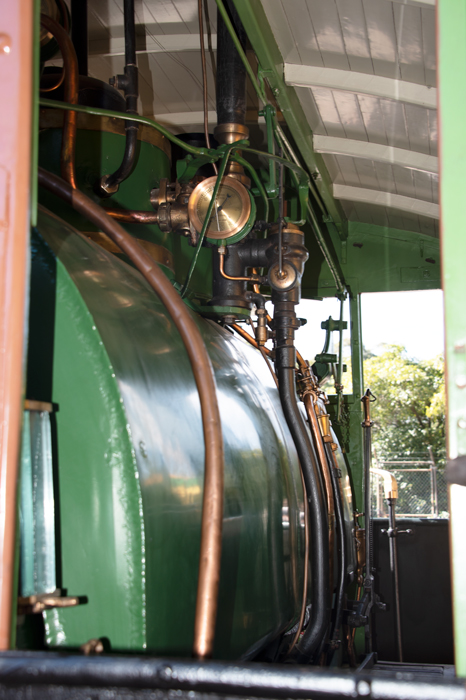 <![endif]>
Internal view on the right side, looking forward.
A water gauge glass can be seen on left, just inside the cabin.
<![if !vml]>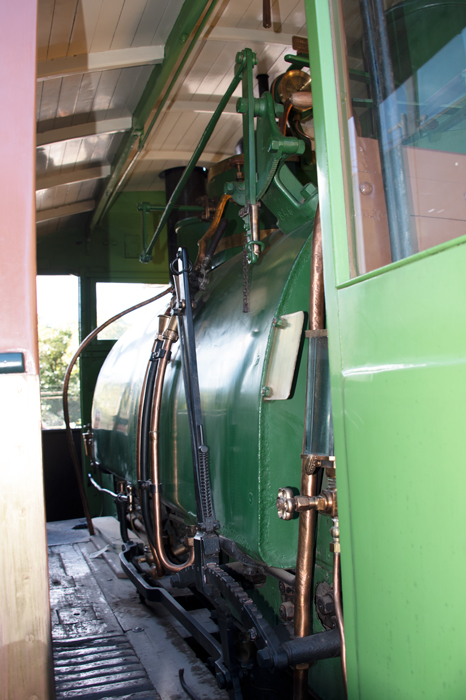 <![endif]>
Internal view looking forward towards the chimney. 30 July 2017.
This view shows the reversing lever and a water gauge glass on the right, just inside the cabin.
<![if !vml]>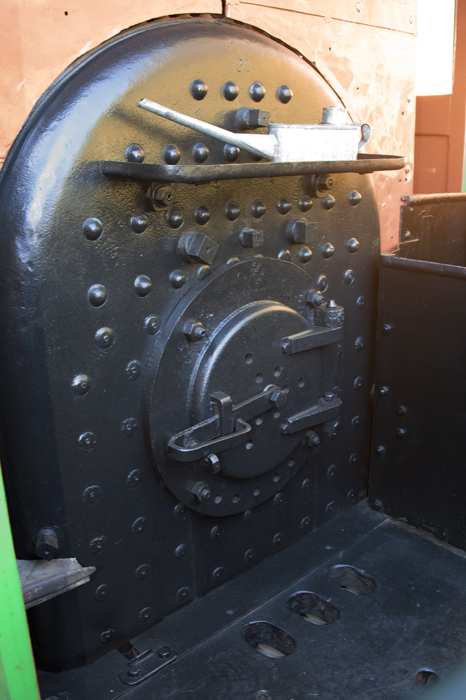 <![endif]>
The no-nonsense firebox door! 30 July 2017
<![if !vml]>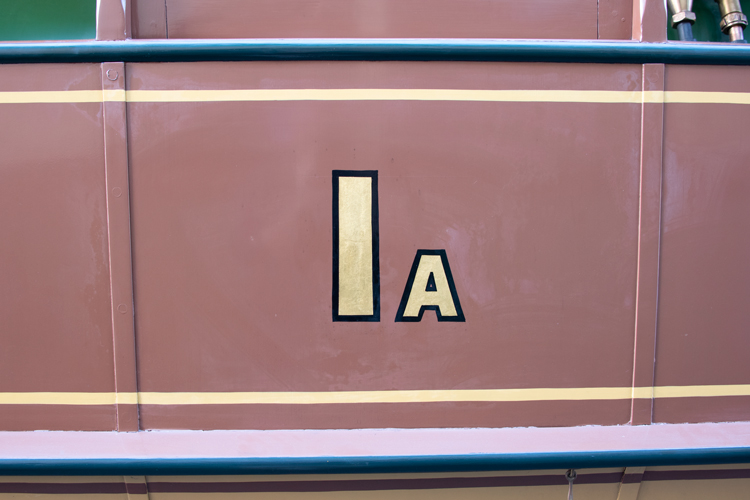 <![endif]>
The steam tram's number is proudly carried in lined gold leaf lettering on the body side. 30 July 2017.
<![if !vml]>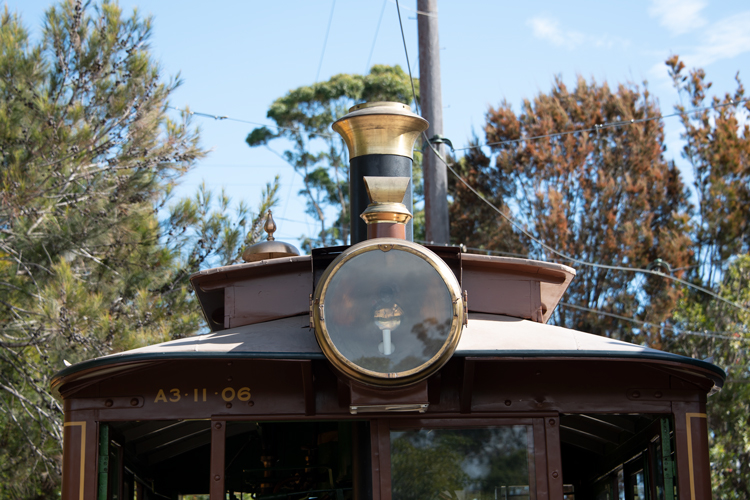 <![endif]>
Detail photo including the headlight, copper-top chimney and roof-mounted bell. 30 July 2017.
<![if !vml]>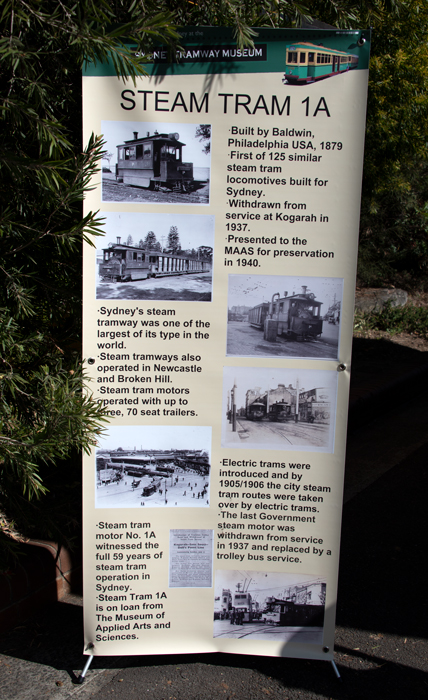 <![endif]>
Alongside Steam Tram No.1A was this information display with historical and contextual details.
<![if !vml]>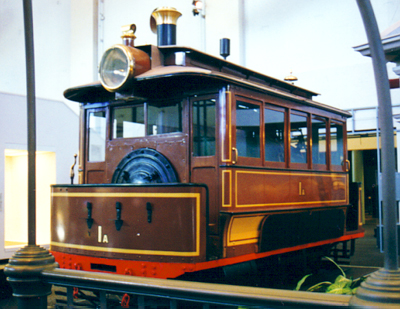 <![endif]>
Steam Tram No.1A was displayed at the Powerhouse Museum, Sydney for many years (albeit without a passenger trailer to provide context).
Indeed, I first encountered this loco in the Powerhouse Museum 'Annex' in 1986 (housed in the former tram shed) prior to opening of the main building in 1988.
Today the tram shed annex is used for administration and exhibit preparation; alas developers are keen to claim the site for 'Improvement'.
This photo is courtesy of Mark Newton and shows 1A displayed at the Powerhouse Museum, Ultimo, in 1994.
References
Page updated: 3 September 2022