R 707

Maintained by R 707 Operations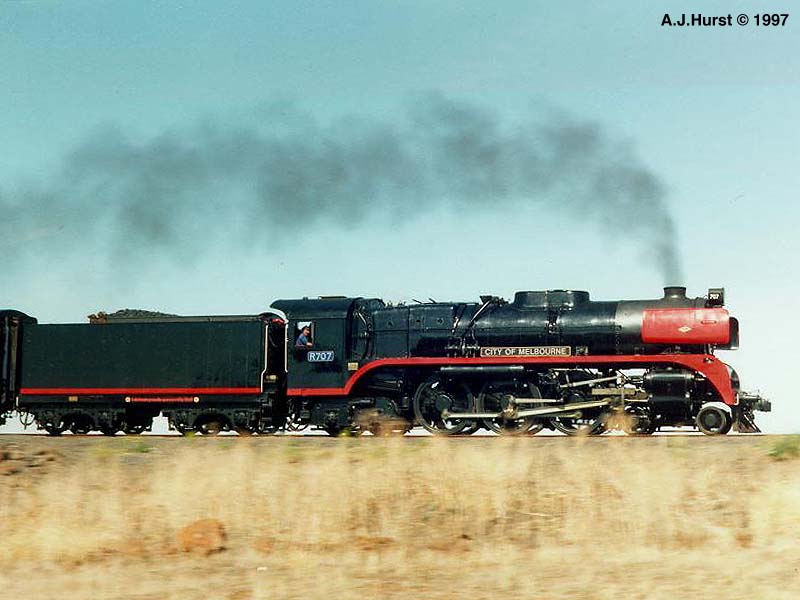 My thanks to John Hurst for this view of R 707 at speed during an

April 1989 railtour.

R 707 was built by North British Locomotive Co of Glasgow (builder's number 26997 of 1951) as one of 70 members of the Victorian Railway's R-class 4-6-4 "Hudson" main line passenger locomotives. It was withdrawn from Victorian Railways service in November 1968 and placed in storage at Newport Workshops.

Today R 707 is one of the celebrity locomotives of Australian railway preservation, thanks to the efforts of R 707 Operations who have maintained the loco for many years for main-line railfan trips. R 707 is housed at Newport Workshops and usually presented in immaculate black livery with red lining. It now carries the name 'City of Melbourne'. (R 707 Operations also hold sister loco R 753 for spares.)

My thanks to John Hurst for allowing use of his fine images of R 707 on this website; further images of R 707 can be found on John's excellent collection of railway photographs. In addition, YouTube has several fine videos of R 707 in railtour service, including this fine video by James Brook showing R 707 and R 766 doubleheading on the Snow Train II tour of 2013.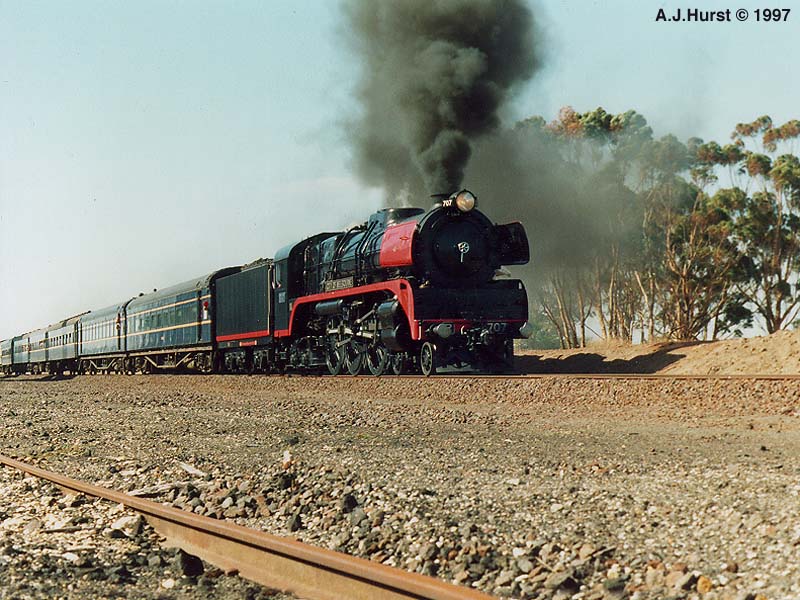 John Hurst photo "R 707 at Berribank, on way to Maroona" April 1989. Spirit of Progress cars / livery.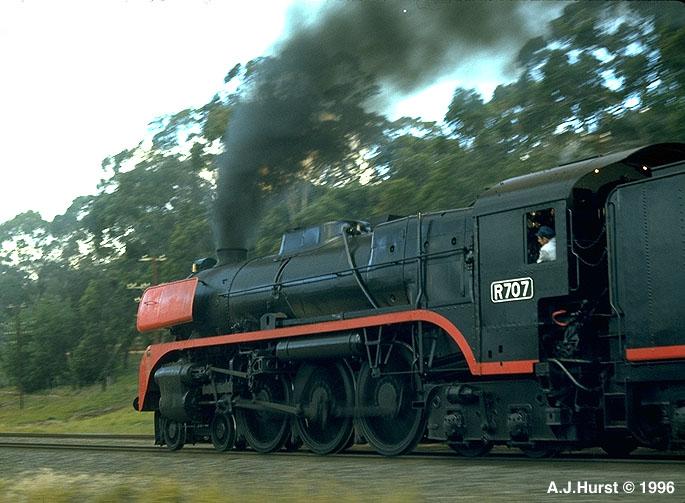 John Hurst photo of R 707 during the Melbourne Steam Festival, 1973

.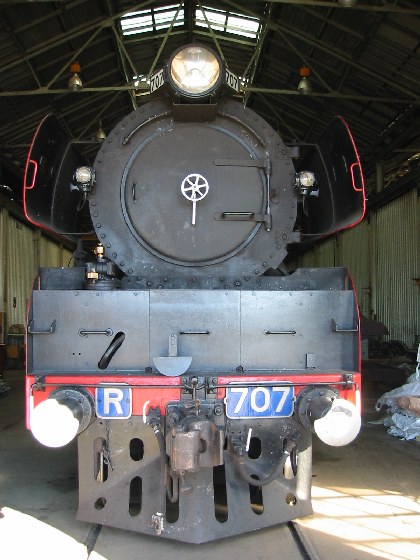 R 707 resting at Newport Workshops.
References
a

"A brief history of Preserved Rolling Stock of Victoria" by Norm Bray, Peter J Vincent and Daryl M Gregory.

Published by Brief History Books, PO Box 437, Sunbury, Vic 3429.

b

ARHS (Victorian Division) 'North Williamstown Railway Museum', Third Edition 1968,

revised 1977, reprinted 1980.

c

"Locomotives of Australia - 1985 to 2010" (Fifth Edition), by Leon Oberg,

published 2010 by Rosenberg Publishing Pty Ltd.
Page updated: 31 October 2014