R 753

Stored by R 707 Operations
R 753 stored dismantled within Newport Workshops on 21 June 2014.
The locomotive chassis is shown above, with the tender bogies sitting to the right.
R 753 was built by North British Locomotive Co of Glasgow (builder's number 27043 of 1951) as one of the Victorian Railway's 70-strong R-class 4-6-4 "Hudson" passenger locomotives. It entered service with the Victorian Railways on 28 April 1952 and was withdrawn on 26 October 1965.
At some stage R 753 passed into the ownership of R 707 Operations. It has been stored at Newport Workshops for many years, ostensibly as a future spare parts donor for popular mainline performer R 707.
In more recent times R 753 has been dismantled, presumably to assess repairs and to permit more rapid component exchange with R 707 if required. The dismantled components remain stored in one of the bays of the old Newport Workshops.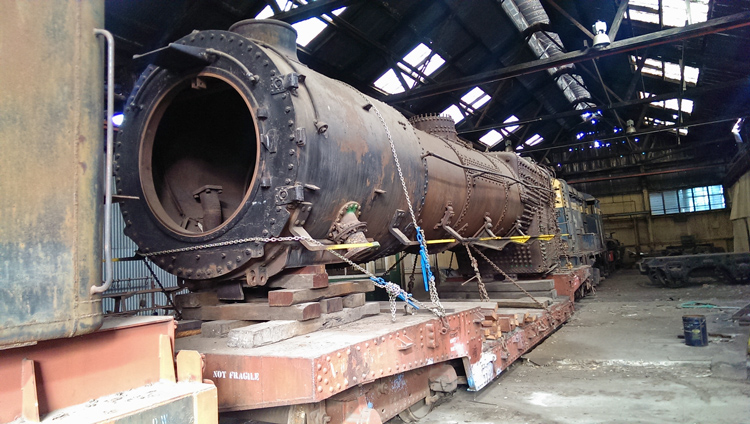 R 753's boiler mounted on a flat wagon, with the tender tank just visible in the foreground. 21 June 2014
References
a

"A brief history of Preserved Rolling Stock of Victoria" by Norm Bray, Peter J Vincent and Daryl M Gregory.

Published by Brief History Books, PO Box 437, Sunbury, Vic 3429.

b

Webmaster's observation or comment
Page updated: 28 July 2014