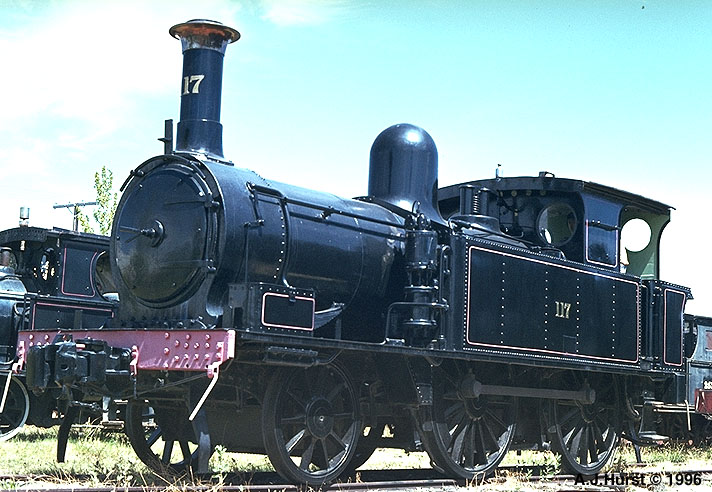 This scanned slide view is courtesy of John Hurst and shows P117 at the former Mile End Railway Museum in Adelaide in 1973.
P 117's buffers have been removed and replaced with automatic couplers during its service life.
The South Australian Railways P-class originated with 6 locomotives built by Beyer Peacock & Co in 1884, a based on an earlier design supplied to the Isle of Wight Railways. b The P-class was judged a success and an additional 14 units were delivered from local builder James Martin of Gawler. P 117 is one of these later locomotives, and carries James Martin builder's number 57 of 1893. a
The P-class excelled in Adelaide suburban passenger and goods working. At a later stage they were used extensively for shunting duties on the wharves and yards of Port Adelaide. The P-class had all been withdrawn by the mid-1950's but fortunately one was saved for preservation and placed in storage pending a suitable museum. (Many fine classes of SAR steam power were withdrawn after this date but were not so lucky, such as the extinct S-class 4-4-0, 600-class Pacifics and 720-class Berkshires.) P 117 subsequently entered the ARHS Mile End Railway Museum in 1964. b
The South Australian Railways P-class is similar to the NSWGR's F-351 class of 1885, which also originated from Beyer Peacock & Co. This similarity can be seen today in preserved NSWGR cousins 1033 and 1042. b
P 117 is now displayed within the National Railway Museum, Port Adelaide.
References
| | |
| --- | --- |
| a | Fluck R. E., Sampson R., & Bird K. J. 'Steam locomotives and Railcars of the South Australian Railways', published by The Mile End Railway Museum (SA) Inc, 1986. pp.68 - 73 |
| b | Webmaster's personal observation or comment. |
Page updated: 29 September 2011