A & D Munro - Shay No.1

Lima 906 of 1904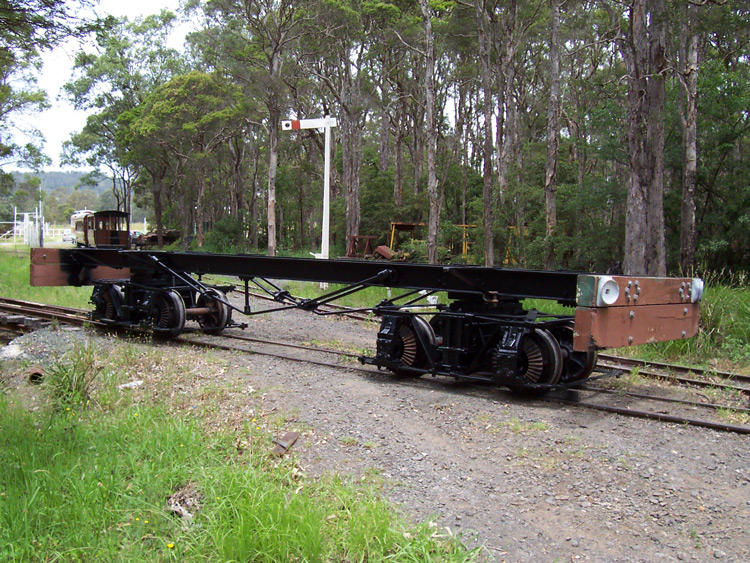 My thanks to Jason Gundlach for this view of the repaired bogies & frame of Lima 906 in January 2005.
A & D Munro built a private tramway to feed timber to their sawmill at Palmtree and to provide a connection with the Queensland Government Railways line at Hampton. Known as Munro's Hampton Tramway, this line was built to 2' 6" gauge and with very steep gradients of up to 1:9. The line followed Perseverance Creek for part of its length and is sometimes referred to as Munro's Hampton-Perseverance Tram. Shay locomotives were ideal for work on steep logging lines and accordingly A & D Munro ordered a small A-type Shay locomotive from the Lima Locomotive Works, Ohio. Lima builder's number 906 of 1904 became No.1 on Munro's Hampton Tramway and it was later joined by No.2, Lima builder's number 2097 of 1908.
Munro's Hampton Tramway closed in 1936 and the two Shay locomotives remained on site, slowly slipping into dereliction. At some stage they were scavenged for scrap metal, with damage to the boilers showing that explosives were used to remove the cylinder assemblies. However significant components of the two Shay locomotives survived and these were donated to the Illawarra Light Railway Society in 1974.
The surviving Munro Hampton Shay components were delivered to the Illawarra Light Railway & Museum at Albion Park in 1974, including the boiler of No.1 and the boiler, frame and bunker of No.2. These were reassembled to form a static display of locomotive No.2, which could be seen at the Albion Park museum in the 1978-79 period. No.2 was then dismantled as the first step on an intended restoration to operation; when restored it will be known as No.1 (Lima 906) with some minor parts from No.2 (Lima 2097). New main beams have been fitted to create a viable frame, and two spare 2' gauge Shay trucks from the Mapleton Tramway Shays have been overhauled. I understand both of the original Shay boilers are beyond repair and accordingly it is intended to use a spare Davenport locomotive boiler.
The Illawarra Light Railway & Museum website includes a page for the A & D Munro Shay providing a brief history and additional photos of this interesting locomotive.
Further information for Lima B/Nos. 906 & 2097 can be found at the excellent Shaylocomotives.com website.
For an approximation of the original appearance of these two Shay locomotives, refer to the page for the Mapleton Tramway Shay (Lima 2091 of 1908).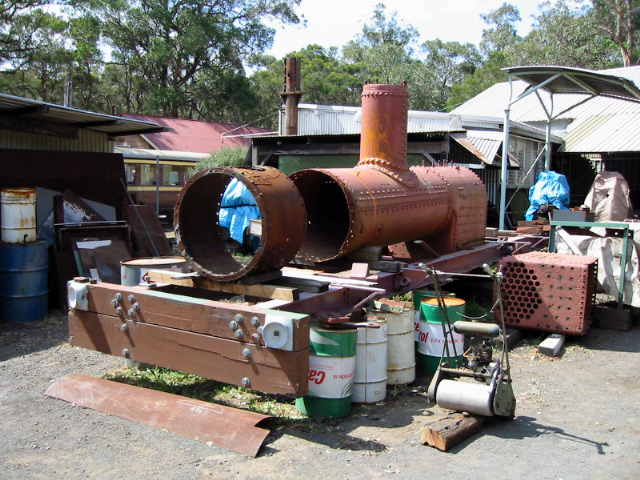 The frame of Shay No.1 (Lima 906) at the ILRMS workshop on 13 October 2002.
A Davenport locomotive boiler is trial fitted, together with an original Shay smokebox.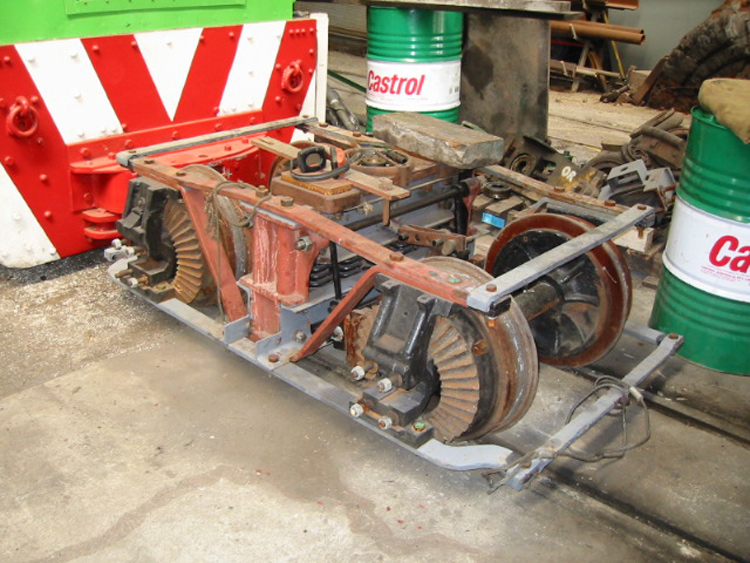 A restored 2' gauge Shay truck in the ILRMS loco shed at Albion Park. 13 October 2002.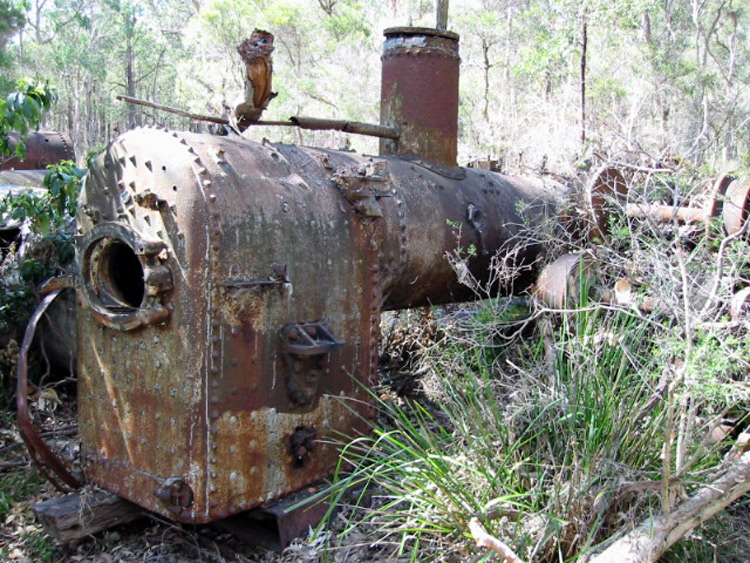 View of a derelict Shay boiler in storage at Albion Park on 13 October 2002.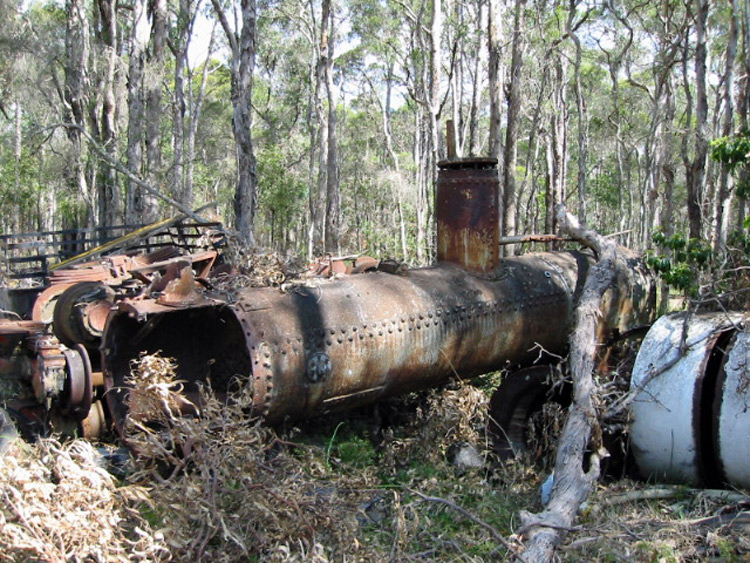 A second view of one of the two derelict Shay boilers in storage at Albion Park on 13 October 2002.
This boiler had part of the smokebox remaining and appears to be the one later sent to Ravensbourne, Queensland for the Lima 2097 project.
<![if !vml]>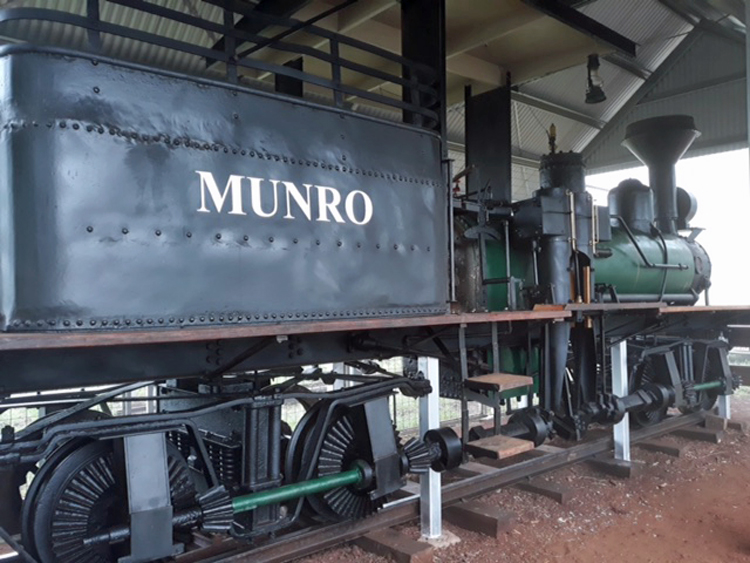 <![endif]>
Spotted during my visit to the Illawarra Light Railway & Museum on 3 May 2015 was this intriguing pallet-load of Shay parts.
Among the components is the main crank shaft, complete with eccentrics and part of the union joints.
<![if !vml]>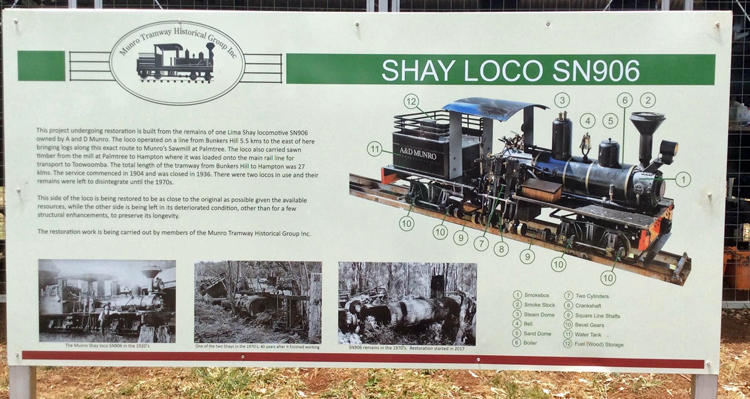 <![endif]>
My visit to the Illawarra Light Railway & Museum on 3 May 2015 also found one of the two Shay boilers placed on static display.
Damage to the outer firebox sheet is clearly visible where explosive was used by scrappers to blast off the cylinders.
References
a

www.shaylocomotives.com website, viewed 24 May 2014.

b

K. McCarthy "Guide to the Main Exhibits - Illawarra Light Railway Museum Society",

published 1992
Page updated: 3 June 2017
| | | | | | | | | | | |
| --- | --- | --- | --- | --- | --- | --- | --- | --- | --- | --- |
| Government Railways: | | | | | | | | | | |
| Private & Industrial Railways: | | | | | | | | | | |