Shay

From the Mapleton Tramway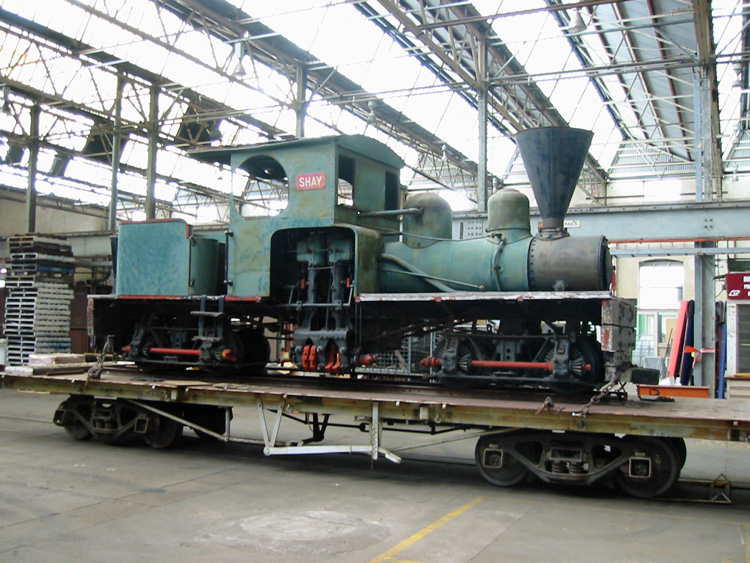 My visit to The Workshops railway museum on 22 October 2006 found "Shay" sitting on a flatcar in a storage building.
(Two sections of the red side rods had been removed, presumably for transport.)
The Mapleton Tramway was a 2' gauge line built to connect the Moreton Central Mill at Nambour with sugar cane fields under development at Dulong. The route passed through difficult terrain with steep gradients and tight curves, rising from the coastal plain to the town of Mapleton, 400 metres above sea level in the Blackall Range. Accordingly two small A-type Shay geared locomotives were ordered from the Lima Locomotive Works, Ohio to work this mountain climbing line; these locomotives were Lima Builder's Numbers 2091 of 1908 and 2800 of 1914 and were given the names "Dulong" and "Mapleton" respectively.
Although intended as a sugar cane line, the area around Dulong proved to be poorly suited to sugar cane growing. However the Mapleton Tramway continued to functioned as a common-carrier railway, loading timber, fruit, passengers and mail for conveyance from Mapleton down the Blackall Range to Nambour.
The Mapleton Tramway closed in 1944 at which time the two Shay locomotives were in poor condition. In 1949 the best components of both "Mapleton" and "Dulong" were combined to form one good locomotive for use at the Moreton Mill, Nambour, while most of the remains of the other Shay were scrapped. The remaining locomotive became known as "Shay" at Nambour and lasted in service until 1960. Fortunately it was saved for preservation and displayed at the entrance to Moreton Mill for many years; my first visit to Nambour on 27 January 2004 found "Shay" still plinthed at the Mill entrance under a basic weather roof.
Following the closure and subsequent demolition of Moreton Mill, "Shay" was relocated in 2006 to The Workshop railway museum at Ipswich for a period of storage.
Nambour Shire Council is now the owner of "Shay" and in 2010 it returned to Nambour for exhibition at the Nambour Museum. Here it is receiving a thorough static restoration by volunteers, including replacement of corroded cabsides and smokebox.
As an interesting aside, the spare 2-foot gauge trucks from the second Mapleton Tramway Shay have also survived and are being used used in the restoration of one of the two A. D. Hampton Shays at the Illawarra Light Railway Museum in NSW.
An excellent resource for Shay locomotives is the Shaylocomotives.com site, which lists "Shay" as being B/N 2800 "Mapleton".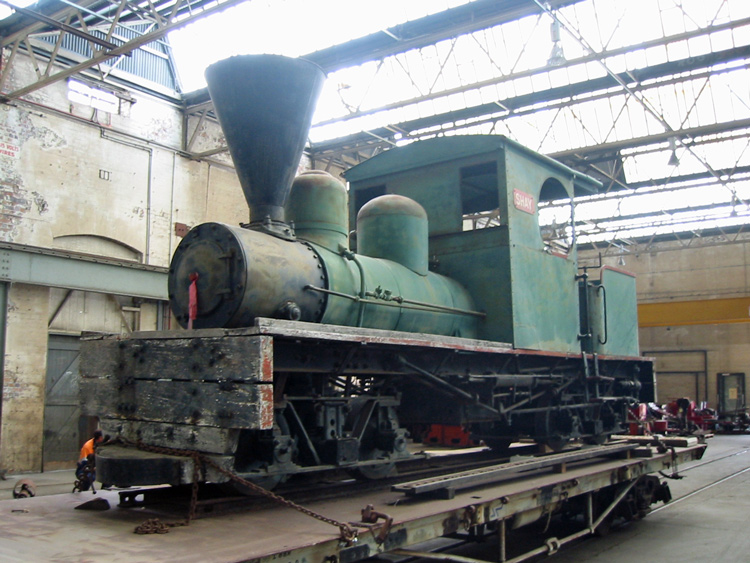 A second view of "Shay" at The Workshops railway museum, Ipswich on 22 October 2006.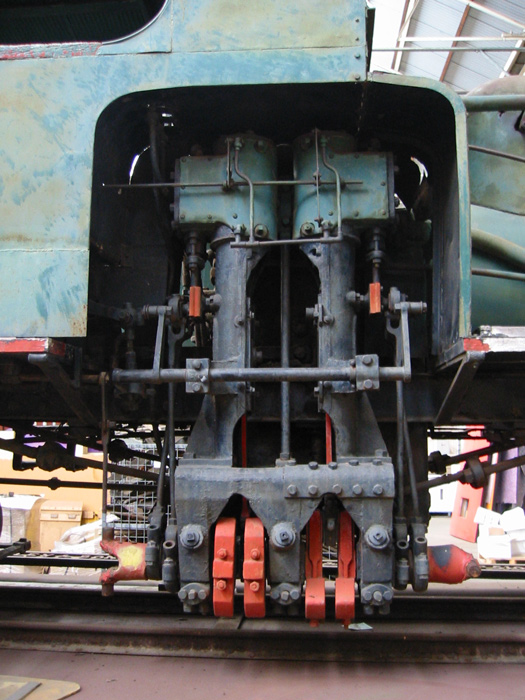 "Shay" is a 2-cylinder machine; this view shows the vertical cylinders and crankshaft.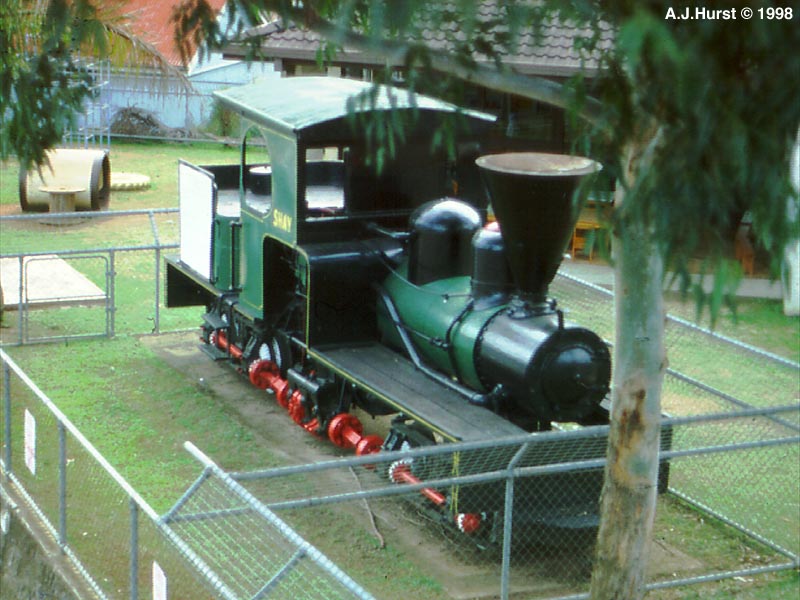 This photo is from the collection of John Hurst (with permission) and show "Shay" on display at Nambour in July 1978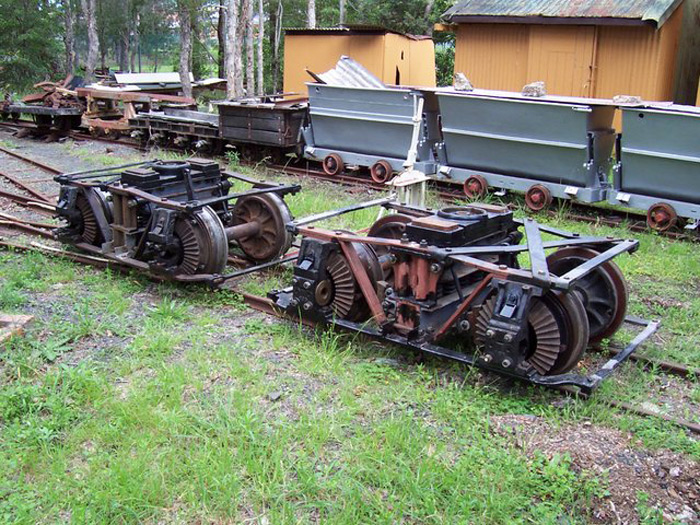 These 2' gauge Shay bogies are being used in the rebuild of Lima 906 at the ILRMS, Albion Park.
They are the surviving components of the second Mapleton Tramway Shay.
My thanks to Jason Gundlach for providing this photo.
References
a

www.shaylocomotives.com website, viewed 7 June 2014.

b

Light Railways - Australia's Magazine of Industrial & Narrow Gauge Railways', Number 189, June 2006.

Published by Light Railway Research Society of Australia Inc.
Page updated: 10 June 2014