Jack

Mistaken Identity - Krauss 6063 of 1908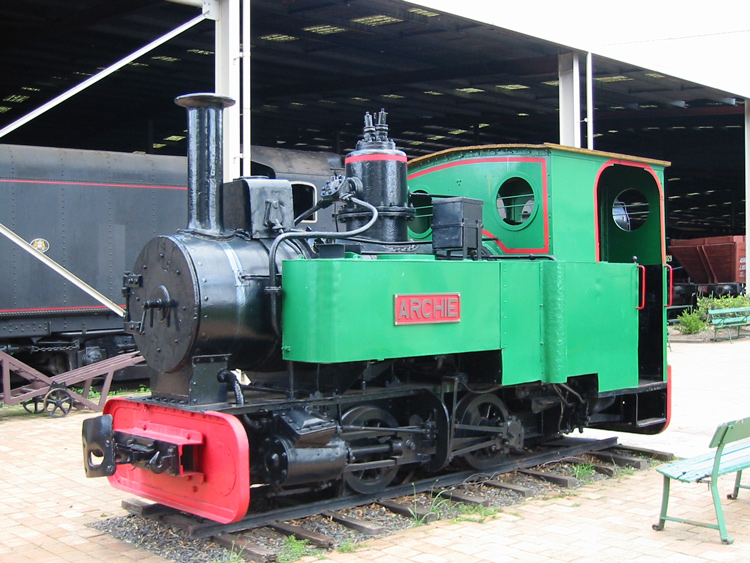 Jack (erroneously bearing Archie nameplates) displayed in the forecourt of NSWRTM Thirlmere on 17 March 2003.
This locomotive began life as one of four similar German-built 0-4-0T locomotives "Archie", "Robin", "Dulce" & "Jack" imported from the Munich-Sendling Works of Lokomotivfabrik Krauss & Co for construction work on the Burrinjuck Dam project as part of the creation of the Murrumbidgee Irrigation Area. "Jack" was Krauss builder's number 6063 of 1908, arriving after its sister locomotives of 1907 vintage.
The Goondah - Burrinjuck Railway was a lengthy route with steep gradients built to ferry construction supplies to the Burrinjuck Dam on the Murrumbidgee River, and departed the NSW Main Southern Railway at Goondah south of Yass. The Goondah - Burrinjuck Railway operated for more than 20 years, reflecting the size and duration of the Burrinjuck Dam project, but had served its purpose by 1929 and was closed. Jack was then sold for further use hauling sugar cane in Queensland.
I understand this locomotive's identity was mistakenly transposed in 1957 for sister "Archie" (Krauss B/N 5945 of 1907) by a visiting steam enthusiast and historian. This misidentification persisted after Jack finished its working days at Farleigh Mill in 1963 and on through preservation when the locomotive was donated to the NSWRTM in 1966. Accordingly Jack was restored as "Archie" by the NSWRTM. It was displayed at the NSWRTM's Enfield Roundhouse site until transferred to Thirlmere in 1975 and placed on display in the display hall forecourt, where it remained for 33 years to 2008. (Your webmaster has many memories and family photographs of Archie in this location, starting from my first visit to Thirlmere as a 7 year old in 1975.)
Inevitably Jack's condition was slowly deteriorating in the open, despite repainting and other maintenance. With the upgrading of the Thirlmere site soon to begin, in August 2008 the NSWRTM announced that Jack would be leased to Lake Macquarie Light Rail for restoration to operation at their site. Accordingly the locomotive left Thirlmere in late September 2008 via road transported to Lake Macquarie. I believe it was inspection for restoration assessment in preparation for this move that Jack's true identity was discovered.
Jack (aka Archie) was a popular exhibit at the NSWRTM and very accessible, especially to younger visitors. It also related a significant story in the development of NSW through the Murrumbidgee Irrigation Area and the Burrinjuck Dam. While I am glad to see the locomotive restored to operation, I will miss its contribution to the story of rail in NSW as presented at Thirlmere. Is it too much to hope that - with the current owner's permission! - the derelict remains of the third remaining Burrinjuck Tramway Krauss "Dulce" could be used to not only provide / swap some parts for the Jack restoration, but also be reassembled for static display at the NSWRTM?
As an aside - the final miles of the Goondah - Burrinjuck Railway as it descends into the Murrumbidgee Valley can still be followed, as this is now the main access road to Burrinjuck Dam and makes for an interesting and scenic drive. The real "Archie" (until recently understood to be Jack and still wearing "Jack" nameplates) is also preserved and can be seen plinthed near the Burrinjuck Dam.
An excellent reference for further reading on the Burrinjuck Tramway and its locomotives is "The Goondah-Burrinjuck Railway" by John R Newland, published by the Australian Railway Historical Society, New South Wales Division, 1994. A second edition was also published in 1999.
In addition, a full history of Jack and the background to its mistaken identity can be found in an article written by Colin McDonald in the NSWRTM publication "Roundhouse", Vol. 45, No.4 - November 2008, page 12.
Page updated: 22 May 201
1