J&A Brown No. 5

The Major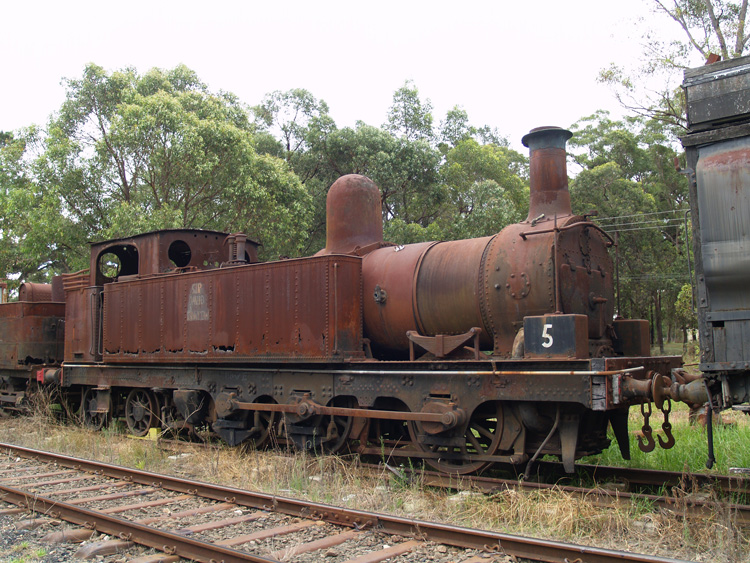 This view shows J&A Brown No.5 "The Major" in storage at Trainworks, Thirlmere on 6 March 2011.
The copper-capped chimney and outside frames are evident, together with a circular patch on the smokebox side which dates back to the 1904 overhaul in the UK.
The exhaust steam pipes once connected from this point on either side of the smokebox to the side tanks, where the steam was condensed for re-use.
J & A Brown No.5 was built by the famous Manchester locomotive builders Beyer Peacock & Co in 1885 (builder's number 2601) as one of nine for use on the Mersey Railway, Liverpool. Due to steep gradients and lengthy underground sections on the Mersey Railway, steam condensing equipment was fitted to these locomotives to help reduce smoke exhaust and improve conditions for the suburban passengers. These chunky and powerful 0-6-4T locomotives also featured outside frames and were presumably designed for ease of running in both forward (chimney leading) and reverse (bunker-leading) directions.
The Mersey Railway was electrified in 1903 and the steam locomotive fleet became surplus to requirements and offered for sale. While others were purchased by UK concerns, four were sold to J & A Brown for use on the Richmond Vale Railway which linked the NSWGR at Hexham to collieries at Minmi, Stockrington, Pelaw Main and Richmond Main. The four locomotives purchased by J & A Brown were overhauled in the UK (including the removal of condensing gear) prior to shipment to Australia. J & A Brown No.5 had been the class leader of the Mersey Railway "Class 1" 0-6-4T locomotives, bearing No.1 and the name "The Major". It was the last of the ex-Mersey railway steam locomotives sold after electrification as it had been retained until 1908 for standby duties. J & A Brown retained the Mersey Railway locomotive names and hence No.5 continued to be known as "The Major" on the Richmond Vale Railway.
No.5 "The Major" was withdrawn from Richmond Vale Railway service in 1942 owing to boiler problems. It was placed in store at the Fodder Shed near Wallace Creek, where it remained until 1967 when towed to Hexham pending disposal. Here it ostensibly served as a buffer stop.
Photographs of J & A Brown's Hexham sidings in the 1967 - 1973 period show long lines of their steam locomotives in storage, including No.3 & 4, many of the ex-ROD 2-8-0s, and Mersey tank No.5. In 1973 tenders were called for the sale and disposal of these locomotives and railway preservationists rushed to save as many as possible. Fortunately the NSWRTM stepped in and raised sufficient funds to purchase No.4 / 20N and No.5 for preservation. Due to lack of resources to enable restoration at that time, both were placed on display in 1975 at the NSWRTM Thirlmere in "as received" condition. In 1983 they were shunted onto the long-term storage sidings away from public viewing, where No.5 received some black-oiling and lubrication in 1989. The rotten front buffer beam was also rebuilt in order to permit safe shunting.
Of the other three imported to Australia, only the crank wheelset of No.8 survives and is displayed at the Richmond Vale Railway Museum. One of the five sister locomotive which remained in the UK also survives - the original Mersey Railway No.5 "Cecil Raikes" which was bought by Shipley Collieries. This locomotive was displayed at the Museum of Liverpool from 1995 to 2006 but is currently in store and away from public viewing. It makes an interesting comparison with J & A Brown No.5 as it retains its condensing gear.
A small group of NSWRTM volunteers restored No.4 / 20N from 2004 to 2008 and had then proposed the restoration of J & A Brown No.5 "The Major", but alas that work has not yet begun. While No.4 / 20N is now a prime exhibit in the Newcastle Museum, No.5 "The Major" is still awaiting its turn for restoration and display. In the meantime the NSWRTM members can be thanked for the continuing survival of this interesting and historic locomotive. b
For further information about the Mersey Railway and J & A Brown No.5 "The Major", readers are directed to an excellent article written by Graham Black for "Light Railways - Australia's Magazine of Industrial & Narrow Gauge Railways", Number 230 of April 2013.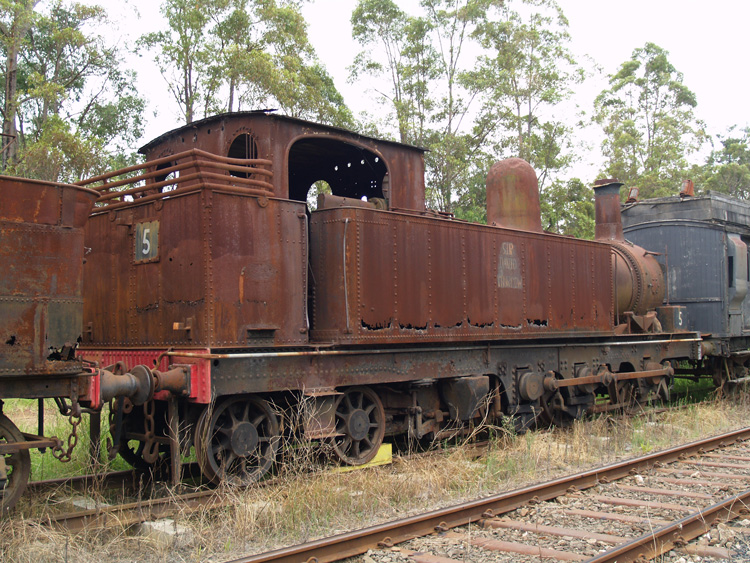 The outside frames of No.5 are evident in this rear view of 6 March 2011.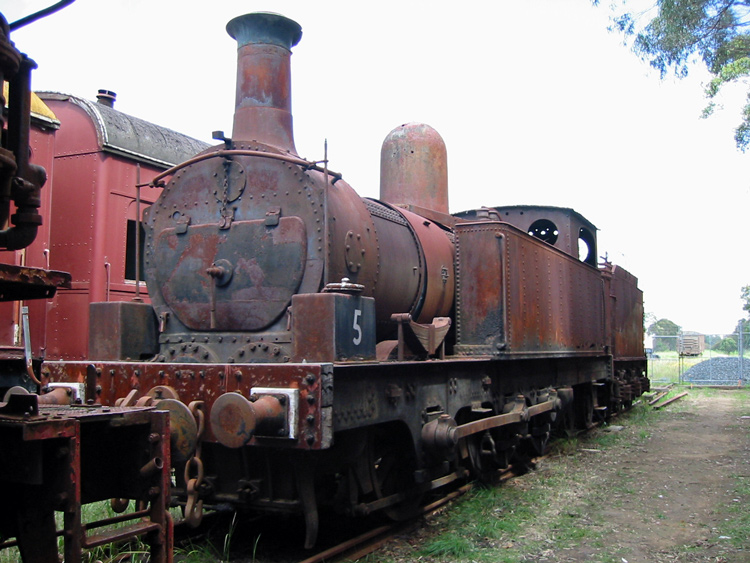 J&A Brown No.5 is seen in storage at the NSWRTM on 17 March 2003.
The front buffer beam had recently been replaced to allow No.5 to be safely shunted.
References
a

"Locomotives of Australia" by Leon Oberg, published by J. W. Books Pty Ltd, 1982 reprint.

b

'Light Railways - Australia's Magazine of Industrial & Narrow Gauge Railways', Number 230, April 2013.

Published by Light Railway Research Society of Australia Inc. Feature article "Two Number Fives: The story of ex-Mersey Railway locomotives Cecil Raikes and The Major" by Graham Black, pages 3 - 11.

c

Webmaster's observation or comment.
Page updated: 25 August 2013