C17 No. 1000

The Workshops, Ipswich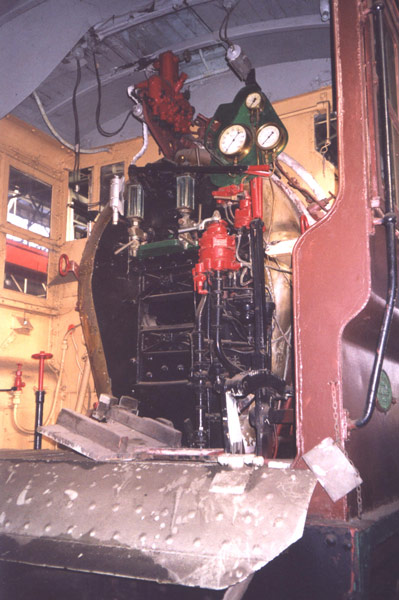 A view into the cab of No. 1000 on 7 June 1999 when in storage at Redbank Workshops.
This photo was kindly contributed by Andrew Ham.
Builder

Walkers Limited, Maryborough

Builder's Number & Year

537 of 1953

Wheel Arrangement

4-8-0

No. in class

227

No.1000 is one of the Queensland Government Railways' highly successful C17 class 4-8-0 locomotives of which 227 units were constructed by a variety of builders between 1920 and 1953.  The C17's were a "maid of all work" type that were powerful enough for main line freight duties, yet with a low axle load which permitted wide deployment and accordingly they could be found on everything from suburban and express passenger trains to main, secondary and branch line freight and mixed traffic work, although the type are perhaps best associated with the long rural routes through Queensland Government Railways' (QGR) Northern and Central Divisions.  The last C17 class members in regular service were retired at the very end of QGR revenue steam operations in August 1970.

No 1000 represents the final "1950 design" of C17 which featured Timken roller bearings on all axles, together with the "1938 design" improvements of piston valves, Laird crossheads, a wider & taller sedan cab with sliding windows, a slender stovepipe chimney with capuchion lip, and a higher-capacity tender.  It is one of the final 40 C17's known as "Brown Bombers" due to their original livery of handsome mid-brown with green lining.

No.1000 was the final C17 to be constructed and the only one to wear a 4-digit road number!  It was placed in Queensland Government Railways service during September 1953 and written off in October 1969 after a working life of only 16 years.  No.1000 was selected for preservation at the Queensland Railways' Steam Locomotive Museum, Redbank where it was statically displayed from 1970 onwards.  Here it provided an example of the most modern C17 locomotives, with sister loco No. 2 providing a contrasting example of an early C17.)

The Queensland Railways' Steam Locomotive Museum, Redbank closed its doors in 1992 pending the development of a more comprehensive and interactive railway museum, which eventuated a few years later as The Workshops museum at Ipswich.  No. 1000 and other Redbank exhibits were stored at the nearby Redbank Workshops for several years pending the opening of The Workshops museum, Ipswich.  No.1000 had since been under a slow but thorough heavy overhaul at The Workshops museum, Ipswich, with the intention that it would join sister No.974 in the fleet of steam locos available for main line operations.  Unfortunately this effort had apparently stalled as at June 2012 due to the need for a new boiler.  In the interim, No.1000 is displayed in its dismantled state on the workshop floor, showing its various components and providing an example of how locomotives are repaired.  Hopefully funding for a new boiler will be raised in due course.

For further general information about the Queensland Railways' C17 class locomotives, refer to the page for C17 No.2.

<![if !supportMisalignedColumns]>
<![endif]>
<![if !vml]>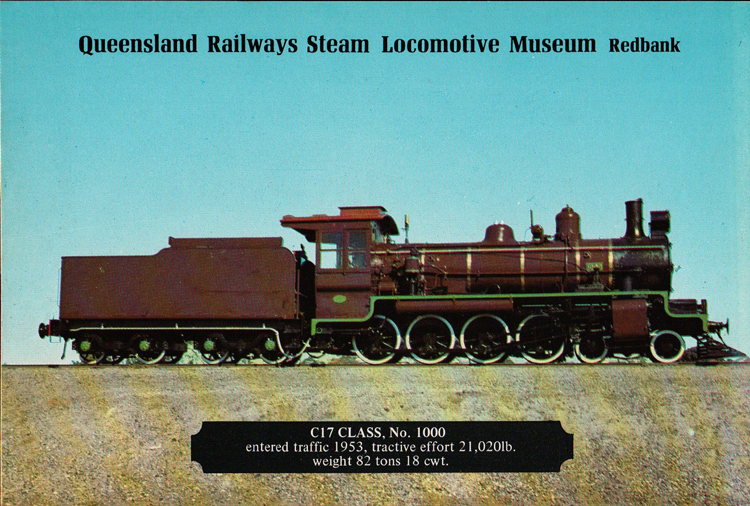 <![endif]>
This official portrait of No.1000 shows her as prepared by Queensland Railways for display in their former Steam Locomotive Museum at Redbank.
No.1000 is wearing the "Brown Bomber" livery of mid-brown with green lining, together with polished brass boiler bands.
This is one of several postcards the webmaster collected at Redbank in 1988 following a memorable visit to Brisbane for 'Expo 88'.
<![if !vml]>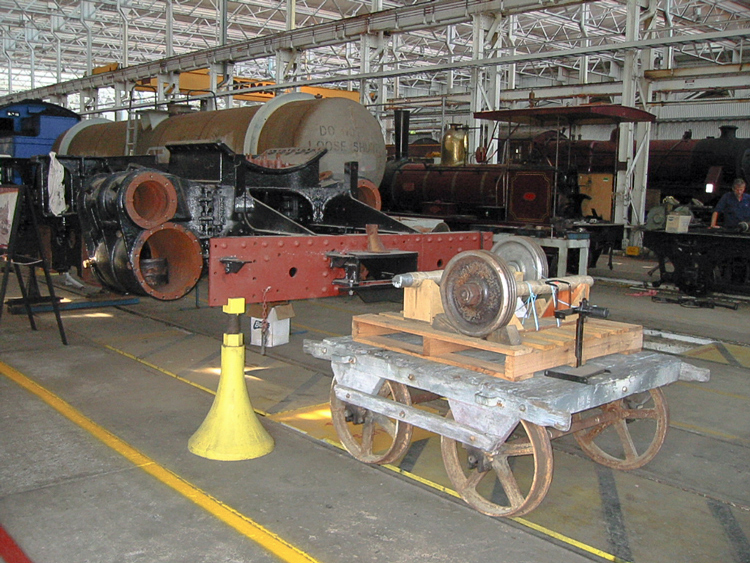 <![endif]>
No.1000 displayed in its dismantled state on the workshop floor at Ipswich on 8 October 2004.
The pistons are resting on a workshops dolly in the foreground, while the stripped frames are jacked up behind.
<![if !vml]>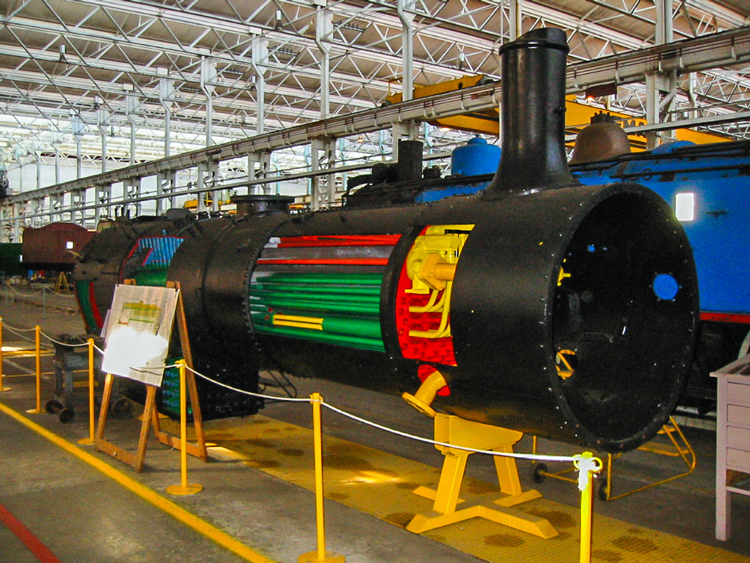 <![endif]>
This old C17 boiler is displayed as a sectioned exhibit at The Workshops, Ipswich.  8 October 2004.
<![if !vml]>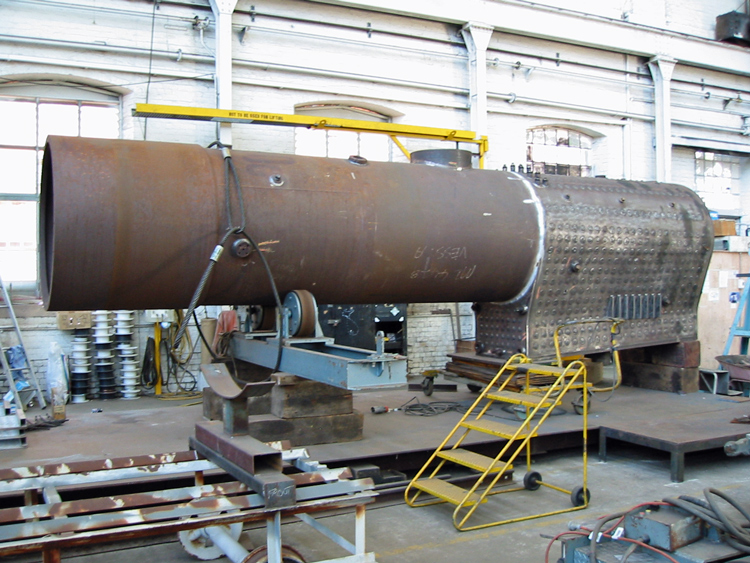 <![endif]>
Several new welded boilers have been built at the Workshops, Ipswich for the heritage loco fleet.
This C17 type boiler was under construction during the webmaster's visit of 8 October 2004.
I understand a similar example is now required for No.1000.
References
a

'Locomotives of Australia' by Leon Oberg,

published by J. W. Books Pty Ltd

b

Armstrong, J. 'Locomotives in the Tropics - Volume 2

(Queensland Railways 1910 – 1958 and beyond)',

published by the ARHS Queensland Division, 1994.

c

Webmaster's observation or comment
Page updated: 10 December 2015
| | | | | | | | | | | |
| --- | --- | --- | --- | --- | --- | --- | --- | --- | --- | --- |
| Government Railways: | | | | | | | | | | |
| Private & Industrial Railways: | | | | | | | | | | |