C17 No.974

Stalwart of the QR heritage fleet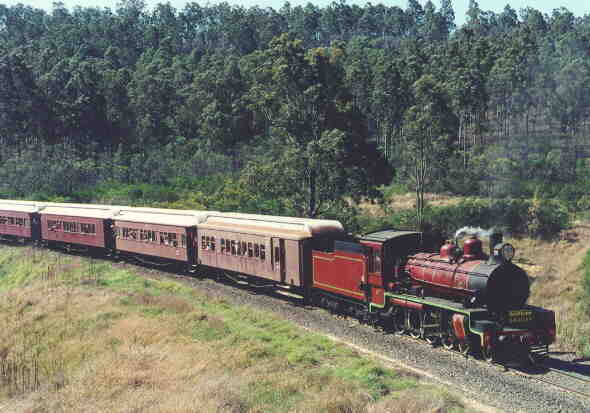 This photo is courtesy of Graham Watkins:

"

C17 974 climbs up the Little Liverpool Range on its return from Laidley on the Chelsea Festival Tour, 14 September 1996."

No.974 was built by Walkers Limited, Maryborough as their Builder's No.511 of 1951, joining the Queensland Government Railway's very successful C17 class which grew to 227 examples built over several decades. No. 974 was built to the post-war variant of the C17 class with enhancements such as a widened cab and welded tender tank.

Following withdrawal from regular QGR service, No. 974 was saved for preservation and joined the heritage fleet for service hauling tour trains over the QR network. It is based at The Workshops railway museum, Ipswich where in recent years it has received a heavy overhaul including construction of a new welded boiler. Other modifications made to suit the modern operating environment include the fitting of automatic couplers and ditch lights.

As at June 2012, No. 974 was out of service for roller bearing replacement. It had returned to operating duties by March 2013.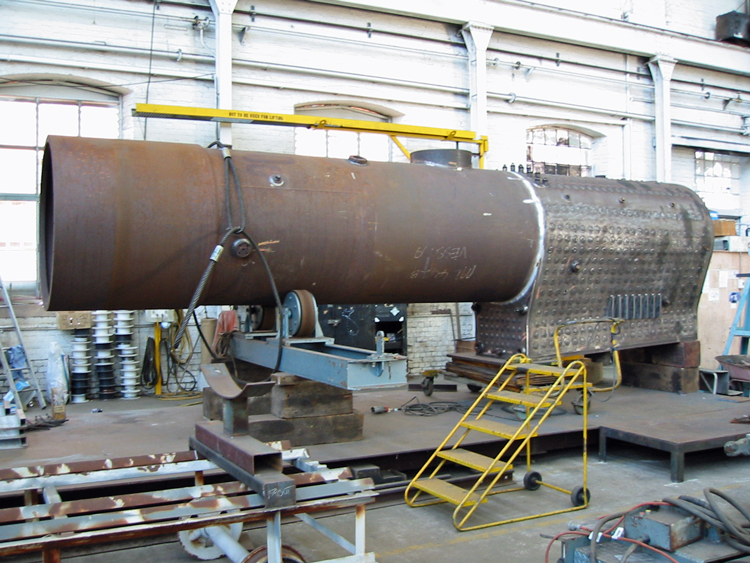 No. 974's new welded boiler under construction at Ipswich; webmaster photo dated 8 October 2004.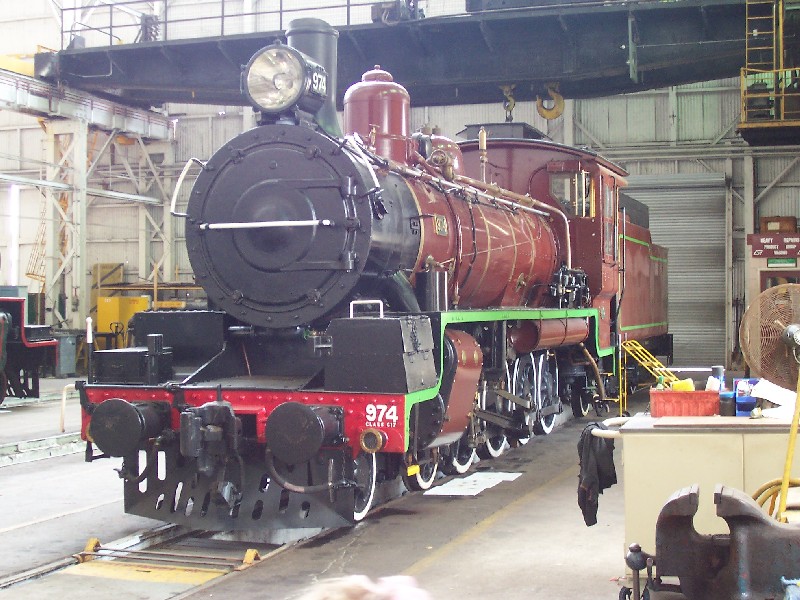 Paul Shepherd has kindly provided this February 2007 photograph showing the modifications made to No. 974,
include automatic couplers and ditch lights on the buffer beam.
References
| | |
| --- | --- |
| a | Information provided by Graham Wilson (Operations Manager, Heritage Rollingstock & Component Services, QR) at our meeting of 8 October 2004. |
| b | Webmaster's personal observation or comment. |
Page updated: 19 March 2013