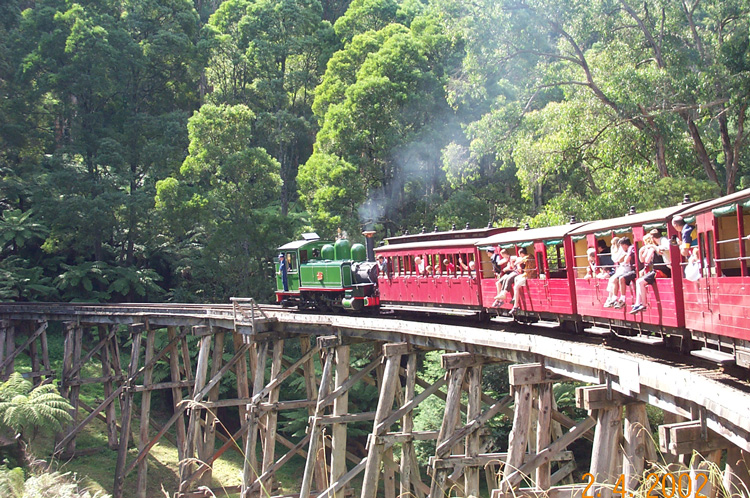 This classic view shows 6A rolling downgrade across the Monbulk Creek trestle bridge.
This photo is dated 2 April 2002 and was kindly contributed by Roy Bird.
NA-class locomotive 6A was constructed at Newport Workshops in 1901 for use on the Victorian Railways narrow-gauge lines. It was built to the design of the original two NA-class members 1A & 2A which were supplied by the Baldwin Locomotive Works. (For general information about the Victorian Railways narrow-gauge lines and the NA-class, refer to the page for NA3.)
6A was taken off the Victorian Railways register in 1962 and passed into the care of the Emerald Tourist Railway Board for operation on the Puffing Billy Railway. It has since generally remained in traffic excepting periods of overhaul, including a lengthy and thorough rebuilding which was completed in early 2002 at the Puffing Billy Railway's Belgrave depot. It is normally shedded at Belgrave depot together with sisters 7A, 8A, 12A and 14A.
The Puffing Billy Railway is generally considered to be Australia's best heritage railway and is well worth a visit!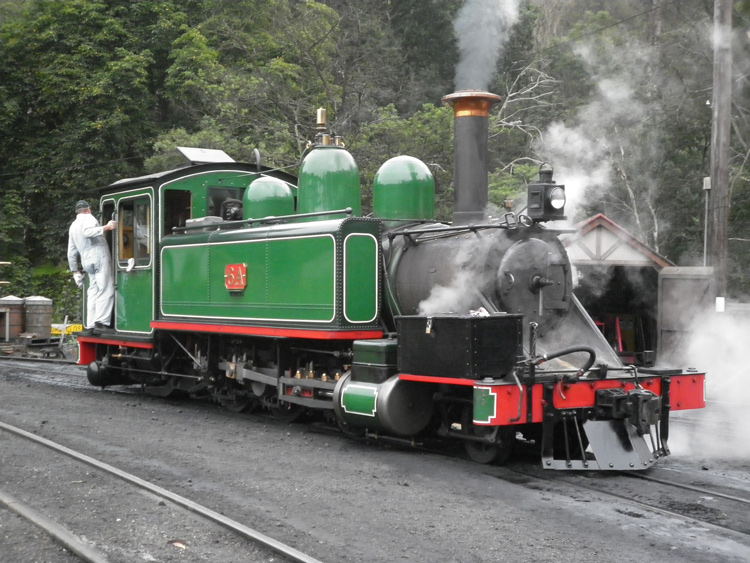 6A in the Belgrave depot yard; this photo contributed by Max Bracher.
My thanks to Gordon Ross for this image of 6A running bunker-first as it returns to Belgrave.
(The NA class fleet shedded at Belgrave all face chimney-first towards Gembrook.)
References
a

"Steam Locomotives of the Victorian Railways, Volume 1: The First Fifty Years" by Norman Cave, John Buckland & David Beardsell.

Published in 2002 by the Australian Railway Historical Society (Victorian Division), Melbourne.

b
"Locomotives of Australia, Fifth Edition (1850's - 2010)" by Leon Oberg, published in 2010 by Rosenberg Publishing Pty Ltd, Dural NSW.
c

Information provided by Max Bracher via email, 20 October 2012
Page updated: 1 March 2014