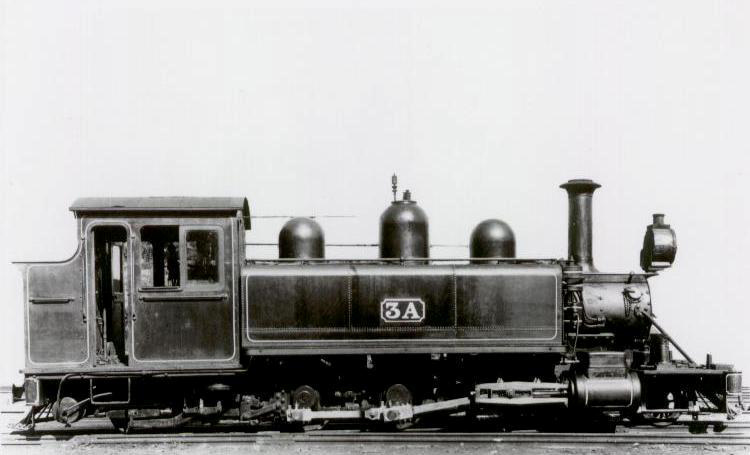 Narrow gauge A class No.3 early in her career.
The line of rivets along the bottom of the side tanks shows this view was taken after the water capacity was increased from 600 to 780 gallons.
The Victorian Government authorised the construction of a number of 2' 6" narrow-gauge railways to facilitate the development of areas which could not justify the high capital cost of 5' 3" gauge railway construction, with the first such line opened in 1899 between Wangaratta and Whitfield. To operate this line, two 2-6-2T locomotives were ordered from the Baldwin Locomotive Works, entering traffic in 1898 and assisting with the Whitfield line's construction. These handsome tank locomotives were designated the Narrow Gauge A-class (NA class), carrying nameplates 1A and 2A. Interestingly, 2A was supplied with Vauclain compound cylinders; this system had some popularity at the time. The NA-class appear to have been based on a standard Baldwin design of the period, with similar locomotives supplied to various railways around the world; examples of similar machines include the New Zealand Railways Wb-class 2-6-2T locomotives and four examples of a 0-6-0T version for the Mt Lyell railway in Tasmania, both for 3' 6" gauge.
Three further 2' 6" gauge developmental railways were subsequently opened, Upper Fern Tree Gully to Gembrook in the Dandenong Ranges in 1900, Colac to Beech Forest in 1902 and the Moe to Walhalla line in 1910. To operate these routes the Victorian Railways built 15 further NA-class locomotives at Newport Workshops, with 3A completed in 1900 (using some spare parts previously supplied by Baldwin) and the last, 17A completed in 1916. (4A was also built as a Vauclain compound; the Webmaster speculates this may be because Newport Workshops had a set of Vauclain cylinders originally supplied as spares for 2A.) The NA-class locomotives had sole operation of the Victorian Railways narrow-gauge lines until the arrival of Beyer Garratts G41 and G42 in 1926, precipitating the withdrawal of 1A and 2A in 1929. Class numbers continued to thin with the gradual reduction in traffic and ultimate closure of the narrow-gauge lines.
3A entered traffic at Fern Tree Gully in April 1900 having been the second locomotive built at Newport Workshops (the first being Z 256). 3A also saw service on the Colac-Beech Forest-Crowes line as well as the Moe-Walhalla line. Photographic evidence shows that it received enlarged side tanks at some stage (increasing water capacity from 600 to 780 gallons) together with a raised rear coal bunker. It was based at Fern Tree Gully in 1955 when the Puffing Billy Preservation Society came into being, but failed soon after its last trip between Fern Tree Gully and Belgrave. 3A's official record card shows that it was withdrawn from service on 28 November 1955 having completed 337,106 miles. It then shows "Broken up 29 November 1955", overwritten "Off Register" again overwritten "held at Newport Workshops for historical purposes" again overwritten "sent to Portsea 15 November 1955". 3A was in fact been sent to Portsea where it was plinthed in a park until obtained by the Puffing Billy Preservation Society on 4 October 1977.
3A was dismantled for assessment by the Puffing Billy Preservation Society following its arrival at Menzies Creek in 1977. Unfortunately the boiler was found to be in poor condition and was placed on display at the Menzies Creek Museum. For many years the frames, cylinders and wheels were stored at Emerald until transferred around 2000 to the long-term storage shed at Gembrook. The condition of the remaining parts is a significant issue, with the frame and motion being original wrought iron of Baldwin manufacture and considered worn out.
Various proposals for the restoration of 3A have been made over the years. The recent direction is to restore 3A as a static exhibit using original parts as they become available, to the original design including wooden cow catchers and original smoke box. Given that a new boiler is required, together with new side tanks, cab & bunker, the restoration of 3A would be very expensive however the Puffing Billy Railway Society has previously built new boilers and all platework for other members of the preserved NA fleet and thus the restoration of 3A is technically feasible. Perhaps the real issue is that the resulting locomotive would effectively be a new locomotive - 18A maybe! - and thus the historic fabric of 3A should indeed be preserved as a static exhibit.
As an interesting aside, a 2-4-2T cousin of the NA-class Baldwin locomotives is currently being constructed as a "new build" project in the UK, in the form of the Lynton & Barnstaple Railway locomotive "Lyn". Due to the similarities of these Baldwin locomotives, the Puffing Billy Railway Society has been able to offer some technical support to this project.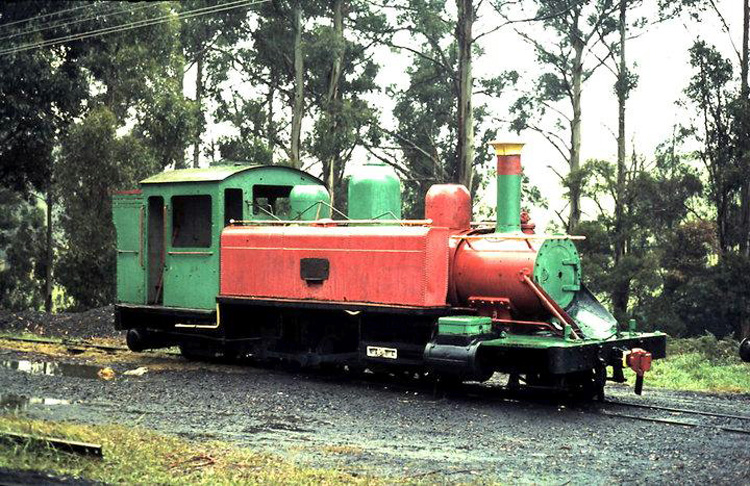 A view of 3A recently arrived at Menzies Creek in 1977 after its years plinthed at Portsea.
It carries the garish paint scheme typical of many plinthed locomotives.
This photo was kindly provided by Andrew Fairweather.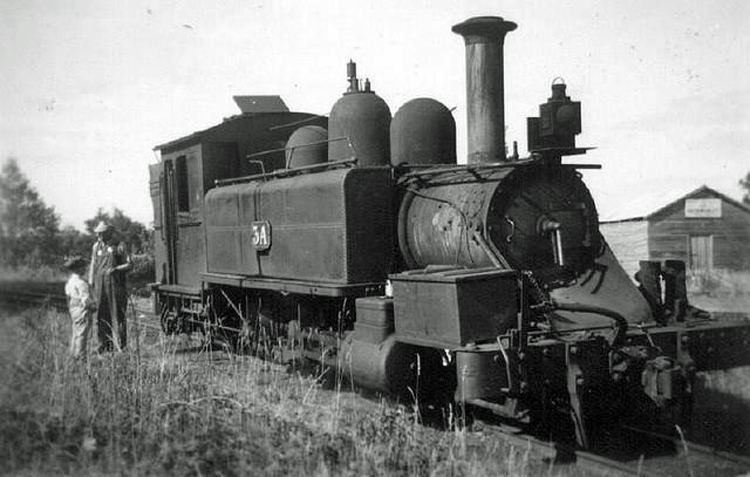 A view of 3A in operation on the Gembrook line.
Comparison with the earlier photograph above shows that the bunker has been raised.
This photo was kindly provided by Andrew Fairweather.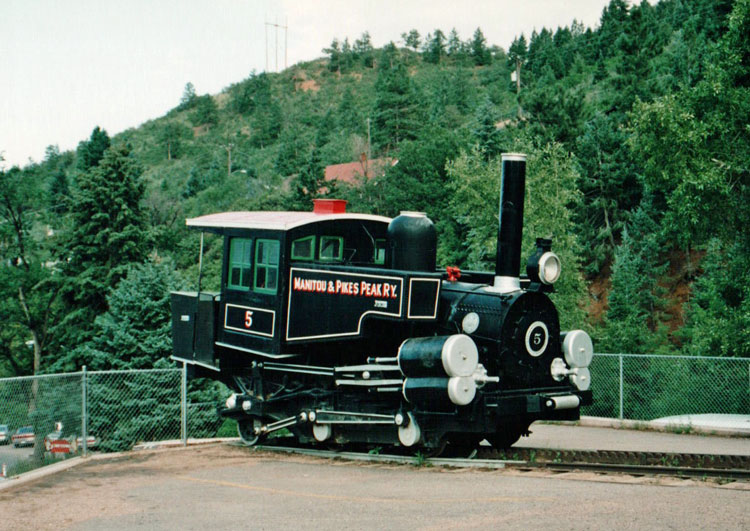 For comparison & interest, here is a scanned view of a Baldwin locomotive of similar vintage and with Vauclain compound-steam cylinders.
This is Manitou & Pikes Peak Railway No.5 as I found her in 1994 displayed at the bottom station of this Colorado cog railway.
The high and low pressure cylinders can clearly be seen driving a common crosshead, with the valve nestled behind the cylinders.
References
a

"Steam Locomotives of the Victorian Railways, Volume 1: The First Fifty Years" by Norman Cave, John Buckland & David Beardsell.

Published in 2002 by the Australian Railway Historical Society (Victorian Division), Melbourne.

b
"Locomotives of Australia, Fifth Edition (1850's - 2010)" by Leon Oberg, published in 2010 by Rosenberg Publishing Pty Ltd, Dural NSW.
c
"Puffing Billy Monthly News", April 2012
d

Information provided by Max Bracher via email, 20 October 2012

e

Information provided by Andrew Fairweather, 29 October 2013
Page updated: 9 February 2014