1021

Cardiff Workshop Shunter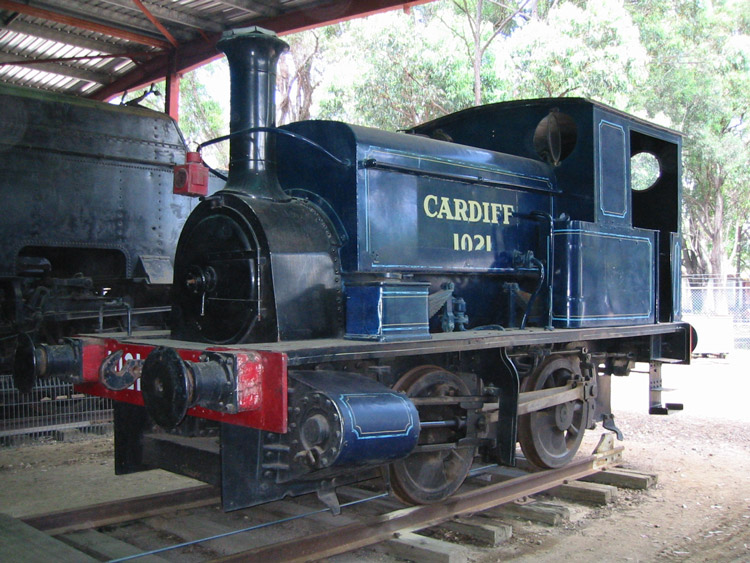 This view shows

1021 in the display hall at the NSWRTM on 5 March 2006.

(1021 has since received a thorough static restoration and repaint.)

1021 was built by Manning Wardle & Co (builder's no. 1896 of 1916) to one of their standard designs of industrial & construction locomotive, and was one of five similar locomotives imported by the NSW Public Works Department for various construction duties. 1021 finished its days with the NSWGR in 1970 and fortunately was retained for the collection of the NSWRTM.

1021 was statically restored by NSWRTM volunteers in the early 1970's in an attractive lined blue livery, apparently representing the period when it was the Cardiff Workshops shunter. Unfortunately this livery subsequently faded during the early years of open-air display at the NSWRTM Thirlmere site.

c

During 2010 this locomotive was the beneficiary of restoration funding provided by RailCorp and it received a thorough repaint and refurbishment in the new Thirlmere workshops. 1021 has since been placed on display within the theatrette of the new exhibition building at Thirlmere.

Stephen Tolhurst also provides a complete history of locomotive 1021 on his excellent X10 website.

1021 is similar to Manning Wardle & Co B/N 1781 of 1911, which also survives in the collection of the Powerhouse Museum.
Joel Turner has kindly contributed this view of 1021 at Trainworks on 10 December 2012.
1021 now stars in an innovative audio-visual display in the Trainworks theatrette.
(The industrial bric-a-brac in the right foreground acts as a display screen.)
References
| | |
| --- | --- |
| a | Eardley, G. H. 'Locomotives: A Guide - Enfield Railway Museum', published by the NSWRTM, 1973. |
| b | L. Oberg, 'Locomotives of Australia', published by J. W. Books Pty Ltd, Brookvale NSW. 1982 reprint. |
| c | Webmaster's observation or comment. |
Page updated: 19 March 2013