South Maitland Railway Pty Ltd No. 20

10-class 2-8-2T
This photo is provided by Ross Wood and shows SMR 20 and empty 4-wheel hoppers approaching Neath on a very hot day in 1971.
This locomotive was built by Beyer Peacock & Co as their builder's number 5998 of 1920, becoming No.20 of the South Maitland Railway Pty Ltd's very successful "10-class" 2-8-2T locomotives. a No.20 was one of a number of repeat orders by the SMR for additional 10-class locomotives, which eventually numbered 14 examples. c
SMR 20 spent its working life on South Maitland Railway near Cessnock in the Hunter Valley, working between the SMR's various colliery branches and the NSW Government Railways exchange sidings at East Greta. Steam haulage on the SMR finally finished in 1983, following which No.20 and its sister locomotives were classified by the National Trust and retained for preservation. c
Today SMR 20 is owned privately and stored at the Rothbury Riot Railway, Branxton, together with sisters SMR 17, 23, 26, 27, 28 and 31.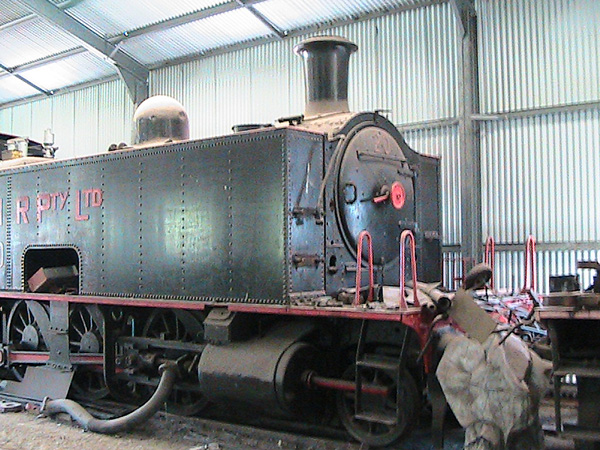 A more recent view showing SMR No.20 in covered storage at Rothbury.
My thanks to Joel Turner for contributing this photo, which is dated 3 December 2011.
References
| | |
| --- | --- |
| a | McNicol, S. 'Coals to Maitland', Railmac Publications, 1982. |
| b | Continental Railway Journal' No.136 Winter 2003/04, published by Continental Railway Circle, page 102 |
| c | Webmaster's observation or comment. |
Page updated: 2 February 2013