South Maitland Railway Pty Ltd No. 18

10-class 2-8-2T
This photo is courtesy of Mark Newton and shows SMR 18 at Delec, Sydney in 1995.
The loco sports a NSWGR headlight but this photo was taken prior to the extended smokebox being fitted.
This locomotive was built by Beyer Peacock & Co as their builder's number 5909 of 1918, becoming No.18 of the South Maitland Railway Pty Ltd's very successful "10-class" 2-8-2T locomotives. (a) No.18 was the third member of the 10-class, and subsequent repeat orders eventually swelled the class to 14 examples. (c) These locomotives were a powerful and rugged design with saturated steam boilers, and spent their working lives hauling coal trains over the South Maitland Railway system between a range of mines and the NSWGR exchange sidings at East Greta. The SMR workshops and running sheds were also located at East Greta.
SMR 18 received a new welded boiler in 1980, built by the SMR at their East Greta workshops. (a) The majority of the 10-class locomotives became surplus to requirements following cessation of steam haulage on the South Maitland Railway system in 1983, although four of the class remained in operation at Hexham until closure of the Stockrington Colliery line in 1987. (c) Fortunately the 10-class locomotives and the South Maitland Railway running shed were classified by the National Trust and the entire class passed into preservation.
SMR 18 is now owned by the Hunter Valley Training Company, East Greta (together with class leader SMR 10). SMR 18 was leased to 3801 Limited and had been in use on "The Cockatoo Run", a regular tourist train from Wollongong up the Illawarra escarpment to Robertson. It was fitted with an extended smokebox and bunker to better suit this demanding role. SMR 18 was generally housed at Eveleigh Workshops, Sydney in the period 1995 - 2003, where it kept company with pacifics 3801 and 3830. (c)
On 21 May 2003, SMR 18 was transported by road - three truckloads - from Eveleigh to the Bradken Rail works at Braemar, near Mittagong. (d) There it was rebuilt to original form, and on completion was returned to the former SMR depot at East Greta. It was intended to be operated on the SMR line to Pelton.
SMR 18 (together with SMR 10) had been stored at the Rothbury Riot Railway, Branxton on behalf of the Hunter Valley Training Company in recent years however I understand they were returned to their former South Maitland Railway workshops site at East Greta in October 2010.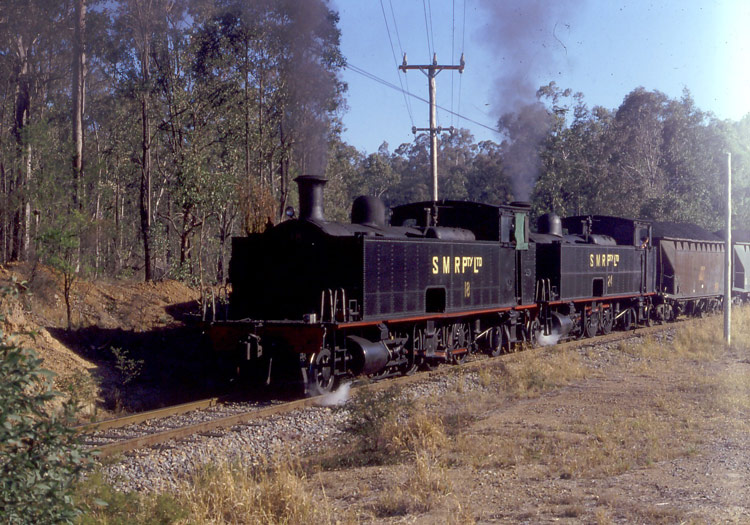 Anthony Winstone has provided this slide view showing SMR 18 and 24 double-heading a train of BCH coal hoppers at Cessnock in 1980.
This type of working was typical of the final years of the South Maitland Railways steam haulage; alas NSWGR diesels took over during 1983.
References
| | |
| --- | --- |
| a | McNicol, S. 'Coals to Maitland', Railmac Publications, 1982. |
| b | Continental Railway Journal' No.136 Winter 2003/04, published by Continental Railway Circle, page 102 |
| c | Personal comment or observation. |
| d | Information provided by Mark Newton via email dated 25 May 2003. |
Page updated: 2 November 2010