PB15 No. 448

Restored & operated by the Queensland Pioneer Steam Railway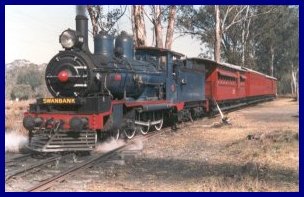 This photo is kindly provided by Ken McHugh (original photo by Bill Blannin with permission) and shows No.448 in operation on the QPSR during 1991.
PB15 No.448 was built by Walkers Limited of Maryborough (builder's number 93 of 1908) (c) as one of the very successful PB15 class of locomotives. The PB15 class were a passenger version of the B15 class (hence the "P" prefix), a key difference being larger diameter driving wheels. The "PB15" class designation follows the Queensland Government Railways naming convention of "B" for 6-coupled locomotives and "15" to designate 15-inch cylinder diameter. The PB15 class eventually numbered 233 examples and were extensively used on mail trains, country branch lines, suburban passenger and shunting turns, with several lasting to the end of QGR steam operations.
Following retirement by Queensland Government Railways, No. 448 was sold to the Pioneer Valley Amusement Park at Kuraby. It was subsequently purchased by group of enthusiasts and became the flagship locomotive for the Queensland Pioneer Steam Railway at Swanbank, near Ipswich.
No. 448 was stopped for overhaul in 1997 and received a complete rebuild by the QPSR, with the boiler being overhauled and a replacement tender tank prepared. It returned to operation in 2009 after 12 years of repair and renewal. The QPSR website also includes a history of this locomotive. (a)
This locomotive has also been reported as being No.446 (Walkers b/n 91 of 1908) but wearing the number plates of sister loco 448. (c) However I have received a very authorative email from Andrew Rodgers of the QPSR who states it is actually No.448 and explains how this confusion arose:
"Many people seem to think that we renumbered Locomotive PB15 446 with 448. I can categorically inform you that this is incorrect. The locomotive is in fact 448 and can be found stamped into the frame, cylinders, rods, fittings, etc.

To give weight to my claim, the following was conveyed to me by the late Ron Armstrong, founder of the locomotive plus who was a QR Driver who actually towed 448 to Kuraby and stowed it into what was Pioneer Park as part of QRís shunt workings on the south side.

He stated and is in many writings by Ron, that the locomotive was placed at Kuraby with 448 plates attached, these plates were then stolen and so they didnít have a loco sitting there on display, as Ron actually had the locomotive operating at Kuraby before finally purchasing it with a small group of friends, without plates. 446 plates belonged to a friend of Ronís and these were attached, these plates were changed in following years when the society could afford to have new plates poured and machined and that is what is seen today on our operational PB15 448." (d)
A spare PB15 boiler is also stored by the QPSR at Box Flat. Another interesting artifact at the QPSR is a hand-operated crane, built by QR on the 4-wheel tender frame of an early QR steam locomotive. A friendly fitter at the QPSR told me they still used it around the workshops! (e)
An excellent reference for further information about the PB15 class is "Locomotives in the Tropics - Volume 1 (Queensland Railways 1864 - 1910)" published by the ARHS Queensland Division.
This view show No. 448's boiler perched on a flatcar during overhaul; 24 October 2006.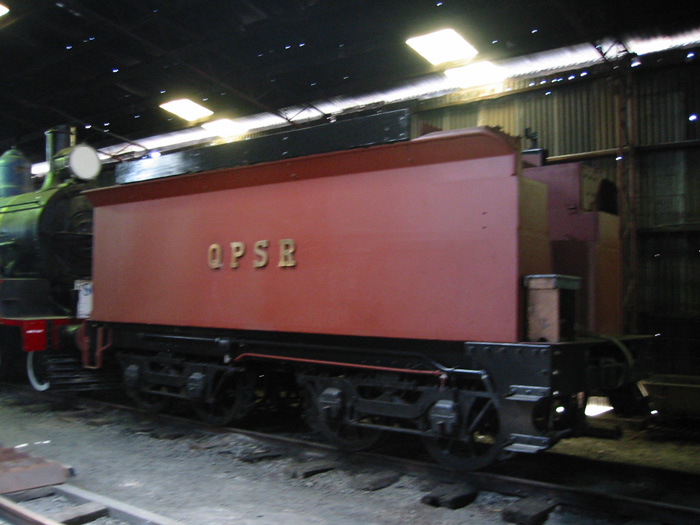 No.448's restored tender (including a new superstructure) was in the nearby running shed; 24 October 2006.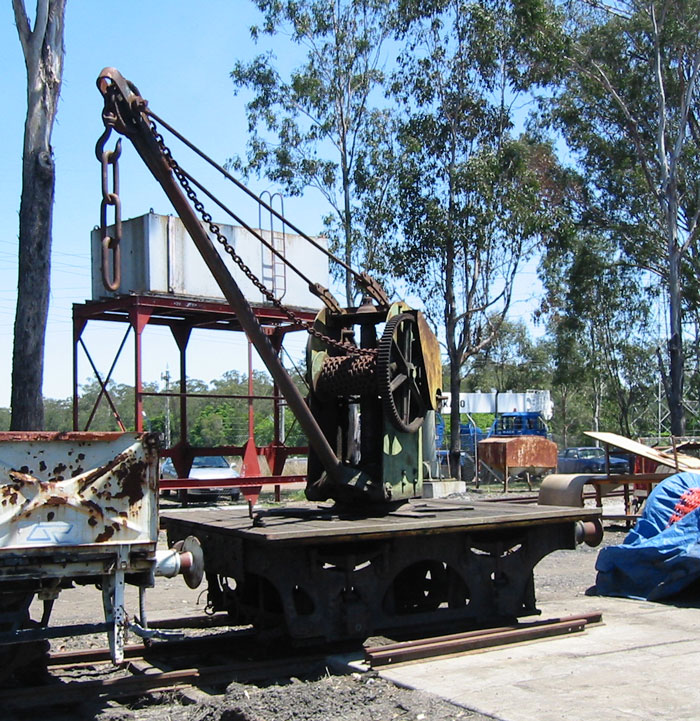 This photo shows the hand-operated workshop crane, fitted on an ancient 4-wheel tender frame; 24 October 2006.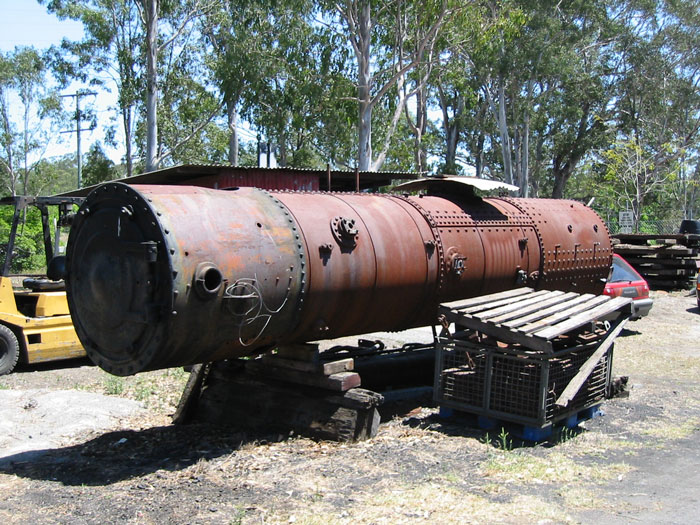 This spare boiler is also held by the QPSR; I believe it is a PB15 type. 24 October 2006.
References
| | |
| --- | --- |
| a | Queensland Pioneer Steam Railway website, viewed 8 May 2010 |
| b | L. Oberg, 'Locomotives of Australia', published by J. W. Books Pty Ltd, Brookvale NSW. 1982 reprint. |
| c | Armstrong, J. 'Locomotives in the Tropics - Volume 1 (Queensland Railways 1864 - 1910), published by the ARHS Queensland Division, 1985. p.103 |
| d | Information provided by Andrew Rogers (QPSR Chairman) via email dated 9 October 2009 |
| e | Webmaster's observation or comment. |
Page updated: 22 May 2010