Wyett's Beaconsfield Tramway

Kerr Stuart & Company Ltd b/n 685 of 1900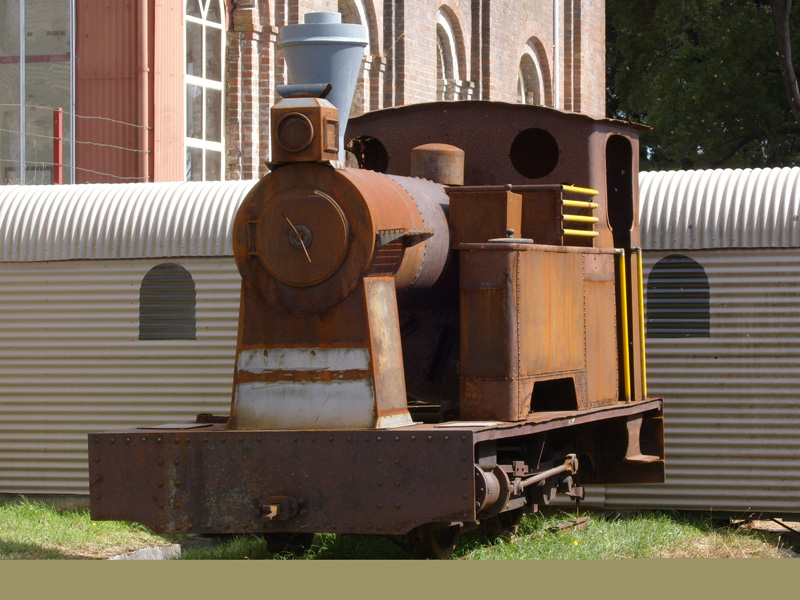 Mark Smithers has kindly provided the two photos of this locomotive following his visit to Beaconsfield in March 2008.
Whilst the loco frame, running gear and cab appear original, it is clear that the boiler is not!
A high smokebox saddle has been fabricated, and a rudimentary smokebox, chimney and steam dome added.
Light Railways No 196 carried a news article and photo describing the remains of Kerr Stuart & Company Ltd builder' number 685 of 1900 (frame, wheels, cab & tanks) being recovered from Camden, Tasmania for restoration to display at the Beaconsfield Mine & Heritage Centre in northern Tasmania. Apparently this locomotive worked on Wyett's Beaconsfield Tramway until the line closed in 1915, and was later moved to Camden where the boiler is thought to have been removed and adapted for stationary use. (a)
Mark Smithers has kindly provided this commentary and photographs of Kerr Stuart B/N 685 following a March 2008 visit to Beaconsfield Mine Museum:
"Here, I photographed the last mortal remains of Kerr, Stuart 685 of 1900, which consist basically of wheelsets, frames, brake rigging, some motion parts, one cylinder, one badly corroded water tank and a cab in similar condition. The impression of a boiler has been created by using the backhead and flue of an old 'Lancashire' boiler, which has been fitted to the chassis upside down. The surviving original components are of historic interest, however, as they are the last remnants of an abortive class designated the 'Lord Roberts' class by its builders. In reality, no locomotive exactly like the makers' engraving (which shows a standard gauge example) and 685 was the closest to this template, differing by virtue of the gauge and being outside framed (and note that the frame spacing for an outside framed 3ft.6in. gauge loco would be about the same as for an inside framed standard gauge one). A major challenge for any credible form of restoration but certainly worthwhile, even if it merely produced "a replica incorporating original components." (b)
I seem to recall from an old edition of "Light Railways" that a suitable Kerr Stuart locomotive boiler may be available somewhere in Victoria, but a leaf through my archived editions of this fine magazine failed to find any such reference. (c)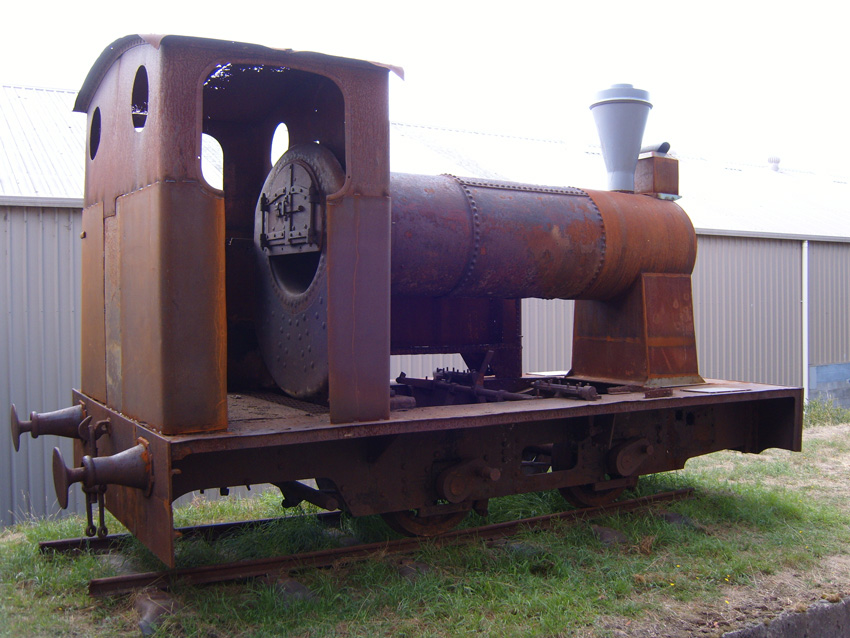 This side view shows the cabsides have also been built up to raise the cab sufficiently to accommodate the upside-down Lancashire boiler.
The cylinder, running gear and side tank are apparently missing on this side.
The cab roof also seems to have suffered from the dreaded metal moth!
References
| | |
| --- | --- |
| a | 'Light Railways - Australia's Magazine of Industrial & Narrow Gauge Railways', Number 196, August 2007. Published by Light Railway Research Society of Australia Inc. News item & photo on page 38, contributed by Ken Milbourne |
| b | Email from Mark Smithers dated 23 March 2008 |
| c | Personal comment or observation. |
Page updated: 2 November 2010