K 174

Salvaged from Edinburgh Gardens, Fitzroy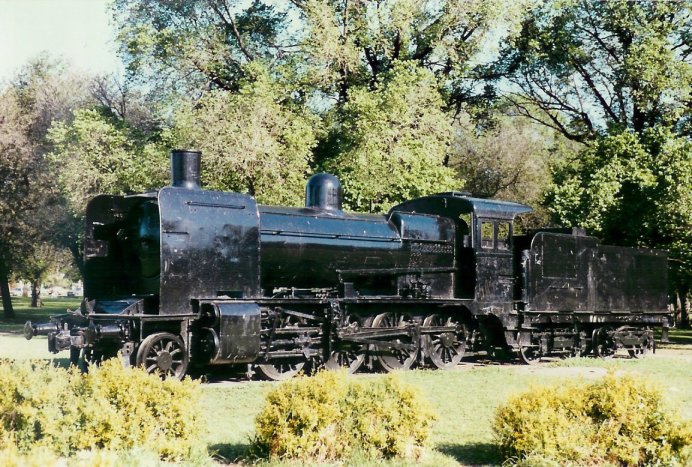 K 174 as preserved in Edinburgh Gardens, Fitzroy; this image is kindly provided by Andrew Swaine.
K 174 was built at Victorian Railway's Newport Workshops in 1941.
My thanks to Andrew Swaine of the Mornington Railway Preservation Society for the following information -
K 174 was plinthed in a park at Fitzroy until it was acquired by the MRPS and moved to Moorooduc by road on 18 May 1997. At the time of its acquisition, K 174 was in appalling condition: most fittings were missing, the smokebox tube plate had been cut out by someone with oxy acetylene equipment to remove the tubes, the tender was a paper-thin mass of rust and serious collision damage was evident on the rear tender buffer beam as well as much of the brake gear under the locomotive unit.
There were two main reasons why K 174 was acquired by the MRPS: (1) As a source of heavy spares for other MRPS locos, and (2) so that its boiler, pony truck and other badly damaged components could be used in the exchange loco being sent to Hamilton (refer to the separate article on K 159).
K 174 has now been completely disassembled. The disposition of her main components are as follows:
(a) Frame - will be used under K 177, as K 177's original frame had serious corrosion problems on the driver's side cylinder block (K 177's original frame went to Hamilton on the exchange loco. Technically this means that K 177 should be renumbered K 174 as the locomotive's number generally stays with the frame, but in this case we have made a commitment to the Langhi Morgala Museum in Ararat to restore a loco numbered K 177. Using this same argument, the locomotive at Hamilton should be renumbered K 177. To avoid confusion during the complex, multi-party negotiations with various Councils and other parties over K 159 / K 174 / K 177, the MRPS referred to the Hamilton exchange locomotive as K 193!). The frames from K 174 have since had major restoration work done on them, but further work is currently on hold while an assessment is made as to whether to complete K 177 or fast track K 191 (which was acquired later).
(b) Pony truck - went to Hamilton.
(c) Tender tank - beyond repair and now scrapped.
(d) Tender frame and bogies - will be restored and used behind K 191.
(e) Boiler - went to Hamilton.
(f) Funnel - went to Hamilton.
(g) Wheels and axle boxes - exchanged with those of K 176 at Seymour (K 174's tyres required replacement, whereas K 176 had almost new tyres. The SRHC agreed to allow a wheel swap which was done over single weekend in 2000. Unfortunately, both K 174 and K176 had poor condition axle boxes and crankpins).
(h) Motion - will be used with K 177, as it will match the frame (K 177's connecting and coupling rods went to Hamilton).
(i) Smoke deflectors - went to Hamilton.
(j) All other fittings and components which were salvaged were stored and some have already been restored and are in use.
To all intents and purposes, K 174 as an individual locomotive no longer exists, although in reality all of her (except her tender tank) is still physically present.
Andrew Swaine has also provided these photos of K 174 at various stages of its salvage:
Unloading K 174 at Moorooduc after the road journey from Fitzroy on 18 May 1997.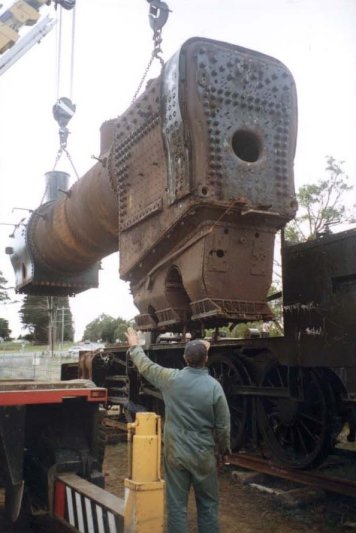 K 174's boiler being removed from the frames.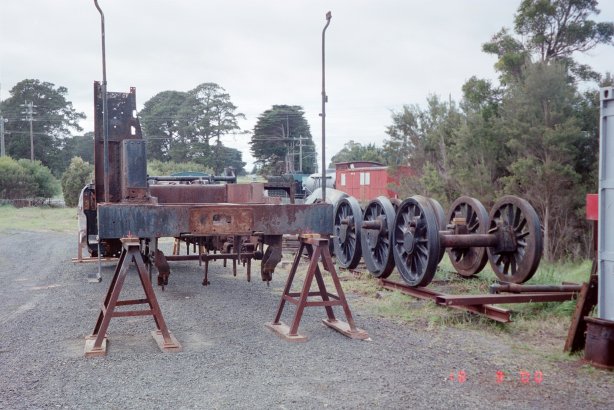 K 174's frame separated from her wheels in September 2000.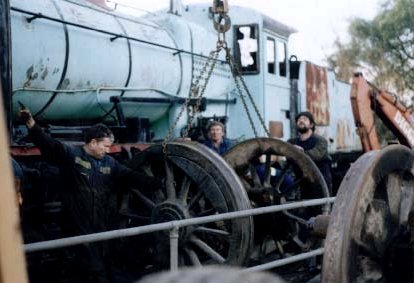 Exchanging K 176's wheels with K 174's at Seymour. Last wheelset coming out.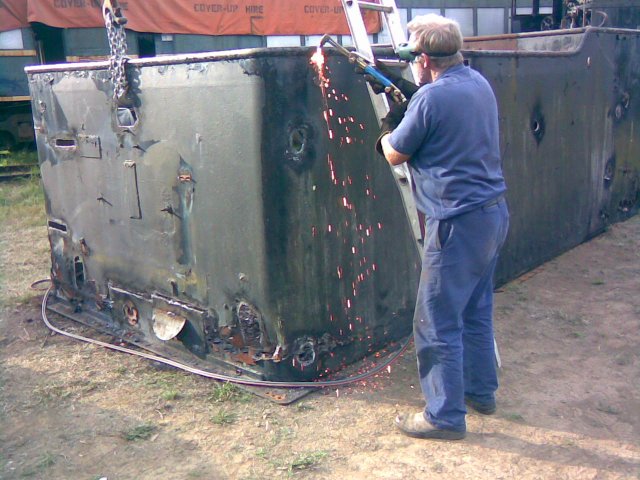 A MRPS member scrapping K 174's tender tank, after handrails and other reusable components had been salvaged.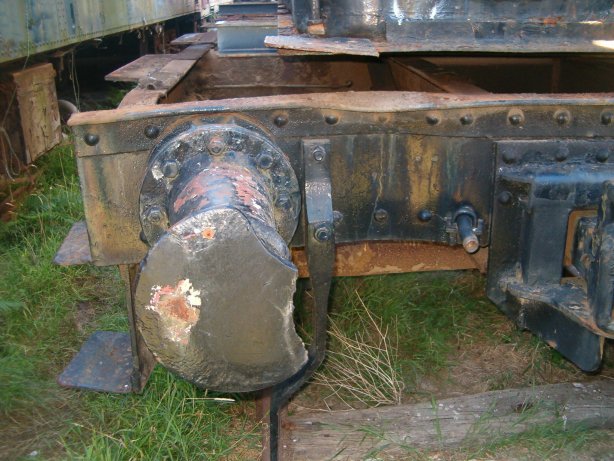 Collision damage on the rear of K 174's tender frame.
References
a

'A brief history of Preserved Rolling Stock of Victoria'

by Norm Bray, Peter J Vincent and Daryl M Gregory.

Published by Brief History Books, PO Box 437, Sunbury, Vic 3429.

b

ARHS (Victorian Division) 'North Williamstown Railway Museum',

Third Edition 1968, revised 1977, reprinted 1980.

c

'Locomotives of Australia - 1985 to 2010'

(Fifth Edition), by Leon Oberg,

published 2010 by Rosenberg Publishing Pty Ltd.

d

Wikipedia page for VR K-class locomotives:

https://en.wikipedia.org/wiki/Victorian_Railways_K_class

Retrieved 21 February 2023
Page updated: 21 February 2023
| | | | | | | | | | | |
| --- | --- | --- | --- | --- | --- | --- | --- | --- | --- | --- |
| Government Railways: | | | | | | | | | | |
| Private & Industrial Railways: | | | | | | | | | | |