K 154 and its conversion to N 441

The story so far...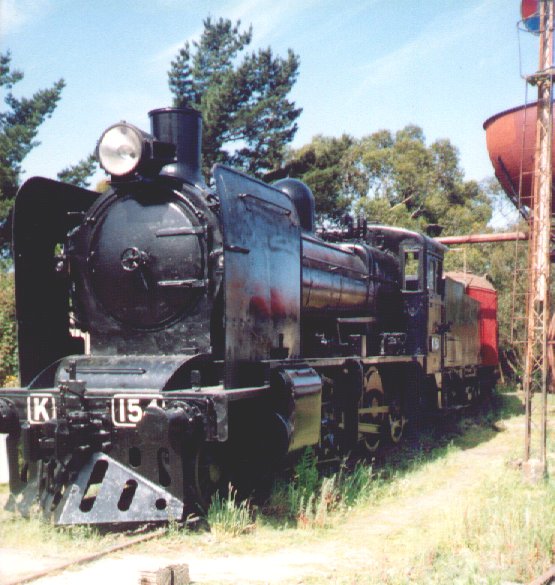 K 154 displayed at the Gippsland Folk Museum, Moe in March 1989; this photo kindly provided by Wes Harris.
At that stage K 154 was well presented and cared for.
K 154 was built by the Victorian Railways' Newport Workshops in 1940 to the successful K-class 2-8-0 design. A total of 53 K-class locomotives were constructed for branch-line duties, with a significant number retained in storage or for workshop shunting duties towards to end of steam traction on the Victorian Railways.
K 154 arrived at the Gippsland Folk Museum, Moe in the 1970's after running a fan trip to Sale. It was stabled overnight at Moe before shunting, together with a passenger carriage & guard van, into the museum via a temporary connection from the main line. Newsgroup postings suggest that the ashes from the final fire could be seen where they had been dropped under the firebox and that the boiler was not emptied after this final run. Unfortunately, the wet Gippsland climate took its inevitable toll on K 154 and the locomotive eventually became derelict. There was a proposal around 2003 for the locomotive to be restored for operation on the South Gippsland Railway and some dismantling took place in preparation for its relocation, however this proposal did not come to fruition.
K 154 was later acquired by the K 154 Preservation Group and the boiler, frames, wheels & tender frame were transported to Newport Workshops in late 2005. K 154's old boiler was scrapped during 2006 as it was judged to be beyond repair. The tender tank was apparently also derelict and scrapped at Moe.
K 154 at Newport is now the focus of the N 441 Project by the Locomotive Restoration Group Inc, which is rebuilding K 154 as a first-series N-class 2-8-2 locomotive. This interesting project will fill a gap in Victorian Railways locomotive preservation, as the N-class are poorly represented in preservation with only Newport-built N 432 and North British Locomotive Co built 752 / N 477 surviving, with neither operable. The conversion of K 154 to N 441 takes advantage of the fact that the N and K-class locomotives were effectively 2-8-2 (main line) and 2-8-0 (light line) versions of the same design, and indeed the locomotive frames are identical excepting allowances for the N-class rear trailing truck.
Progress with the N 441 conversion is now proceeding at Newport Workshops. The frame modifications and extensions are well in hand, and an X-class tender wheel set has been prepared for use in the trailing truck. A suitable N-class boiler has been purchased for the project and was removed from Swan Hill during 2006. (An N-class boiler was used to power the sawmill display at Echuca Wharf for many years but had moved by 2002; possibly the same boiler.) Interestingly, other N-class boilers also survive at Newport Workshops but apparently the Swan Hill boiler was found to be in better condition.
A set of N-class spoked driving wheels graced J 512 at the time of its withdrawal and these are now stored at the Seymour Railway Heritage Centre. These wheels are not required for the project to convert J 512 to standard gauge, and around September 2007 this spare wheel set was donated to the N 441 Project by the Seymour Railway Heritage Centre.
Here is a link to the Project N 441 website of the Locomotive Restoration Group Inc, which provides excellent information and photographs of this interesting project. This website includes PDF project reports containing detailed engineering information about the transformation of K 154 to N 441 and several photos showing progress to date. The group's Facebook page includes some more recent information.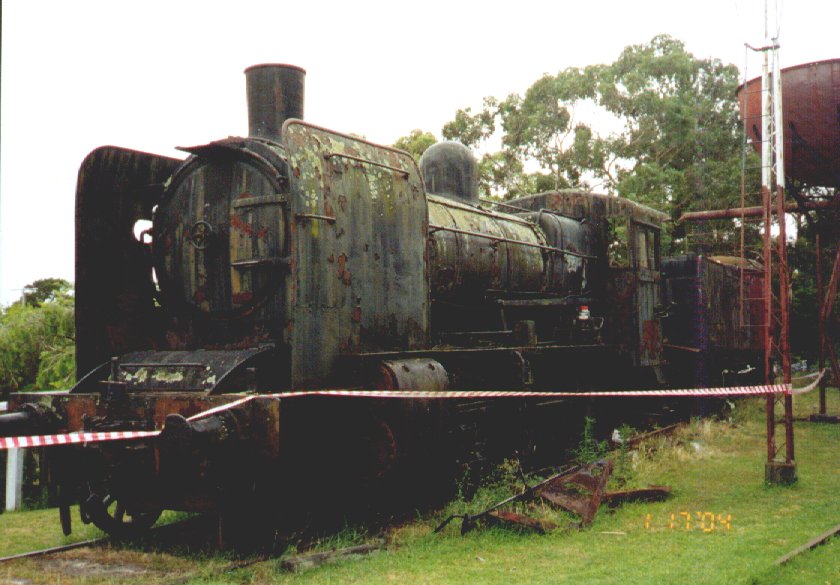 K 154 seen at the Gippsland Folk Museum, Moe on 17 January 2004; this photo kindly provided by Wes Harris.
Comparison with the earlier 1989 photo above shows how unkind the intervening 15 years had been to K 154.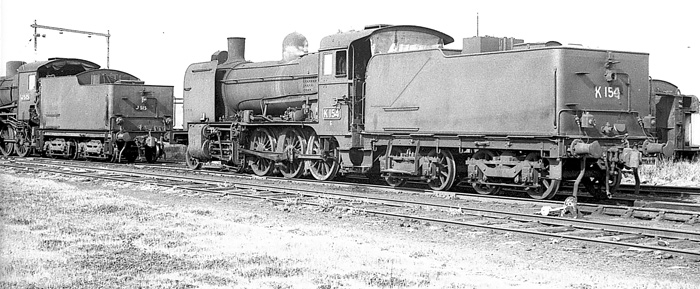 K 154 in steam (together with J 515) at Newport Workshops in September 1970.
This photo was kindly contributed by Anthony Winstone.
a

'A brief history of Preserved Rolling Stock of Victoria'

by Norm Bray, Peter J Vincent and Daryl M Gregory.

Published by Brief History Books, PO Box 437, Sunbury, Vic 3429.

b

ARHS (Victorian Division) 'North Williamstown Railway Museum',

Third Edition 1968, revised 1977, reprinted 1980.

c

'Locomotives of Australia - 1985 to 2010'

(Fifth Edition), by Leon Oberg,

published 2010 by Rosenberg Publishing Pty Ltd.

d

Wikipedia page for VR K-class locomotives:

https://en.wikipedia.org/wiki/Victorian_Railways_K_class

Retrieved 21 February 2023

e

Railpage Newsgroup postings 'K 154 at Moe'

viewed 17 March 2014

f

N 441 Project website of the Locomotive Restoration Group Inc,

retrieved 17 March 2014
Page updated: 21 February 2023
| | | | | | | | | | | |
| --- | --- | --- | --- | --- | --- | --- | --- | --- | --- | --- |
| Government Railways: | | | | | | | | | | |
| Private & Industrial Railways: | | | | | | | | | | |