No. 7 / Digger

Hunslet Engine Company b/n 1317 of 1918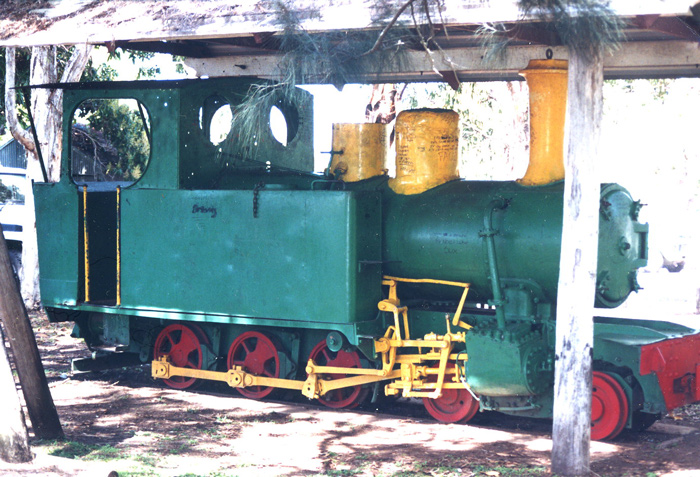 This photo is kindly provided by Tom Badger and shows No. 7 / Digger plinthed under a weather roof at Proserpine on 12 August 1992.
This locomotive has since moved indoors to the Proserpine Museum
This locomotive was built by the Hunlset Engine Company of Leeds, England as their Builder's No. 1317 of 1918 (a) as one of a batch of 2' gauge locomotives for the British Army's "Railway Operating Division" (R.O.D.) for use supplying the front-line trenches of World War 1. (b)
At the end of hostilities the R.O.D had many surplus locomotives, both narrow and standard gauge. This locomotive was one of several 2' gauge machines of several types purchased from war surplus for use in the Queensland Sugar industry, (b) and became No.7 on the roster of the Proserpine Mill (a) where it was also known as "Digger".
No. 7 / Digger was preserved at Proserpine following its retirement from Proserpine Mill in 1962. In approximately 2001 it was acquired by the Proserpine Historical Museum Society and received some cosmetic restoration before being placed within their museum building. (b)
References
| | |
| --- | --- |
| a | Light Railway Research Society of Australia Inc. Web site (as at 20/3/2009): 'Preserved Australian Sugar Cane Locomotives' list by John Browning (www.lrrsa.org.au/LRR_SGRc.htm) |
| b | Personal comment or observation. |
Page updated: 21 February 2010