Sydney

Ex-Victoria Mill, Ingham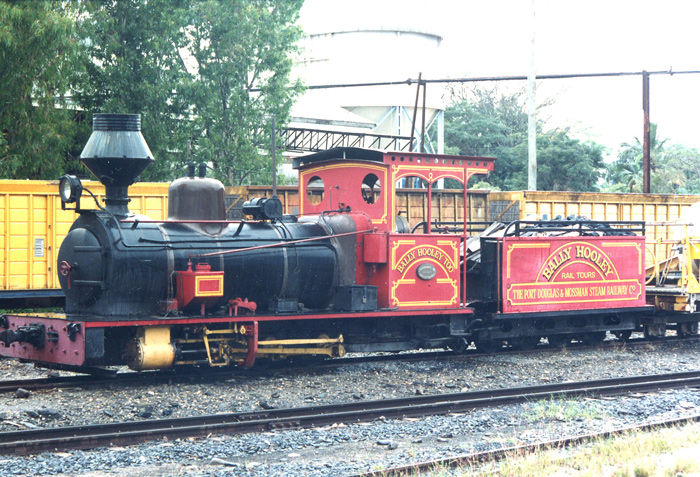 This photo is kindly provided by Tom Badger and shows Sydney / Bally Hooley Too at Mossman Mill on 28 September 1993.
This locomotive was built by the well-known Leeds, UK builder Hudswell, Clarke & Co. Ltd. It worked at Victoria Mill, Ingham where it was known as 'Sydney'.
Apparently 'Sydney' had been operational on Bally Hooley tourist train duties at Mossman Mill during the 1990's, where it was known as 'Bally Hooley Too'. I understand 'Sydney' is now privately owned and had since been stored at Julatten, Queensland.
It seems a change of owner may have occurred by November 2018 as 'Sydney' has recently been spotted in a storage site in the Sydney suburb of Kingswood (in company with Fowler 17693 of 1927).
References
a

Light Railway Research Society of Australia Inc. Web site

(Retrieved 3 November 2018):

'Preserved Australian Sugar Cane Locomotives' list by John Browning

b

Wikipedia page for Hudswell, Clarke & Co. Ltd,

retrieved 12 November 2018
Page updated: 12 November 2018
| | | | | | | | | | | |
| --- | --- | --- | --- | --- | --- | --- | --- | --- | --- | --- |
| Government Railways: | | | | | | | | | | |
| Private & Industrial Railways: | | | | | | | | | | |