Cairns

Hudswell Clarke b/n 1706 of 1939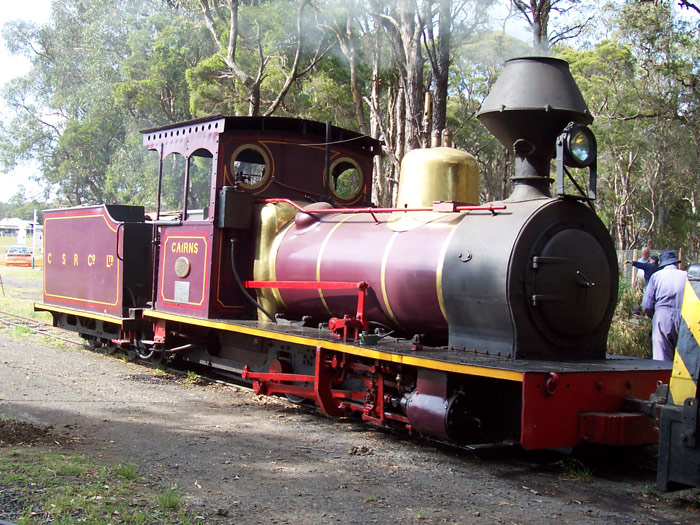 This photo is kindly provided by Jason Gundlach and shows "Cairns" in steam at the ILRMS, Albion Park on 5 December 2004.
"Cairns" was built by Hudswell, Clarke & Co. Ltd of Leeds, England as their Builder's No.1706 of 1939. a This design of 0-6-0 tender locomotive was popular with Australian sugar interests and other examples also worked on the sugar cane tramways of Fiji. c Cairns was initially used at the Hambledon Mill (near Cairns) in North Queensland and was later transferred to Victoria Mill, Ingham.
The Victoria Mill ran a fleet of Hudswell Clarke 0-6-0 locomotives which carried the names of local towns and Australian cities, and sister Victoria Mill locomotives Homebush, Townsville, Melbourne and Sydney have also passed into preservation.
Cairns was donated to the Illawarra Light Railway & Museum Society in 1978, following the retirement of the steam locomotive fleet at Victoria Mill. It was overhauled by ILRMS volunteers and then entered museum operations in 1979. Cairns has since been a regular operating exhibit at the Illawarra Light Railway & Museum Society's base at their Albion Park.
References
a

Light Railway Research Society of Australia Inc. Web site (as at 18/9/2013):

'Preserved Australian Sugar Cane Locomotives' list by John Browning (www.lrrsa.org.au/LRR_SGRc.htm)

b
Illawarra Light Railway & Museum website (viewed 18/9/2013).
c
Webmaster's observation or comment.
Page updated: 18 September 2013