Macknade Mill No.5

Hudswell Clarke b/n 1548 of 1924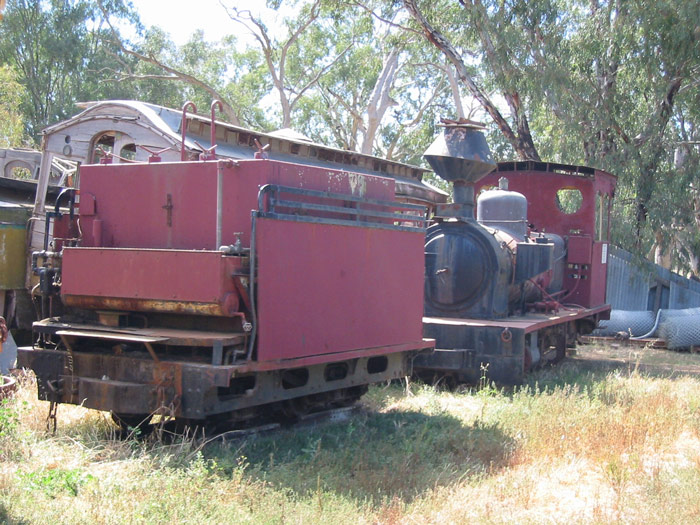 Macknade Mill No.5 in open storage at a private site near Echuca on 23 March 2005, following its relocation from Tasmania.
In the foreground, the tender clearly exhibits an oil tank fitted in the coal space, with what looks like a heat exchanger to warm oil delivery.
The loco is wearing Maroon livery as applied to locos at Macknade Mill, albeit without the attractive yellow headstocks and running board.
Although somewhat oxidised, the loco still sports its large brass steam dome cover.
Behind is an old Melbourne cable tram trailer, one of two stored on site which had been retrieved after many years of static use.
Macknade Mill No.5 is one of the fleet of Hudswell Clarke 0-6-0 locomotives operated by Colonial Sugar Refining Co Ltd (CSR) at its mills in Queensland and Fiji. No.5 spent its working life at the Macknade Mill, which situated on the banks of the Herbert River, near Ingham. Macknade Mill is the oldest sugar mill in Queensland, having started production in 1874. Macknade Mill has had a number of owners over the years and is now part of the Wilmar portfolio.
The excellent reference 'Salute to the Hudswells' by Ian Stocks, David Mewes and John Browning provides a complete history and good colour photos for Macknade Mill No.5, including how it received a replacement Fowler designed boiler in 1963. This replacement boiler had been constructed by Walkers Limited, Maryborough for a Fowler 0-6-2T loco (b/n 11223 of 1907) and was somewhat shorter than the Hudswell Clarke boiler it was replacing. Accordingly, an extension to the boiler barrel was devised to fit between the front tube plate and the original smokebox. I understand Macknade Mill No.5 still carries this boiler. Other modifications and modernisations include the fitting of a turbogenerator and electric lighting in 1951, and conversion to oil firing in 1965.
Macknade Mill No.5 was last used in 1974 and subsequently stored in the mill yard. CSR was among the last commercial users of steam locomotives in Australia, maintaining several Hudswell Clarke locos at Macknade and Victoria Mill until 1976. At the cessation of steam operations, these remaining CSR steam locomotives were generously donated to various preservation societies. No.5 was donated to the Van Diemen Light Railway Society (VDLRS) and displayed at their museum in Don, Tasmania during the 1980's and 1990's (as seen in the photo below). Apparently the VDLRS had intended to create a 2' gauge line in addition to their preserved section of 3' 6" gauge branch line, but these plans did not eventuate. Instead, Macknade Mill No.5 was sold in 1997 to two private owners and moved to a site near Echuca. The loco was initially placed into open storage, as seen in the photos above, but has subsequently been stripped down for overhaul and repair. I understand it first returned to steam in 2013 and has been converted from oil firing back to coal firing.
I would appreciate the contribution of more up-to-date photos for this locomotive, following its overhaul in Echuca.
<![if !vml]>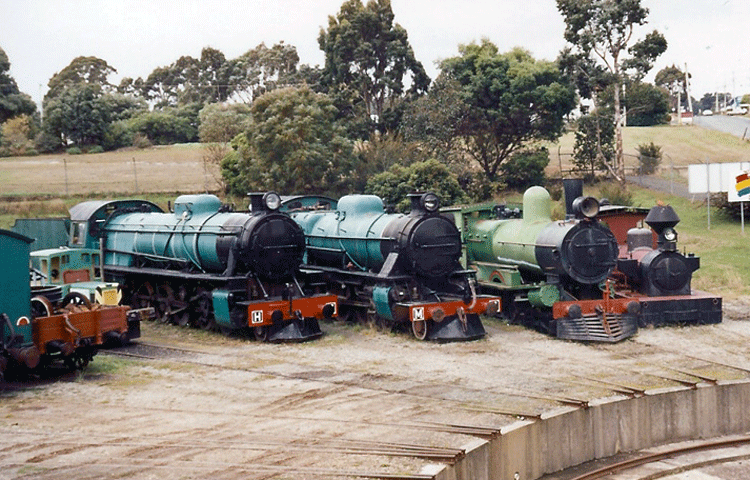 <![endif]>
I first encountered Hudswell Clarke b/n 1548 when visiting the Don River Railway during May 1993.
It is seen displayed on a turntable road at Don, dwarfed and rather out of place alongside Tasmanian Government Railways locos A4, M3 and H7.
References
a

Light Railway Research Society of Australia Inc. Web site

(Retrieved 3 November 2018):

'Preserved Australian Sugar Cane Locomotives' list by John Browning

b

Wikipedia page for Hudswell, Clarke & Co. Ltd,

retrieved 28 November 2018

c

'Salute to the Hudswells' by Ian Stocks, David Mewes & John Browning.

Published by Australian Narrow Gauge Railway Museum Society, 2014.
Page updated: 7 March 2021
| | | | | | | | | | | |
| --- | --- | --- | --- | --- | --- | --- | --- | --- | --- | --- |
| Government Railways: | | | | | | | | | | |
| Private & Industrial Railways: | | | | | | | | | | |