Townsville

Hudswell Clarke b/n 1099 of 1915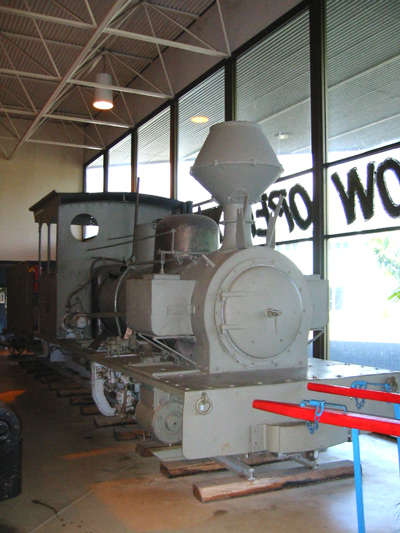 Townsville displayed in the Australian Sugar Heritage Centre, Mourilyan on 23 August 2004.
This locomotive was built by Husdwell, Clarke & Co. Ltd of Leeds, England as their builder's No.1099 of 1915. It operated at the Victoria Mill, Ingham where it was known as "Townsville". a
Townsville was donated by the Colonial Sugar Refining company (CSR) for preservation in 1977 and is now displayed in grey primer within the exhibit hall at the Australian Sugar Heritage Centre, Mourilyan. This museum is well worth a visit with a variety of exhibits and resources highlighting the technical, social and economic history of the Australian Sugar Industry and its contribution to regional development.
References
a

Light Railway Research Society of Australia Inc. Web site (as at 20/3/2009):

'Preserved Australian Sugar Cane Locomotives' list by John Browning (www.lrrsa.org.au/LRR_SGRc.htm)

b
Webmaster's observation or comment.
Page updated: 9 February 2013