Homebush

Hudswell Clarke b/n 1067 of 1914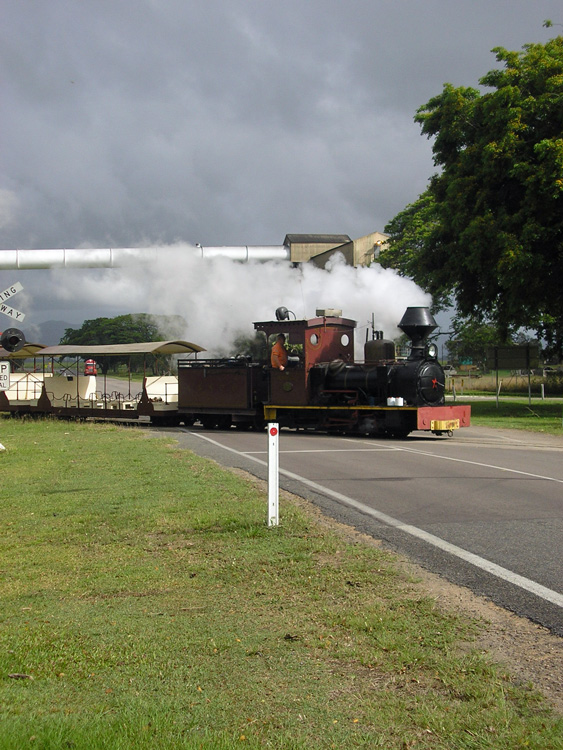 This photo is kindly provided by Brett Geraghty and shows Homebush hauling its passenger train during the Ingham Maraka Festival on 21 October 2006.
This scene is a reminder of the many road crossings made by mill tramways in the sugar growing regions.
This locomotive was built by Hudswell, Clarke & Co. Ltd of Leeds, England as their builder's No.1078 of 1914. It was originally supplied to the Homebush Mill near Mackay where it hauled came from 1915 to that mill's closure in 1921. Homebush was then transferred to the Ingham area and operated a passenger and freight service from the port of Lucinda to Ingham, Stone River and Long Pocket. The freight service was discontinued in 1932 and Homebush continued in Cane and works train haulage until retired in 1976. Fortunately this locomotive was retained for preservation and restored to working order in 1978. b
Homebush continues to be preserved operational at the Victoria Mill, Ingham, where it occasionally hauls a small tourist train around the mill railway system. Between use, Homebush and its train of two historical 1885-built toastrack cars are displayed under a weather roof at the mill entrance. c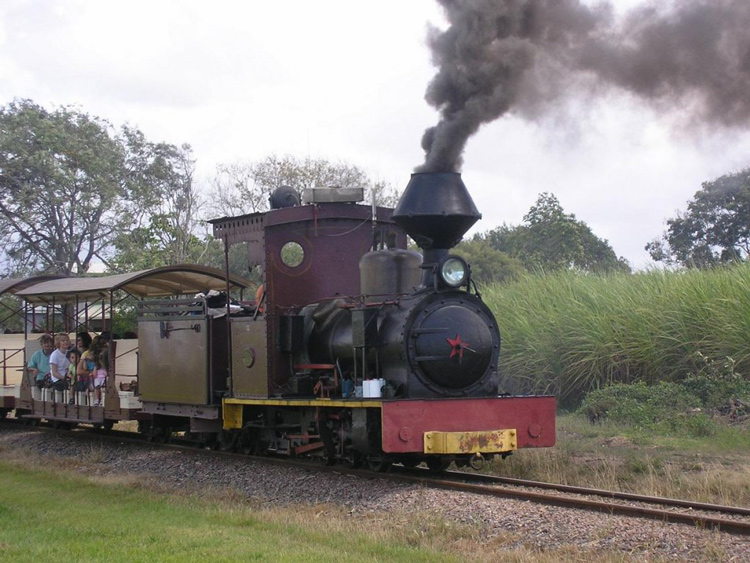 Here is a second photo contributed by Brett Geraghty and showing Homebush and its passenger train during the Ingham Maraka Festival of 21 October 2006.
A third view by Brett Geraghty showing Homebush on 21 October 2006.
Sitting on the running plate is a steam turbo-generator for supplying electricity to the front & rear headlights.
A large plaque which provides a summary of this locomotive's history can be seen attached to the tender side.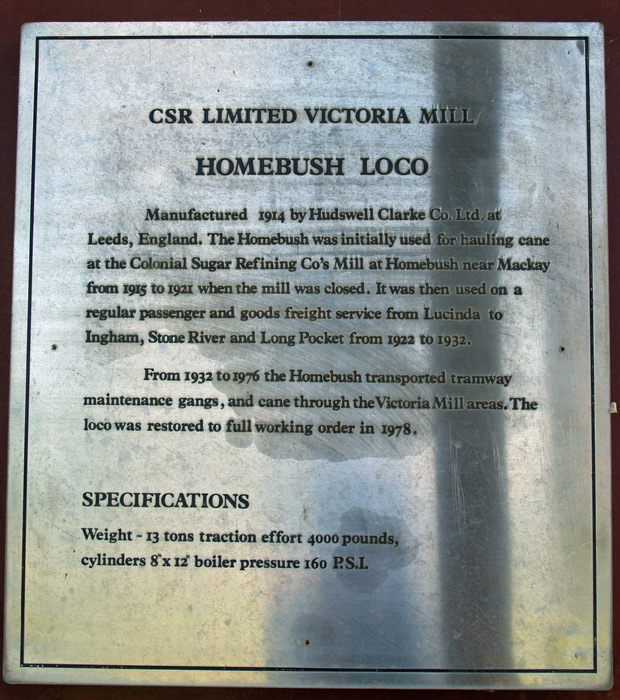 A view of the plaque attached to Homebush's tender. 21 April 2013.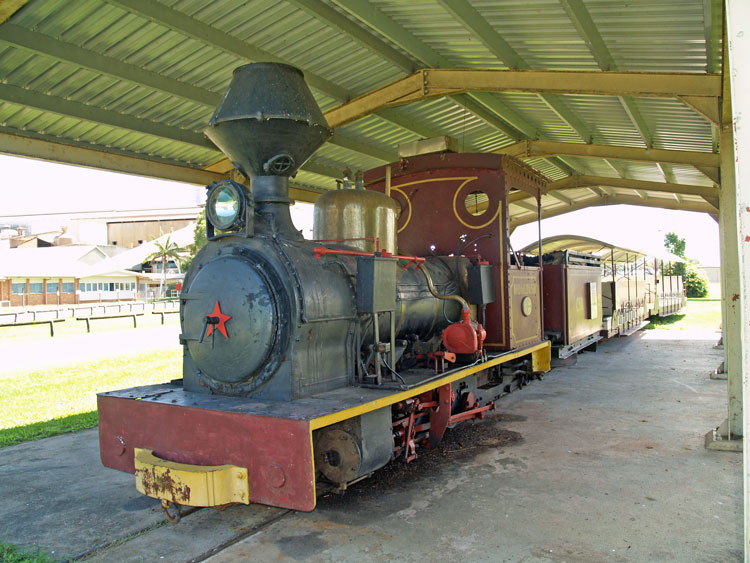 On 21 April 2013 I found Homebush resting in its usual home under a weather shelter outside Victoria Mill.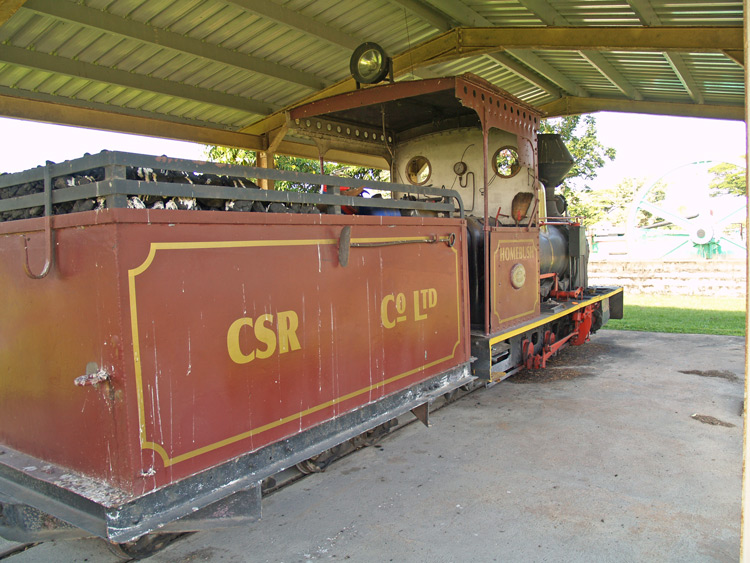 A second view of Homebush resting at Victoria Mill on 21 April 2013.
A large stationary engine & flywheel retired from the mill are also displayed in the background.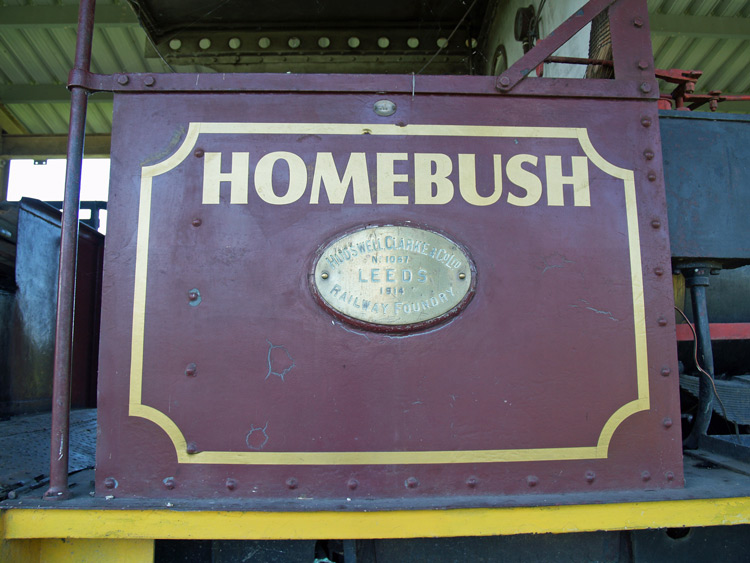 Detail of the builder's plate attached to Homebush's cabside. 21 April 2013.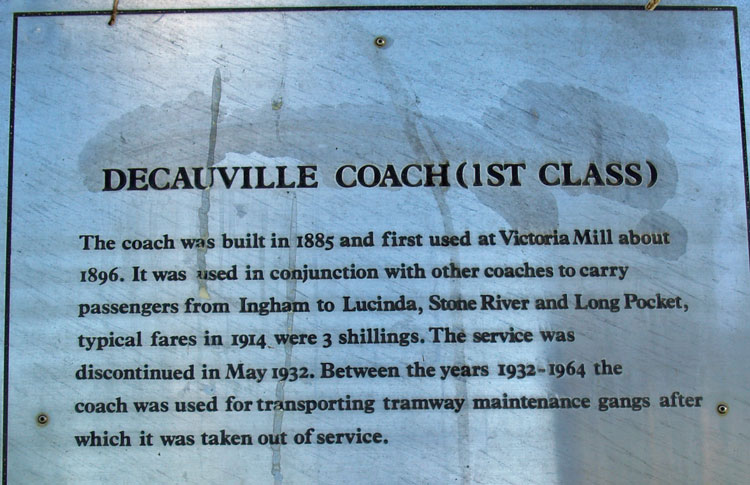 This plaque is attached to one of the two toastrack cars preserved with Homebush. 21 April 2013.
References
| | |
| --- | --- |
| a | Light Railway Research Society of Australia Inc. Web site (as at 20/3/2009): 'Preserved Australian Sugar Cane Locomotives' list by John Browning (www.lrrsa.org.au/LRR_SGRc.htm) |
| b | Plaque attached to Homebush. |
| c | Webmaster's observation or comment. |
Page updated: 10 September 2013