8

Bundaberg Fowler b/n 8 of 1953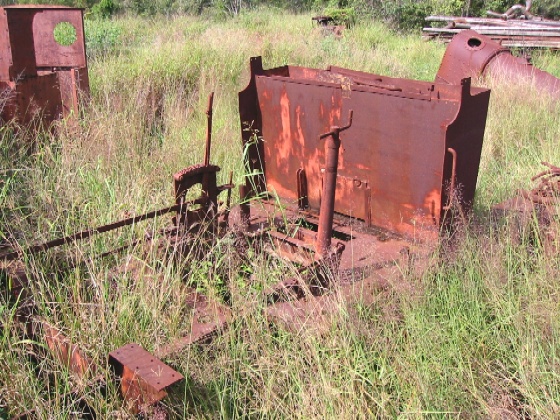 The chassis of Bundy-Fowler No.8 lurking in the grass at Kallangur on 12 April 2003.
Following the withdrawal of John Fowler & Co, Leeds, UK from steam locomotive manufacture in 1935, the Bundaberg Foundry of Bundaberg, Queensland obtained a licence to build Fowler-designed locomotives to meet demand from the local sugar cane industry. The Bundaberg Foundry subsequently built 8 "Bundaberg-Fowler" steam locomotives to satisfy orders from a number of mills. Commonly known as Bundy-Fowlers, these locomotives earned a reputation as capable and robust performers and all 8 have survived into preservation.
No.8 was the eighth and last of the Bundy-Fowlers (builder's number 8 of 1953) and delivered to the Proserpine Sugar Mill, north of Mackay.
No.8 was retained following withdrawal from regular service and had been under restoration in the 1980's as an apprentice training project at a Queensland sugar mill, but the project was abandoned when the loco was fully dismantled due to an industry downturn. After some time No.8 was privately purchased, still fully dismantled, and moved by the current owner for storage at his manufacturing workshop at Kallangur, north of Brisbane. I understand that virtually all fittings are available and in good order.
b
No.8 was moved by the owner from Kallangur / Murrumba Downs to a new site at Narangba in 2007.
c
References
| | |
| --- | --- |
| a | Light Railway Research Society of Australia Inc. Web site (as at 2/2/2013): 'Preserved Australian Sugar Cane Locomotives' list by John Browning (www.lrrsa.org.au/LRR_SGRc.htm) |
| b | Information provided by Mr. G. Chapman during our meeting of 12 April 2003. |
| c | Information provided by John Browning via email dated 26 July 2009. |
| d | Webmaster's observation or comment |
Page updated: 2 February 2013