Bundy-Fowler No.5

Bundaberg Foundry b/n 5 of 1952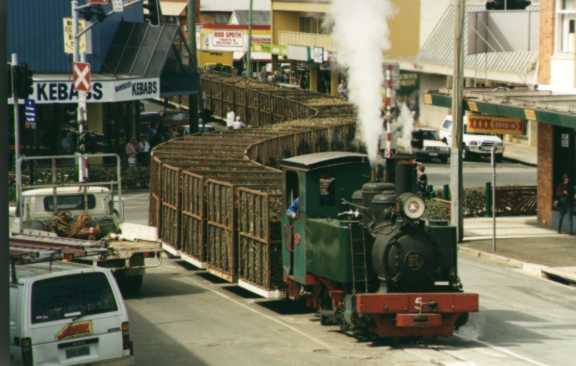 This photo is courtesy of Graham Watkins, who has provided the following caption:
"ANGRMS cane loco, ex Pleystowe No.5 went to Nambour during August 1999 for the sugar festival.
It worked cane trains between the mill and the yard on the edge of town.
Here it is struggling up the steep climb to the mill."
Following the withdrawal of John Fowler & Co, Leeds, UK from steam locomotive manufacture in 1935, the Bundaberg Foundry of Bundaberg, Queensland obtained a licence to build Fowler-designed locomotives to meet demand from the local sugar cane industry. The Bundaberg Foundry subsequently built 8 "Bundaberg-Fowler" steam locomotives to satisfy orders from a number of mills. Commonly known as Bundy-Fowlers, these locomotives earned a reputation as capable and robust performers and all 8 have survived into preservation.
No.5 was the fifth of the Bundy-Fowlers (builder's number 5 of 1952) and delivered to the Pleystowe Sugar Mill, Mackay. Here it laboured hard during the harvest seasons, hauling heavy loads of cut sugar cane from the fields to the mill for processing and then returning to the fields with long strings of empties for refilling.
Following withdrawal from service No. 5 was donated to the Australian Narrow Gauge Railway Museum Society (ANGRMS) in 1971. It was restored to operation by ANGRMS volunteers and has been a regular performer on their Durundur Railway at Woodford. No.5 has also had some interesting travels for periods of operation on sugar mill rail systems during its lively preservation career; the ANGRMS website includes a useful information page for Bundy-Fowler No.5 and describes of some of its travels. Their website also features an excellent photo gallery with many images of No.5 and other locomotives.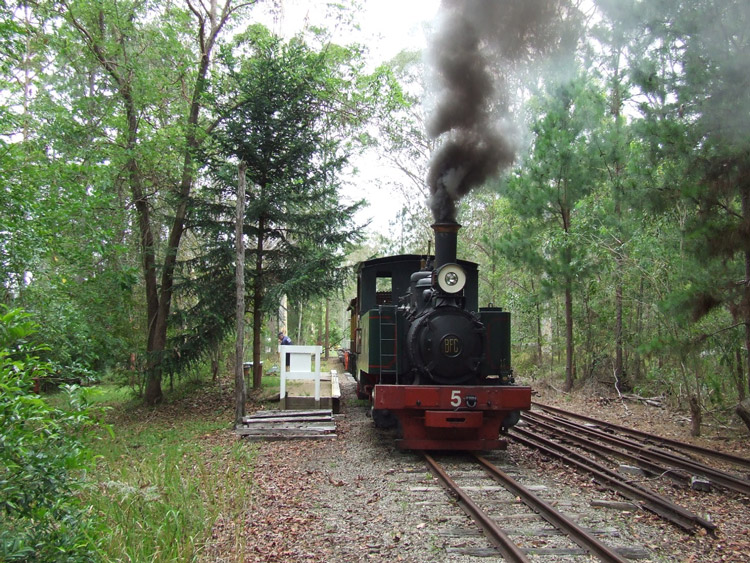 Mark Gough has kindly contributed this view of No.5 at the end of the ANGRMS line on 18th December 2011.
This was No.5 last day of steaming before being taken out of service for boiler tube renewal.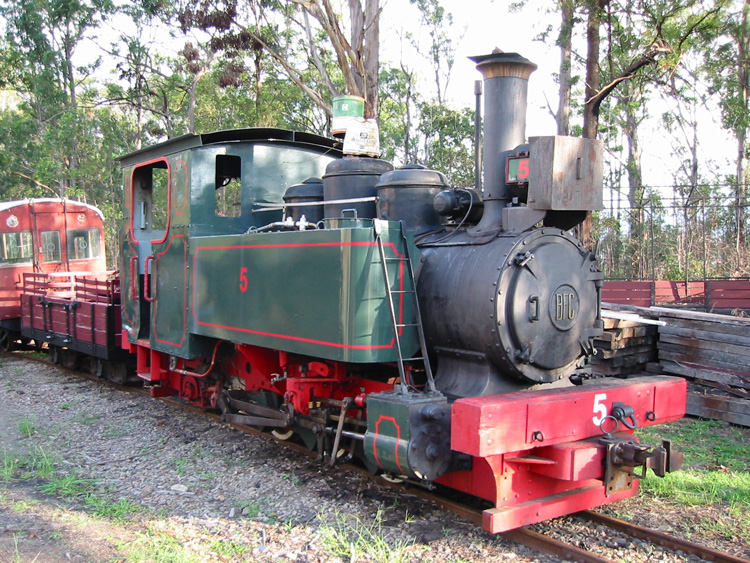 No.5 awaiting its next steaming at the Durundur Railway, Woodford on 12 April 2003.
(Protective covers have been placed over the headlight, safety valves & whistle.)
References
a

Light Railway Research Society of Australia Inc. Web site (accessed 24/1/2013):

'Preserved Australian Sugar Cane Locomotives' list by John Browning (www.lrrsa.org.au/LRR_SGRc.htm)

b

Information provided by Mark Gough via email 22/5/2012

c

Webmaster's observation or comment.
Page updated: 15 July 2014