Fairymead No. 1

Baldwin b/n 10533 of 1889
This view shows Fairymead No1 working up the short grade to Nomad station, during the NSWRTM Members' day at the LMLR on Sunday 18 October 2009.
This interesting locomotive was built by Baldwin as their Builder's Number 10533 of 1889 as one of three engines imported for use at Fairymead Mill, near Bundaberg. (a) These locomotives featured a range of classic Baldwin features from the period, including bar-frames, slide valves and a relatively large wooden cab. An ornate brass bell graces the boiler in typical American style. This locomotive also features a Forney-designed frame for the trailing truck.(73) (Forney 0-4-4T locomotives were employed on the elevated city railways in the USA, where sharp curves were negotiated as the elevated railways turned corners around city blocks. (b) )
The three Fairymead Baldwins were withdrawn around 1956 and two were scrapped, however No.1 was saved and was later plinthed at Bargara. In March 1972, Fairymead No.1 moved to the Goulburn Steam Museum. (73) It was later sold for private preservation.
This interesting locomotive moved to the NSWRTM in around 1992 and entered the workshop area for full restoration to operation under contract. Restoration was completed in 1993 and steam trials were held on a short section of 2' gauge track in the workshop area. Apart from occasional private steamings, the locomotive remained stored under a tarpaulin in the workshop area of the NSWRTM.
Fairymead No.1 subsequently moved to the Lake Macquarie Light Railway, a private 2' railway near Toronto. The NSWRTM kindly arranged a members' day at LMLR on Sunday 18 October 2009, and your webmaster jumped at the opportunity to see this locomotive in action! A number of photos of this page were taken on that day.
Further details for this locomotive can also be found on the Lake Macquarie Light Railway website.
This photo dates from approximately 1993 and shows Fairymead No.1 under contract overhaul at the NSWRTM.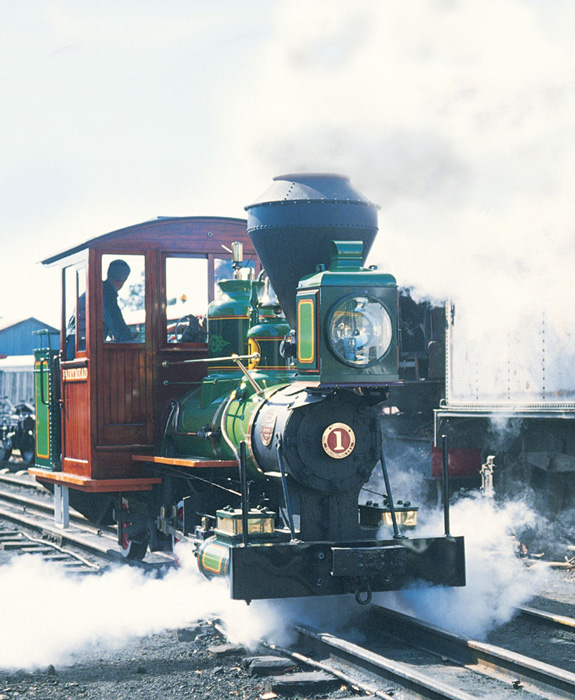 This photo is kindly provided by Bruce Belbin and shows No.1 in steam at the NSWRTM, following its overhaul.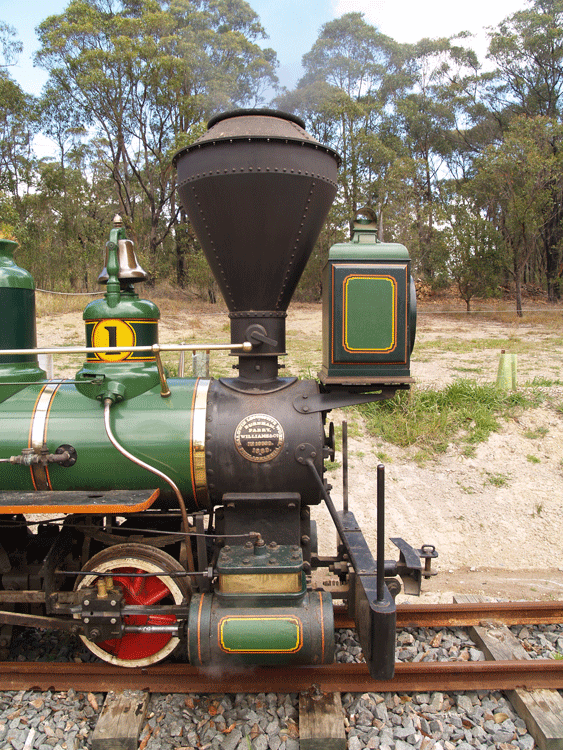 This detail of No.1 shows the builder's plate, slide valve chest, bell and other typically Baldwin features. Sunday 18 October 2009.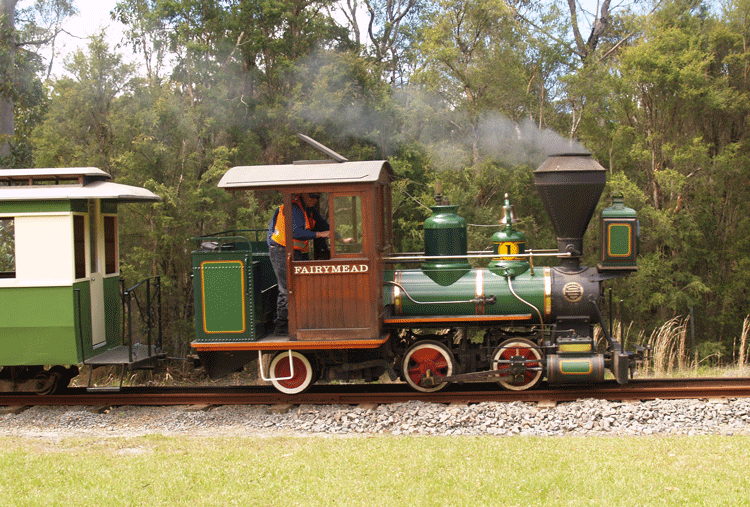 Another view of Fairymead No1 during the NSWRTM Members' day at the LMLR, Sunday 18 October 2009.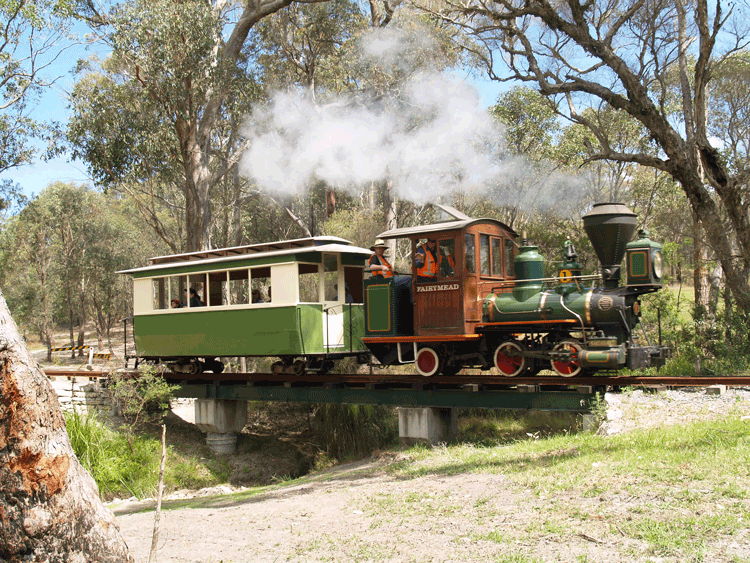 Fairymead No1 crosses a bridge on the LMLR during the NSWRTM Member's day on Sunday 18 October 2009.
References
| | |
| --- | --- |
| a | Light Railway Research Society of Australia Inc. Web site (as at 20/3/2009): 'Preserved Australian Sugar Cane Locomotives' list by John Browning (www.lrrsa.org.au/LRR_SGRc.htm) |
| b | Personal comment or observation. |
Page updated: 6 February 2011