Airdale

Avonside b/n 2043 of 1930
This photo shows Airdale stored at Boonah in 2002.
The boiler is resting on the frames and propped up at the smokebox by the ex-sawmill frame.
Airdale was built by the Avonside Engine Company of Bristol (builder's number 2043 of 1930) for the Pioneer Mill, a where it worked from 1930 to approximately 1968. It was converted from coal to oil burning late in its working life, in about 1964-66.
Airdale was originally preserved in a park in Brandon by the Ayr Lions Club in 1973. However it was subsequently removed in 1992 due to rust and concerns about asbestos boiler lagging. Airdale was taken to Tully Welding Works where the boiler was cut out and sold to the Tully Saw Mill, where it was used for boiling Borax to treat timber. Unfortunately all boiler fittings were cut off and welded shut, including mud hole plugs. The locomotive cab, tanks, frames, chimney, steam dome and other items were left at Tully Welding Works, from where they were purchased for private preservation in 1995. Shortly after the boiler was no longer required by Tully Saw Mill and was reunited with the frames and transported to Boonah, SE QLD. b
The owner's intention is that Airdale will be restored to operation, and in 2002 reported that he was arranging castings for missing parts.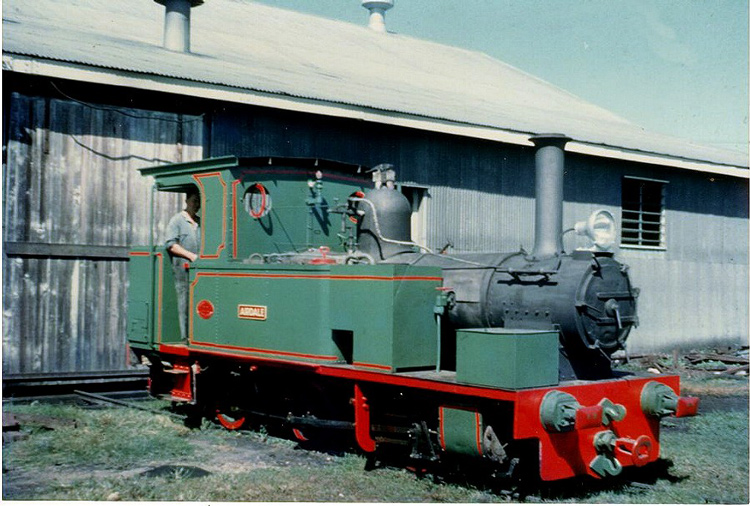 This historical view of Airdale outside the loco shed at Pioneer Mill is from the collection of Mark Bennett; date unknown.
Hopefully Airdale will one day be returned to this condition.
References
| | |
| --- | --- |
| a | Light Railway Research Society of Australia Inc. Web site (as at 20/3/2009): 'Preserved Australian Sugar Cane Locomotives' list by John Browning (www.lrrsa.org.au/LRR_SGRc.htm) |
| b | Information provided via email by G. Dunnett, 22/6/02 and 20/10/02. |
| c | Webmaster's personal observation or comment. |
Page updated: 31 March 2012