Yx 86

ARHS Railway Museum, Bassendean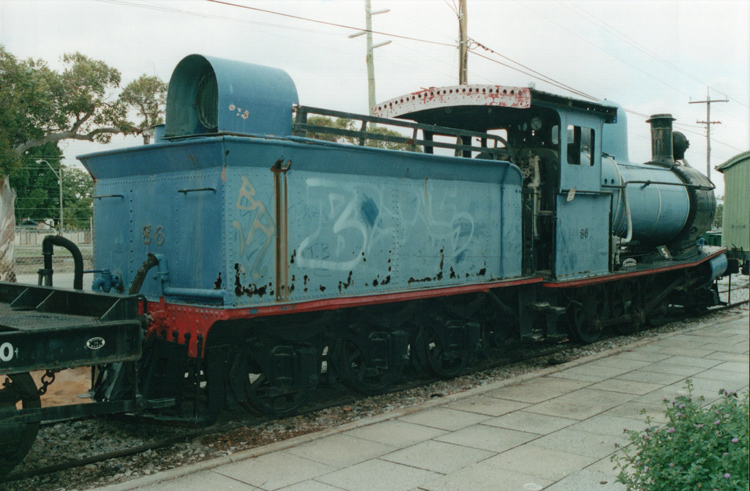 A scanned photo view of

Yx 86 displayed at the ARHS Railway Museum, Bassendean on 9 May 2002.

Some modifications for timber line running are evident, in particular the large headlight and cow catcher fitted to the tender.

This locomotive was built by Beyer Peacock & Co, Manchester (builder's number 2913 of 1888) and received the South Australian Railways road number Y 86. It was one of 129 members of the Y-class, which were introduced in 1885 and displaced the smaller W-class 2-6-0 locomotives as principal motive power on the South Australian Railways narrow gauge routes.

Y 86 was withdrawn by South Australian Railways in 1928. It was sold to the Victorian Construction Co. for railway building duties on the Oodnadatta to Alice Springs section of the Central Australia Railway. Y 86 was subsequently purchased by Bunning Bros. in 1944 for use in their West Australian timber operations. Bunnings Bros. rebuilt the locomotive to Yx specification in 1958 by replacing the round-top boiler with a larger, higher pitched Belpaire boiler.

Yx 86 is now displayed among the locomotive exhibits at the ARHS Railway Museum, Bassendean. It retains a number of ornate features of its South Australian Railways / Beyer Peacock heritage, such as the copper-top chimney with brass numbers Yx 86 attached.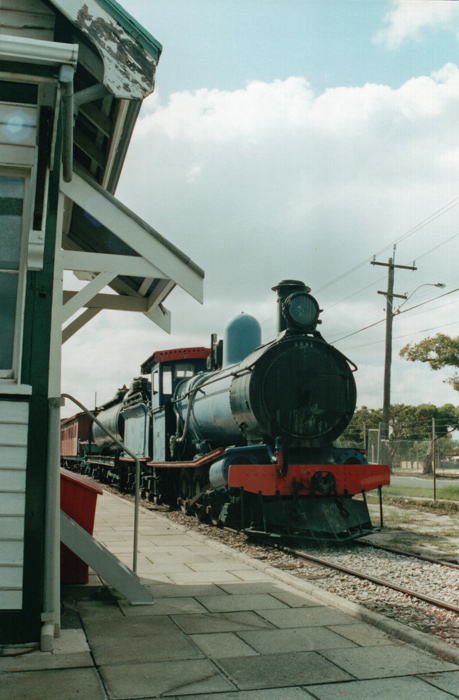 A second view Yx 86 displayed at Bassendean. 9 May 2002
References
a

Fluck R. E., Sampson R., & Bird K. J. 'Steam locomotives and Railcars of the South Australian Railways',

published by The Mile End Railway Museum (SA) Inc, 1986.

b
Webmaster's observation or comment.
Page updated: 12 April 2014