Yx 176

Displayed in the Yarloop Steam Workshops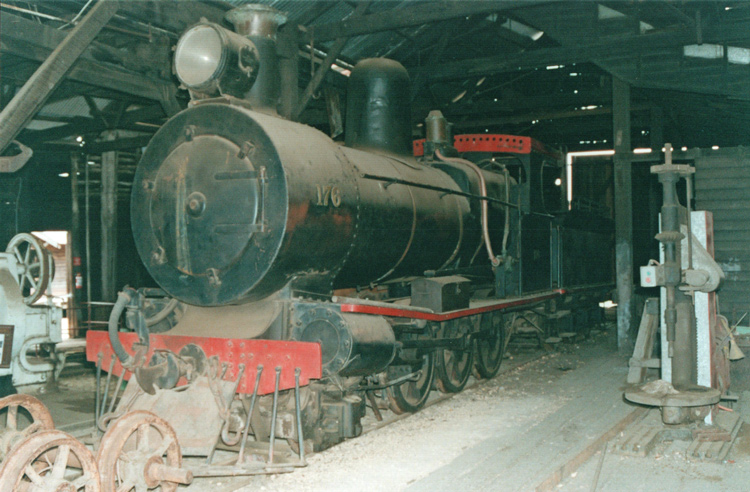 Yx 176 displayed within the historic Yarloop Steam Workshops. 12 May 2002
This locomotive was built by James Martin & Co, Gawler SA (builder's number 178 of 1898) and received the South Australian Railways road number Y 176. It was one of 129 members of the Y-class, which were introduced in 1885 and displaced the smaller W-class 2-6-0 locomotives as principal motive power on the South Australian Railways narrow gauge routes.
Y 176 was withdrawn by South Australian Railways in 1929 and condemned in December 1936. The SAR Y-class / WAGR G-class 2-6-0 design was popular with WA timber concerns for use on their timber tramways, with many units obtained second hand from the Government railway systems. Among these was Y 176 which was sold to Bunning Bros. for use at the Donnelly River Mill. Bunnings rebuilt Y 176 to Yx specification in 1956 by replacing the round-top boiler with a larger, higher pitched Belpaire boiler.
Yx 176 is now located at the excellent Yarloop Steam Workshop (within the former timber mill) and displayed together with an good collection of static and operating steam machinery. (At my visit to this museum on 12 May 2002 I also noticed a few spare locomotive boilers in store. These appeared to be Y or G-class boilers, together with a lager boiler possibly from a WAGR M-series Garratt or Fs class loco.)
References
a

Fluck R. E., Sampson R., & Bird K. J. 'Steam locomotives and Railcars of the South Australian Railways',

published by The Mile End Railway Museum (SA) Inc, 1986.

b
Webmaster's observation or comment.
Page updated: 12 April 2014