Y 97

National Railway Museum, Port Dock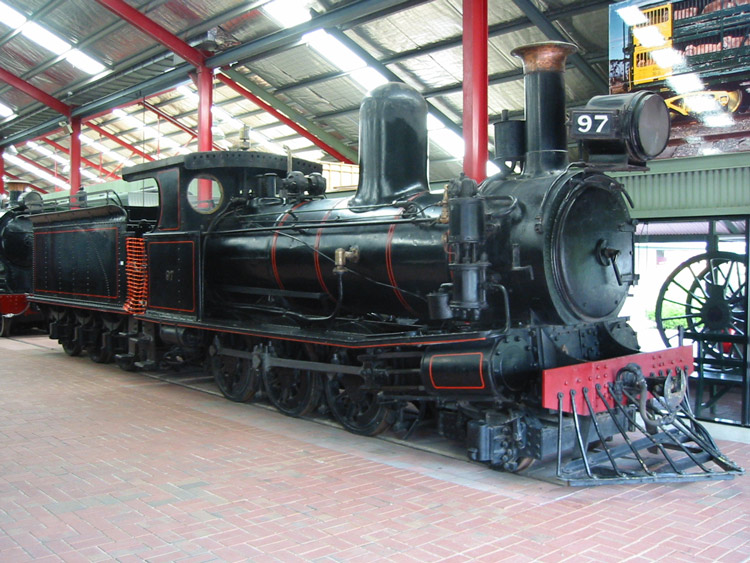 Y 97 seen at the National Railway Museum, Port Adelaide on 24 September 2005
Y 97 was built by Beyer Peacock & Co, Manchester as their builder's number 3147 of 1890. It was one of 129 class members of the South Australian Railways Y-class, which were introduced in 1885 and superceded the similar but smaller W-class 2-6-0 locomotives as the principal motive power on the SAR's narrow gauge routes.
Many of Y-class locomotives were rebuilt with larger boilers between 1906 and 1924, becoming the Yx-class, however they were displaced from main-line work following the introduction of the T-class 4-8-0's from 1903 onwards. Many Y & Yx-class locomotives were withdrawn in the 1930's and 18 passed to Commonwealth Railways as their NFB class. Others were sold to industry but a few were retained by the South Australian Railways for shunting work.
Y 97 was known as Peterborough shunter and features in many enthusiast photos of the Peterborough roundhouse in the 1960's. It featured on some ARHS railtour duties towards the end of the steam era and was the last Y-class in service when withdrawn by the South Australian Railways in May 1970. Y 97 was placed on display at the Mile End Railway Museum in September 1970.
The locomotive exhibits at the Mile End Railway Museum were transferred to the new National Railway Museum at Port Adelaide in 1988 where Y 97 is now displayed undercover. Y 97 retains a number of original Y-class features such as the ornate brass chimney ring. When originally preserved at Mile End the tender featured extensions to the coal space to increase capacity, but more recent photos at Port Dock show that the tender has either been returned to original form, or an unmodified tender substituted.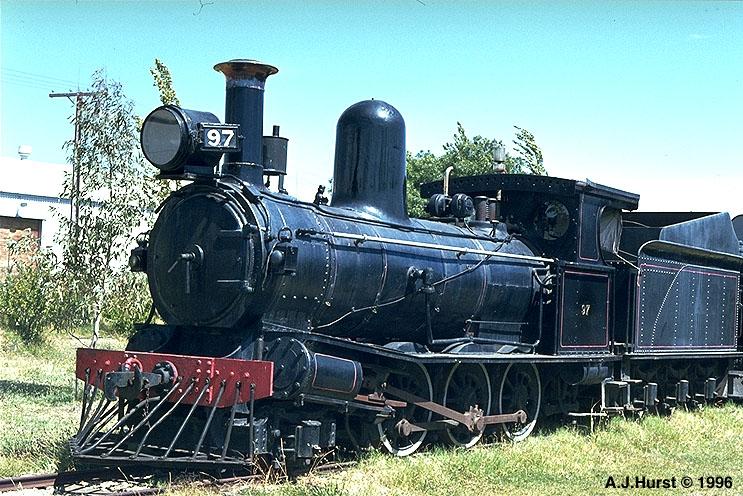 This photo is kindly provided by John Hurst and shows Y 97 at the former open-air Mile End Railway Museum in Adelaide in 1973.
The tender bears the high sides fitted during SAR days to increase coal capacity.
References
a

Fluck R. E., Sampson R., & Bird K. J. 'Steam locomotives and Railcars of the South Australian Railways',

published by The Mile End Railway Museum (SA) Inc, 1986.

b
Webmaster's observation or comment.
Page updated: 10 April 2014