Y 82

Plinthed at Peterborough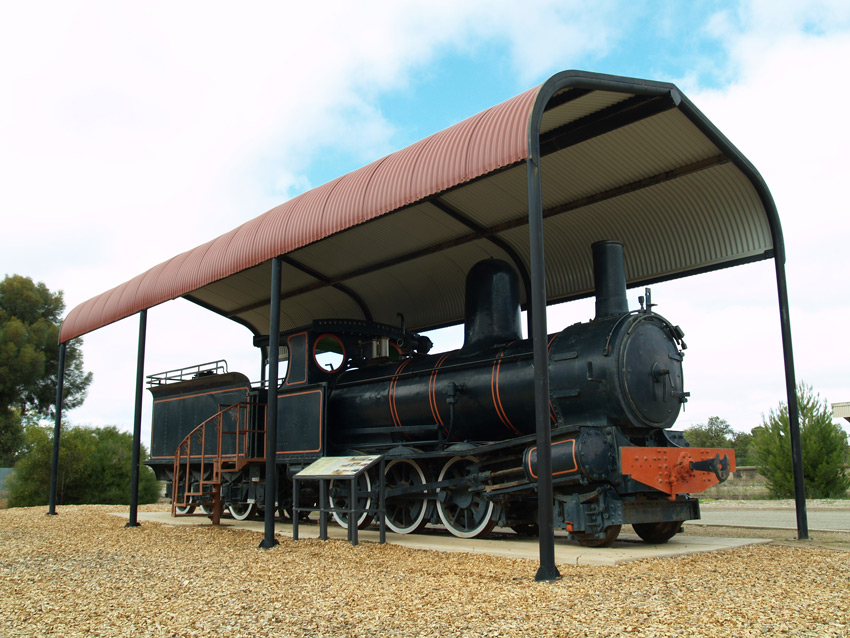 Y 82 displayed under a weather roof in the Peterborough town centre on 8 June 2007.
It is wearing authentic lined black livery and interpretive signage has also been provided.
Y 82 was built by Beyer Peacock & Co, Manchester as their builder's number 2909 of 1888. It was one of 129 class members of the South Australian Railways Y-class, which were introduced in 1885 and superceded the similar but smaller W-class 2-6-0 locomotives as the principal motive power on the SAR's narrow gauge routes.
Many of Y-class locomotives were rebuilt with larger boilers between 1906 and 1924, becoming the Yx-class, however they were displaced from main-line work following the introduction of the T-class 4-8-0's from 1903 onwards. Many Y & Yx-class locomotives were withdrawn in the 1930's and 18 passed to Commonwealth Railways as their NFB class. Others were sold to industry but a few were retained by the South Australian Railways for shunting work.
Y 82 was withdrawn and condemned by the South Australian Railways in April 1960. It was plinthed at the Peterborough town pool and playground for 40 years and was becoming somewhat tatty when I first photographed it in 1998.
Y 82 was moved to the Steamtown Peterborough workshop in 2000, restored and repainted to an authentic livery of black with red lining. Following restoration Y 82 was placed on display under a weather roof in the Peterborough town centre, together with interpretive signage. Peterborough Council are to be congratulated for their upgrade of this locomotive to a suitable condition.
My visit to Peterborough on 26 September 1998 found Y 82 plinthed in a playground and wearing a garish sky blue livery.
It is fitted with a plain stovepipe chimney of the type that appears to have been common in the final years of SAR steam.
Mounting brackets for the missing air compressor can be seen on the smokebox side, and the headlight is long gone!
References
a

Fluck R. E., Sampson R., & Bird K. J. 'Steam locomotives and Railcars of the South Australian Railways',

published by The Mile End Railway Museum (SA) Inc, 1986.

b
Webmaster's observation or comment.
Page updated: 10 April 2014