Y 71

ARHS Railway Museum, Bassendean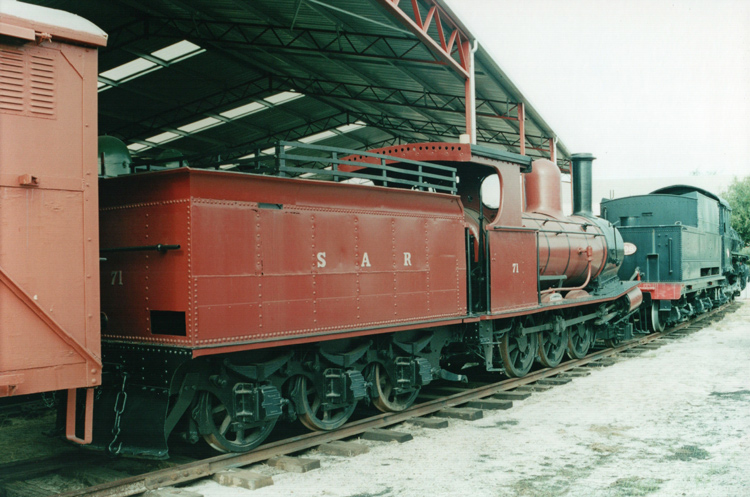 Y 71 displayed at the ARHS Railway Museum, Bassendean on 9 May 2002.
This locomotive was built by Beyer Peacock & Co, Manchester (builder's number 2762 of 1886) and received the South Australian Railways road number Y 71. It was one of 129 members of the Y-class, which were introduced in 1885 and displaced the smaller W-class 2-6-0 locomotives as principal motive power on the South Australian Railways narrow gauge routes.
Y 71 was withdrawn by South Australian Railways in 1927. The SAR Y-class / WAGR G-class 2-6-0 design was popular with WA timber concerns for use on their timber tramways, with many units obtained second hand from the Government railway systems. Among these was Y 71 which was sold to the West Australian Jarrah Forest Co. in 1927 for work at East Witchcliffe. It was withdrawn from timber industry service in approximately 1957.
Y 71 is now displayed among the locomotive exhibits at the ARHS Railway Museum, Bassendean. The tender paired with Y 71 is actually that last used with WAGR G 67 as Y 71's tender was too derelict to save at the time of entering the museum, however G 67's tender was modified with Y 71's features. An example is the cow-catcher on the tender; this appears to be a common modification for WA timber industry locomotives, presumably due to extensive tender-first running along the timber lines of WA's south-west.
References
a

Fluck R. E., Sampson R., & Bird K. J.

'Steam locomotives and Railcars of the South Australian Railways',

published by The Mile End Railway Museum (SA) Inc, 1986.

b

Information provided by Brent Luscombe via email, 18 August 2009.
Page updated: 16 February 2015