X 36

Last of the X-class Heavy Freight locomotives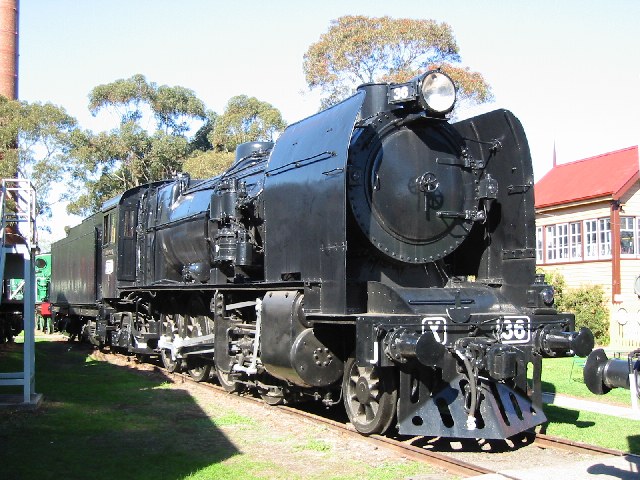 X 36 displays its handsome lines at the ARHS Museum at North Williamstown. 10 May 2003
The X-class 2-8-2 engines were designed as main line freight locomotives, with the first eleven built at the Victorian Railway's Newport Workshops between 1929 and 1930. A further 18 were constructed between 1937 and 1949. Although developed from the earlier C-class 2-8-0 design, the X-class were designed to be convertible to Standard Gauge and hence a key design feature was to carry the firebox above the frames and supported by a trailing truck. The class were also fitted with a small two cylinder booster engine on the trailing truck, which could be activated to provide additional tractive effort at slow speed.
Preserved locomotive X 36 was among the first 11 units completed, being turned out from Newport Workshops in 1929. It was the last class member in operation when withdrawn from service in 1961. Interestingly it was the only class member not fitted with a booster and associated pipework, thus is perhaps an unusual choice to represent the class in preservation. (Conversely, N 110 was the only N-class locomotive fitted with a booster; perhaps Newport Workshops reallocated the booster unit originally intended for X 36?)
Today X 36 is displayed among the locomotive exhibits at the Australian Railway Historical Society (ARHS) Museum at North Williamstown.
Wikipedia provides a useful page detailing design and operation of the Victorian Railways X-class locomotives.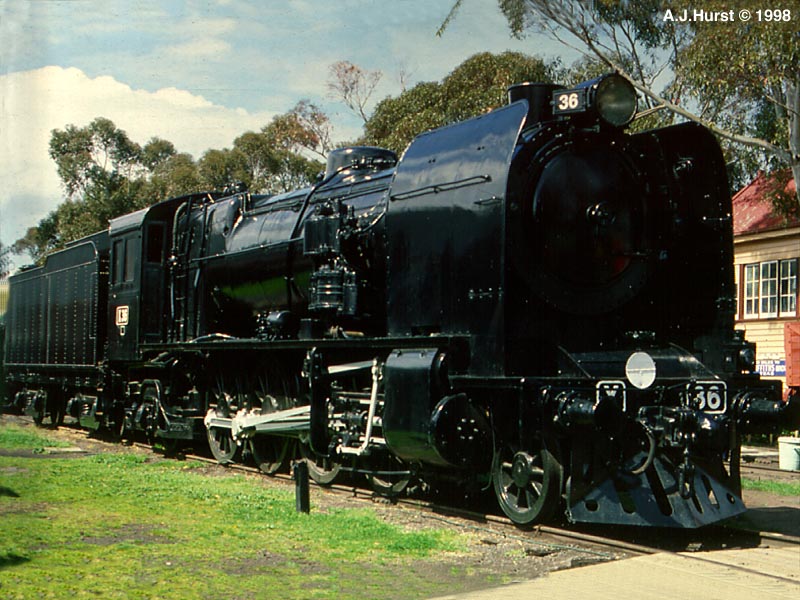 Here is an earlier view of X36, courtesy of John Hurst, showing X 36 statically displayed at the ARHS Museum at North Williamstown.
References
a

ARHS (Victorian Division) 'North Williamstown Railway Museum',

Third Edition 1968, revised 1977, reprinted 1980.

b

Webmaster's observation or comment.
Page updated: 16 July 2014