W 953

Bassendean Railway Museum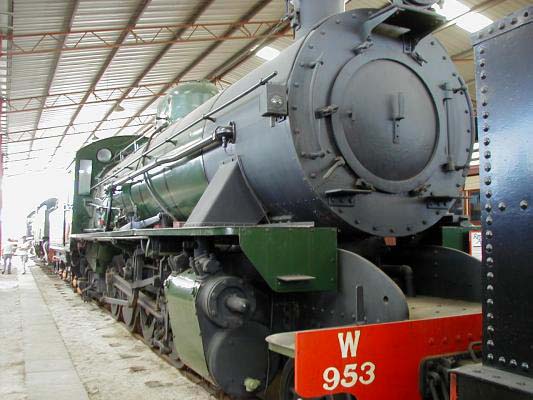 My thanks to Stuart Jackson for this view of W 953 at Bassendean on 18 November 2001.
W 953 was built by Beyer Peacock & Co, Manchester (builder's number 7465 of 1952) and entered service in March 1952 as one of sixty "W-class" 4-8-2 locomotives delivered to the Western Australian Government Railways for light lines service. The W-class proved to be highly successful locomotives, displacing older O-class 2-8-0T+T and G-class 2-6-0 & 4-6-0 types on secondary lines and augmenting the V and S-classes on main line duties.
W 953 was officially withdrawn by the WAGR in August 1972. It was selected to represent the class at The Railway Museum, Bassendean and transferred to the Australian Railway Historical Society (WA Division) in December 1972. W 953 is displayed within the display hall at Bassendean in the attractive green livery that the class featured in WAGR service.
As a matter of interest, a number of V and W-class locomotives remained in WAGR storage during the 1970's, providing a useful pool of modern steam power for various Australian railway preservation societies that formed during that period. The last two W-class locomotives remaining in WAGR storage were W 906 and W 958 but unfortunately they were scrapped in 1980 (together with two V-class 2-8-2 locos); I believe W 906 and W 958 were lacking tenders and there were also concerns raised about exposed boiler lagging.
References
a

A. Gunzburg 'A history of WAGR steam locomotives',

published by ARHS (Western Australian Division) 1984.
Page updated: 25 October 2014