W 947

Sold to Hotham Valley Railway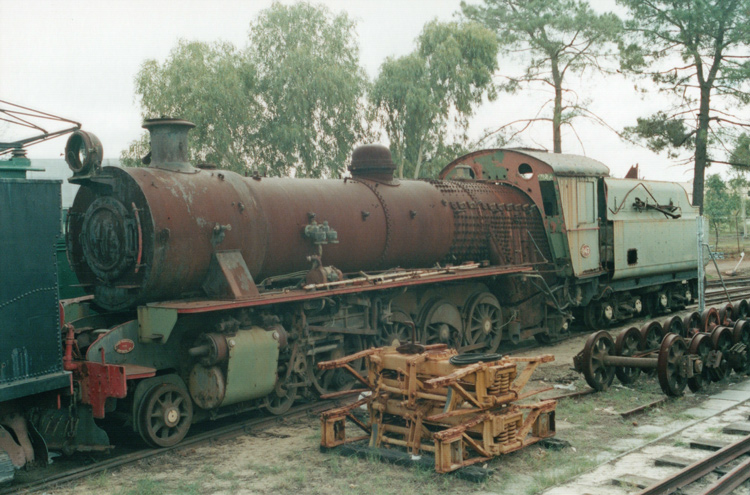 W 947 stored at the ARHS Bassendean Museum, stripped for assessment but awaiting overhaul. 9 May 2002.
W 947 was built by Beyer Peacock & Co in 1951 as their builder's number 7459. Together with the majority of the W-class locomotives, it was officially withdrawn by the WAGR in June 1971.a
W 947 was sold to the Great Southern Steam Association, Albany in 1973. a It was used on tourist trains at Albany until 1984, when sold to the Australian Railway Historical Society (ARHS) and moved to their Bassendean Museum in 1985 in anticipation of restoration to operation. b Here it was apparently stripped for assessment, but the planned overhaul did not eventuate. My visit to the ARHS Bassendean Museum on 9 May 2002 found W 947 stored and surrounded by various spares and components at the eastern extremity of the museum site. c
W 947 was sold to the Hotham Valley Railway in early 2011. A news item on the Hotham Valley Railway website showed the various stripped components of W 947 being prepared for road transport to the Hotham Valley Railway, with the tender, cab, boiler and frames expected to be separated and to follow as individual loads.
References
a

A. Gunzburg 'A history of WAGR steam locomotives',

published by ARHS (Western Australian Division) 1984.

b

Gray. W. K., 'Guide to Rail Transport Museum, Bassendean, Western Australia',

Australian Railway Historical Society W. A. Division, First Edition November 1999.
Page updated: 25 October 2014