W 924

Old Ghan Railway, Alice Springs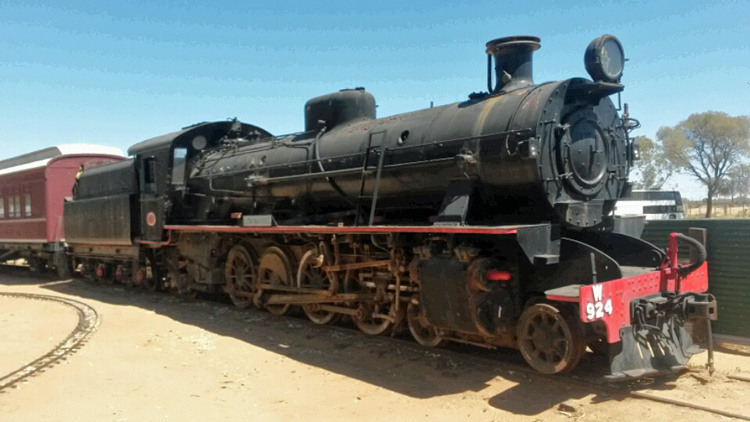 My thanks to Matt Pike for contributing this view of W 924 displayed at the Old Ghan Railway, Alice Springs on 26 September 2014.
W 924 was built by Beyer Peacock & Co, Manchester (builder's number 7401 of 1951) as one of sixty "W-class" 4-8-2 locomotives delivered to the Western Australian Government Railways for light lines service. The W-class proved to be highly successful locomotives, displacing older O-class 2-8-0T+T and G-class 2-6-0 & 4-6-0 types on secondary lines and augmenting the V and S-classes on main line duties.
Most WAGR W-class locomotives were withdrawn in June 1971 and joined the long lines of modern steam power that were cut up for scrap at Midland Workshops, however W 924 was among 19 class members retained in storage a little longer until officially withdrawn in August 1972. W 924 remained in storage until saved for preservation in 1978 by the Great Southern Steam Association at placed on display at Albany.
With the arrival of a modern standard gauge railway into Alice Springs in 1980, the legendary "Old Ghan" narrow gauge route from Marree to Oodnadatta and Alice Springs was closed. Supported by Federal funding, the Ghan Preservation Society opened in 1988 to operate tourist services over a retained 30km section of the Old Ghan line near Alice Springs, running from a newly established heritage-style station at Macdonnell (just south of the Heavitree Gap, Alice Springs) to the old railway and Overland Telegraph station at Ewaninga.
The Old Ghan tourist service featured historic narrow gauge passenger and restaurant carriages from the original Ghan train, however none of the original Commonwealth Railways "NM" class 4-8-0 steam locomotives (copied from the Queensland Railways C17 design) were available. Instead W 924 was obtained from Albany, WA and restored to operation, while QR locomotive C17 967 was obtained from Caloundra, Qld and plinthed as gatekeeper to the Macdonnell station, depot and museum. W 924 received the name "Lou Marks" following restoration at Alice Springs. Also acquired were a number of historic NSU-class diesel locomotives that had been on the Old Ghan railway. A triangle was established at both Macdonnell and Ewaninga to allow the locomotive to be turned at the end of each run.
An interesting feature of the Old Ghan tourist service is that W 924 was fired using old wooden sleepers salvaged from the original Ghan railway route.
It seems that W 924 has not steamed in recent years and has instead been displayed at the Old Ghan depot and museum at Macdonnell; presumably rising insurance and operating costs have conspired against maintaining steam services. I believe the Old Ghan is now maintained as the Old Ghan static museum based on Macdonnell station and depot, together with a trucking museum and memorabilia associated with the Overland Telegraph line.
For further reading on the WAGR W-class, Adrian Gunzberg provides a good account of the design and construction of these engines in his authorative book "A history of WAGR steam locomotives".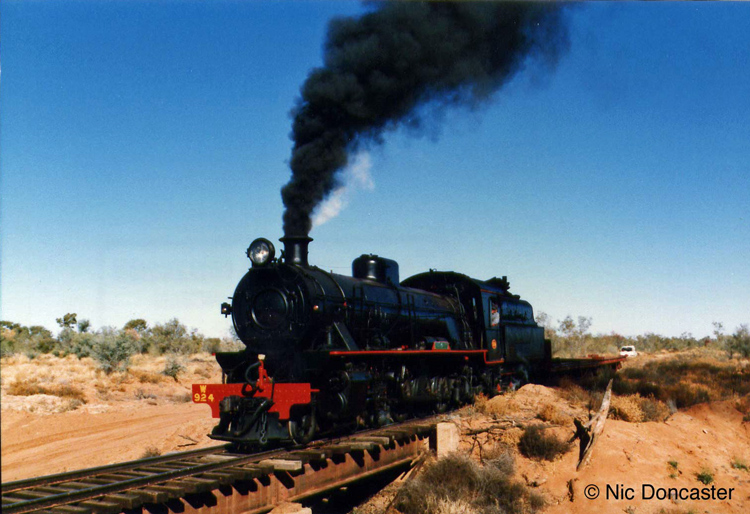 This photo was kindly contributed by Nic Doncaster and shows W 924 in operation on the Old Ghan Railway in 1988.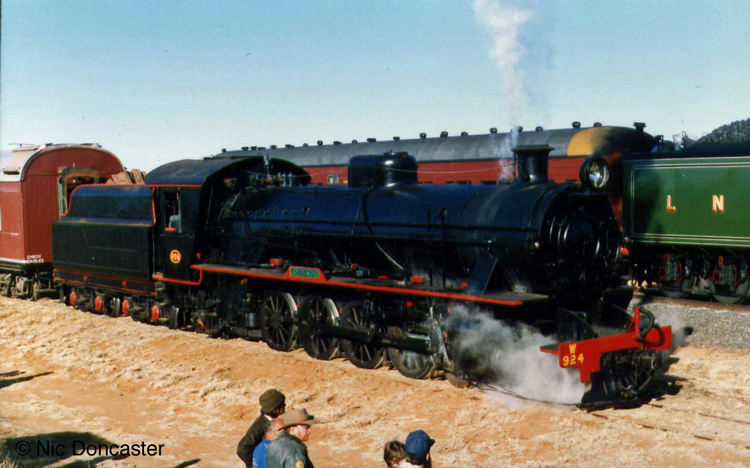 Nic Doncaster also contributed this view of W 924 and 4472 The Flying Scotsman at the time of their meeting outside Alice Springs in 1988.
(This view was taken at the northern extreme of the Old Ghan railway, where it merged with the new standard gauge route before Heavitree Gap.)
The tender is loaded with old sleepers used as fuel.
References
a

A. Gunzburg 'A history of WAGR steam locomotives',

published by ARHS (Western Australian Division) 1984. pp134 - 137

b

Guide to Australian Heritage Railways & Museums, 6th Edition,

published by the Australian Railway Historical Society, NSW Division, 1997.
Page updated: 17 October 2014