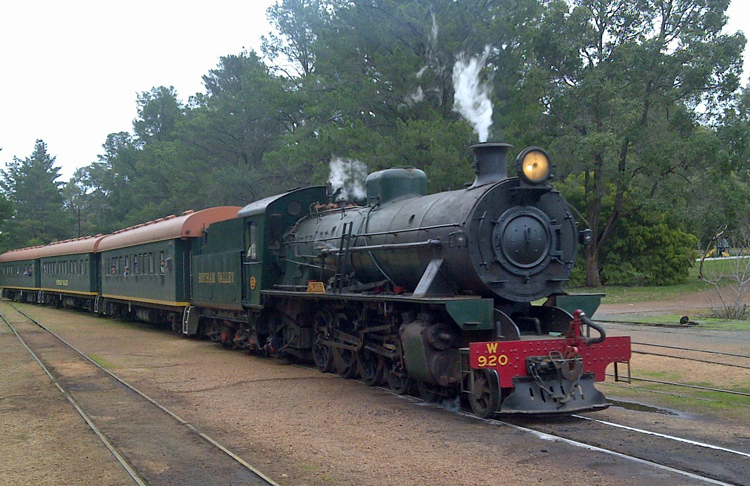 My thanks to Brett Mohen for contributing this photo of W 920 arriving at Dwellingup on 16 July 2014.
W 920 was built by Beyer Peacock & Co, Manchester (builder's number 7397 of 1951) as one of sixty "W-class" 4-8-2 locomotives delivered to the Western Australian Government Railways for light lines service. The W-class proved to be highly successful locomotives, displacing older O-class 2-8-0T+T and G-class 2-6-0 & 4-6-0 types on secondary lines and augmenting the V and S-classes on main line duties.
Most WAGR W-class locomotives were withdrawn in June 1971 and joined the long lines of modern steam power that were cut up for scrap at Midland Workshops, however W 920 was among 19 class members retained in storage a little longer until officially withdrawn in August 1972.
W 920 was sold in 1976 to the Pinjarra Steam & Hills Preservation Society (now known as the Hotham Valley Tourist Railway) and restored for tourist operations, being based at their Pinjarra depot. W 920 was named "Sir Ross McLarty" for a period but now carries the name "Pinjarra".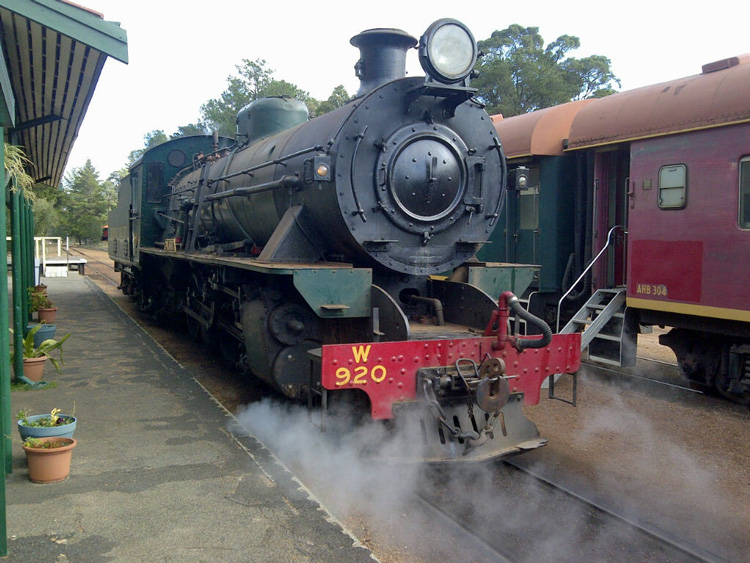 W 920 reversing down the main line at Dwellingup Station to shunt onto the Steam Ranger consist for the afternoon trip.
This picture was taken on 7 July 2013 and kindly contributed by Brett Mohen.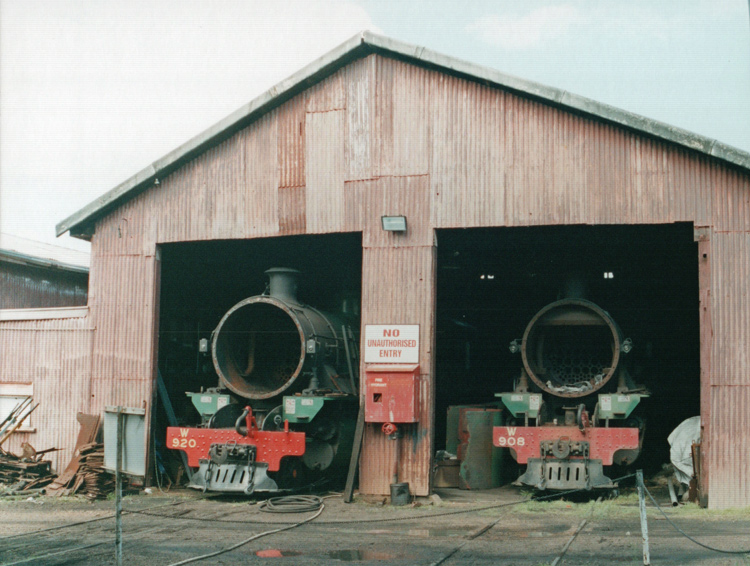 This view of 12 May 2002 shows W 908 alongside W 920, both undergoing maintenance within the HVTR workshops in the old Pinjarra loco depot.
References
a

A. Gunzburg 'A history of WAGR steam locomotives',

published by ARHS (Western Australian Division) 1984.
Page updated: 24 October 2014