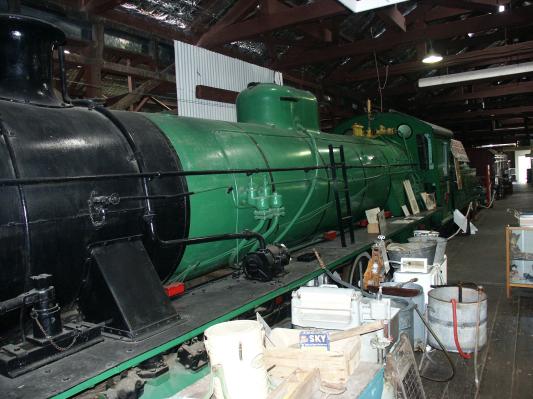 This view was contributed by Stuart Jackson and shows W 919 at the Esperance Museum on 3 September 2003.
Photography is clearly difficult within the cramped confines of the former railway goods shed.
W 919 was built by Beyer Peacock & Co, Manchester (builder's number 7396 of 1951) as one of sixty "W-class" 4-8-2 locomotives delivered to the Western Australian Government Railways for light lines service. The W-class proved to be highly successful locomotives, displacing older O-class 2-8-0T+T and G-class 2-6-0 & 4-6-0 types on secondary lines and augmenting the V and S-classes on main line duties.
Most WAGR W-class locomotives were withdrawn in June 1971 and joined the long lines of modern steam power that were cut up for scrap at Midland Workshops, however W 919 was among 19 class members retained in storage a little longer until officially withdrawn in August 1972.
W 919 was sold to the Esperance Bay Historical Society in 1974 and can now be seen displayed at the Esperance Museum, which is based in the former railway goods shed.
References
a

A. Gunzburg 'A history of WAGR steam locomotives',

published by ARHS (Western Australian Division) 1984.
Page updated: 21 October 2014