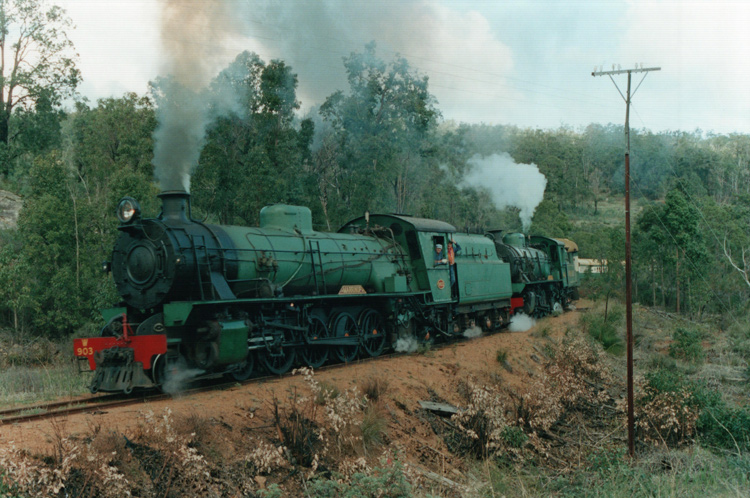 W 903 leading W 945 as they work hard upgrade climbing the Darling Range to Dwellingup on the HVTR. 12 May 2002.

W 903 was built by Beyer Peacock & Co, Manchester (builder's number 7380 of 1951) as one of sixty "W-class" 4-8-2 locomotives delivered to the Western Australian Government Railways for light lines service. The W-class proved to be highly successful locomotives, displacing older O-class 2-8-0T+T and G-class 2-6-0 & 4-6-0 types on secondary lines and augmenting the V and S-classes on main line duties.

An interesting feature of this locomotive design was the sloping cab front which was parallel with the boiler / firebox back plate; this minimised the area of boiler that was within the cab. Anyone who has been in the cab of a steam locomotive during the heat of the Australian summer would appreciate this feature!

Most WAGR W-class locomotives were withdrawn in June 1971 and joined the long lines of modern steam power that were cut up for scrap at Midland Workshops, however 19 class members (W 901 / 905 / 906 / 907 / 909 / 914 / 916 / 919 / 924 / 927 / 929 / 931 / 933 / 934 / 941 / 953 / 954 / 958 & 959) were retained a little longer until officially withdrawn in August 1972. Several W-class locomotives remained in storage during the 1970's (together with a handful of V and S-class locomotives) and many of these were subsequently acquired for preservation. The last two remaining in WAGR storage (W 906 and W 958) were cut up for scrap in 1980.

W 903 entered preservation in July 1977 when sold to the Pinjarra Steam & Hills Preservation Society (now known as the Hotham Valley Tourist Railway). It was restored at their Pinjarra depot and is generally maintained in operable condition for tourist services.

W 903 has been named 'Marrimup' by the Hotham Valley Tourist Railway.

References
a

A. Gunzburg 'A history of WAGR steam locomotives',

published by ARHS (Western Australian Division) 1984.
Page updated: 21 October 2014